Pope Francis has left the Philippines after his much welcome concern for the less fortunate citizens of our dear country. But while his presence and intervention on behalf of the victims of poverty and Typhoon Haiyan was something to be appreciated, a question hangs in the air: Where do we go from here?
Yes, the Philippines has been long known for being predominantly Catholic as mentioned in a few other articles. However, what this translates to in our society isn't all that encouraging. While we follow the many trappings of what the Catholic Church espouses such as going to church regularly, praying the rosary and observing the many feast days of saints, do we really understand what our religion is trying to teach us? Do we even really understand what religion is in the first place?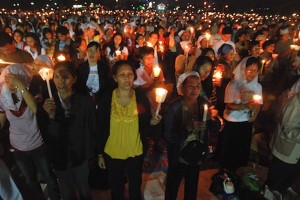 Well these are questions that plague many, if not all, countries. Religion has been with humankind since time immemorial. Ever since our primitive ancestors began to notice the change between night and day and the cycling transition of the seasons, we accepted that there may indeed be entities too powerful for us to comprehend as mortals. To this day, people continue to argue over the existence of God, Their nature, what They have in mind for us humans and what people think They want us to do. Wars have been fought and continue to be fought over these arguments and only time will tell who's actually right or if all of them are wrong and just wasting their time, lives and supplies of lead and explosives.
Anyway, back to the Philippines. While we may not be the only people who have a problem with religion, it's clear that one of the sources of our problems such as poverty, corruption, overpopulation and general ineptitude can be attributed to some degree with how we take religion. Religion, or the misinterpretation thereof, might not be responsible for all our woes but it certainly plays a part along with our rotten politics, preposterous media and generally self-defeating mentality.
We may choose to follow the directions of religious texts like those found in the Bible, the Qu'ran, the Torah, the Veda, Dianetics or even the Commandments of the Flying Spaghetti Monster, but do we actually know the spirit of what these ancient (and not so ancient) scriptures are trying to teach us? Sadly, I don't think many Filipinos understand what religion often tries to espouse on them.
Here are some common misunderstandings that I notice:
God Wants Us to Multiply and be Plentiful
Okay, this particular topic has plagued the Philippines since it became apparent that the country is getting overpopulated. While yes, there have been changes as the Church has began to moderate its views on contraception but, unfortunately, many continue to counter these valid points and many still are unaware of them. There is nothing wrong with sex and the desire to have sex. It is a drive ingrained in the human mind and body just as hunger, thirst and the need for air is. Unfortunately, we are all too often too irresponsible in how we go about it and continue to multiply in droves.
Well, the question of overpopulation is also open to debate as there are those who say that there is still plenty of landmass on the Philippines for its citizens to live on. The thing is, this sounds incredibly shallow in the long run because will we have to wait until our cities are overrun until we do something about it? Even if there is still plenty of landmass in the Philippines, are they viable places to live on and raise a family? If so, why are there so many squatters crowding into Manila and other major cities in the country if there are still viable places to live on?
The point is, while it is mentioned in the Bible for people (and animals, mind you) to procreate, it was said in a time when the civilizations of the world were still taking shape. In those days, the death rate among children was quite high, leading to a lot of childless couples who could only lament their loss. It was considered a waste in that age for people to not get married and make babies together.
Today, things are a little bit different. The advances in medical science have steadied birth rates over the decades and many children can be safely. Medical science has also served to counter the many diseases that afflict children and things like chicken pox, measles, mumps and small pox can just be bumps on the road for a family rather than the serious threats they once were. This makes the issue of multiplying like crazy an obsolete idea because people can now support a family of the right number. Unfortunately, this often flies way over the head of some couples and continue to justify having so many children with "because the Bible/our elders said so" even though they lack the resources to support them.
Now, I have always believed that people have a right to love who they want to love and have as many children as they want. However, considering the condition of the country today, would you really want to make so many children with the numerous problems piled against the Philippines? What's worse is that it is all too often the poor and uneducated who multiply like rabbits despite the fact that they lack the resources to support their children.
Being Poor is Good
While the beatitudes do in fact state something about "blessed are the poor", this isn't just about the poor being good guys all the time. Yes, it's true that we should try to help the poor but that doesn't mean that they're right all the time or that we should strive to be poor ourselves. The media helps in confusing the people with ideas like the poor are always the victims of the rich and the rich are always greedy and driven by self-centered goals.
In truth, it's probably this mindset that continues to keep the Philippines well below the poverty line. It's as if our society glorifies the very idea of poverty rather than doing something to control it. Perhaps one of the biggest reasons for this is because the poor aren't exactly smart voters, making them easy prey for greedy politicians who seek to take control of the country. These same politicians find it profitable to keep the masses dumb with mind-numbing programming on TV so that it will be easier for them to manipulate the people, especially the impoverished masses.
Do take note that the Bible often teaches us to be kind to the poor, but it does not teach us to tolerate their bad attitude either. While there are people who certainly need help, I also notice that there are a lot of people who are poor because of their own doing and refuse to do anything about it. If the poor we're trying to help are too busy using the money we give them to buy liquors to numb their senses, women to make babies with and drugs to waste themselves into oblivion, then I don't think we're really helping them at all.
God Will Always Help You… With Miracles
Look, I'm a believer too. I believe in a God and that They do indeed help us every now and again. However, I can't help but notice that there are still a lot of people who believe that God will help them literally. That somehow, God will perform a miracle for them like food will suddenly rain from the sky or that they'll find gold coins in their toilets. And don't even get me started on the people who find faces of Jesus on their bathroom floor and openly worship it…
This mentality also ties in with the second item above because I have met a number of poor people who continue to believe that God will help them even if they continue to sit idle and do nothing to improve their situation. They seem to believe that God will somehow miraculously solve their problems as if God can make the father stop being an alcoholic, the mother stop being a compulsive gambler and the children stop being idiots.
I know another saying: "God helps those who help themselves." This means that while helping others is important, helping ourselves is essential if we really want to get anywhere. If we want a solution to poverty, corruption, overpopulation and all the other problems of this country of ours, then we should get up and look for it. I think that God sometimes does favors for us, but it is entirely up to us to make the best of those favors.
[Photo courtesy AsiaNews.it.]
I HAVE RETURNED TO LAY WASTE TO OUR ENEMIES!