Philippine media have reported the release of Disney Asia's "Disney Princesses Southeast Asia Calendar" supposedly after a promo run on Disney Asia's Facebook Page that remains "unannounced". According to an ABS-CBN report Filipino starlets, Sarah Geronimo and Kim Chiu have been selected to portray fairy tale characters Rapunzel and Mulan respectively.
Photos of Geronimo and Chiu as well as other southeast Asian celebrities have appeared all over the Net. According to the blog Sarah Geronimo, the Philippines' Queen of Pop, in a post dated the 25th December 2014, the photos were sourced from a certain DisneyChannelAsia Facebook page. However, the page seems to be nonexistent on Facebook.
Although some of the celebrities have been fully named in the Geronimo fan blog, two of them named just "Wawa" and "Best" (portraying Belle and Jasmine respectively) are not fully named.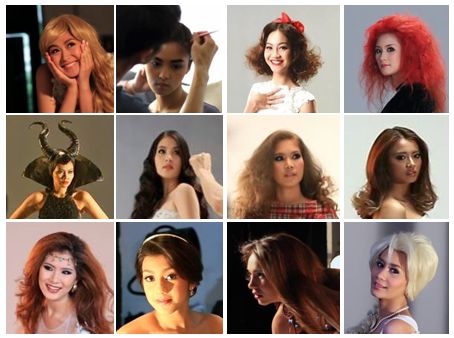 [Above collage of Disney Princesses Asia L-R, Top to Bottom: Sarah Geronimo (Ph) as Cinderella, Kim Chiu (Ph) as Mulan, Daiyan Trisha (Malaysia) as Snow White, Golf Natpassara (Thailand) as Merida of Brave, Gam Wichayanee (Thailand) as Maleficent, Sandra Dewi (Indonesia) as Cinderella, Proud Oranicha (Thailand) as Ariel of The Little Mermaid, Wawa (?) as Belle of Beauty and the Beast, Best (?) as Jasmine of Aladdin, Chalida Vijitvongthong (Thailand) as Tiana of The Princess and the Frog, Tori (?) as Pocahontas, Marsha Milan Londoh (Malaysia) as Elsa of Frozen]
A news report published on the Manila Bulletin site used the complete names of models, Sandra Dewi, and Marsha Milan, but failed to provide complete names for the others…
Other stars that dressed up as princesses are Sandra Dewi as Cinderella, Marsha Milan as Elsa, Gam as Maleficent, Proud as Ariel, Wawa as Belle, Best as Jasmine, Golf as Merida, Daiyan Trisha as Snow White, Fah as Tiana, and Tori as Pocahontas.
It seems that the purported Disney "project" has so far attracted fans' and media attention only in the Philippines. Much of the mainstream news surrounding the event comes only from Filipino news sites. Although the
ABS-CBN News
report cited earlier indicates that the project remains "unannounced", the
Philippine Star
, for its part,
reports
that the Disney Channel has "officially released" these photos. The
Philippine Entertainment Portal
(PEP) celebrity site also made reference to the seemingly non-existent Disney Asia Facebook page in its
report
on the same subject. The PEP report also referred to the supposed promo as a "surprise project" and quotes Geronimo…
"My favorite princess is Rapunzel . She is locked up in this tower. And some of us are locked up or imprisoned by our own fears, worries, [and] insecurities in life. Rapunzel showed courage and determination to get out of it and discover her true identity, her true family, her own strengths, and of course love."
A video featuring Sarah Geronimo singing "The Glow", theme song from the Disney movie Tangled has also been released. The video also features three other singers from other southeast Asian countries.
[Image of Disney Princesses (original characters) courtesy MoviePilot.com.]
benign0 is the Webmaster of GetRealPhilippines.com.