Here's another thing that people have missed because of those fake environmentalists protesting the cutting of 60 trees in Luneta Hill, Baguio City… A VITAL watershed in Tuba, Benguet is being destroyed by development and the influx of thousands of tourists attracted by ABS-CBN's Forevermore Teleserye that is being shot there. 
But before that, let me begin by pointing out a very funny old video on Youtube where Gina Lopez, whose family owns ABS-CBN, tangled in a heated exchange with a pro-mining advocate. I'm pointing this video out, not to make fun of Ms. Lopez, but as a way of demonstrating how conversations about "saving the environment" usually run.
Gina Lopez, "Meron akong tanong sa iyo, kumakain ka ba? Eh anong mas importante, toothpaste o pagkain mo? Bigas, kumakain ka ba ng rice? Teka, huwag ka munang sumagot, may tatapos muna ako." (English translation, "I have a question for you, do you eat? Which is more important, toothpaste or your food? Wait, let me finish what I am talking about first.")
Pro mining advocate, "Yung tinatanong niyo, lahat yan masasagot po." (English translation, "The questions you have asked all have answers.")
Gina Lopez, "So ano ang pipiliin mo!? Yan ang question. Answer my question, ano ang pipiliin mo?" (English translation, "So tell me what you are going to choose!? Answer my question, what are you going to choose?")
Pro mining advocate, "We are supposed to implement the law, that is the purpose of the law."
Gina Lopez, "Anong pipiliin mo, minerals o yung pagkain?" (English translation, "What are you going to choose, minerals or food?")
Pro mining advocate, "Both!" (Note. Instead of saying "both", the guy should have just pointed out that Ms. Lopez was using a fallacious line of reasoning called a false dichotomy or false dilemma.)
Gina Lopez, "Ah hindi pwede!" (English translation, "You can't choose both.")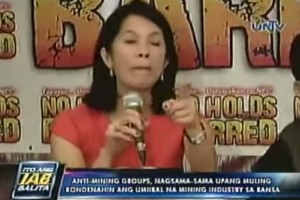 Pro mining advocate, "San ka magluluto ng pagkain? May kaldero ka o wala?" (English translation, "What are you going to use to cook food? Do you have a cooking pot or not?")
Gina Lopez, "Wala." (English translation, "I don't have one.")
(Laughter in the background.)
Pro mining Advocate, "Wala kang kaldero?!" (English translation, "You don't have a cooking pot?!")
But of course, Ms. Lopez has a cooking pot and quite a lot of them — steel pots, ceramic pots, and maybe a cracked pot or two. After all she's one of the country's richest people and that might be because her family owns, among other multi billion peso businesses, one of the country's biggest TV networks which happens to use a lot of electronic equipment that contains metals produced from mining and consumes a lot of power which comes from power plants that use fossil fuels — coal comes from mining, in case you didn't know that.
That's quite a long way from where they were during the Marcos years and from the early days of their restitution when Cory Aquino came into power. I guess, if they are making hay while the yellow sun shines these days without being accosted by one government agency or another, they're bound to chirp, "What are we in powder form?" (The correct phrase is "What are we in power for?" and is attributed to Senate President Jose Avelino.)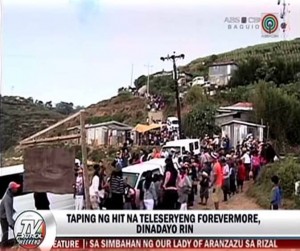 Thing is, while Ms. Lopez can say that her family's multi-billion peso businesses only indirectly benefit from mining (yes, I know it is arguable), she can't deny the horrible impact that one of ABS-CBN's most successful teleseryes (tv soap opera series) has had on a forest reserve in Tuba, Benguet.
It was through Grace Bandoy that I found out that just the taping or video shoot of a teleserye called Forevermore done in Sitio Pungayan on Mt. Kabuayo, Tuba, Benguet caused hundreds (if not thousands) of people to go up there.
And while I assume that the people who went up there to watch artistas have long since gone after the video production crew packed up, interest in a resort used as the location for the shoot continues to surge and draw more people traffic there.
Update. Grace Bandoy tells me that ABS-CBN's Forevermore video production in Sitio Pungayan will continue up to April 2015! Even more, GMA7 and TV5 have also applied for permits to shoot video there. She also says the place now stinks of urine because of a lack of urinals and the hundreds of tourists who go there are leaving huge mounds of garbage.
What is funny is that, according to Grace, people are being charged P20 per vehicle supposedly as ENVIRONMENTAL FEES.
Grace has called for a shutdown of Sitio Pungayan in order for it to recover.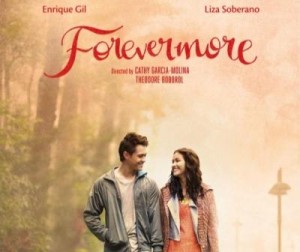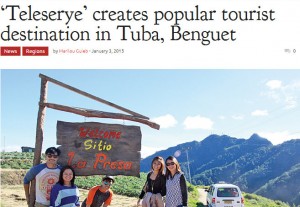 In fact, an article in Business Mirror shouts out that a 'Teleserye' creates popular tourist destination in Tuba, Benguet.
"La Presa is a quiet village near the summit of Mount Cabuyao, the second-highest peak seen from Baguio, actually located in Tuba, Benguet, but reached through a Baguio route.
"Almost unheard of even by city folk, La Presa became a tourist phenomenon that triggered the curiosity of those enamored by the magic of the world-trending Philippine teleserye Forevermore, aired every evening on ABS-CBN."
—-
Forevermore is set in this summit village as a strawberry farm, with its lead character Liza Soberano as Agnes, portrayed as belonging to a group of strawberry farmers, and her screen sweetheart, Enrique Gil, is Xander, a scion of a hotel chain, using the Manor and Forest Lodge as settings.
—
La Presa is really Sitio Pungayan, reached via what would normally be a quick ride coming from Marcos Highway.
—-
And what has the teleserye done for this remote sitio?
For the first time, the barangay had to request for police assistance to help control traffic.
The Cabuyao Garage Association (CGA), composed of 10 vans stationed below Mount Cabuyao at the Compac police station, where the trek to the summit starts, brought tourists to La Presa nonstop. The long stall of vehicles was seen starting on Marcos Highway, and so has the briskness of business.
William Lachica owns a sari-sari store at Green Valley, also known as Dontogan, just at the junction where the Mount Cabuyao rise starts. He said his sales jumped to so much because passengers, who stalled in front of his store, bought drinks, fruits and food while waiting it out to move another few inches in the bumper-to-bumper traffic congestion.
Beside his store is an ukay-ukay shop, where sometimes the cast had made a few scenes, and this was rented out for P5,000 per four-hour taping, according to owner Norma Simeon.
Other stores also profited from the shoots, including an eatery and a computer shop.
But I wouldn't go to Sitio Pungayan a.k.a. La Presa if I can help it because I don't want to contribute to the damage that has already been done to what is supposed to be a FOREST RESERVE — one that is fast shrinking because of development as well as farming.
Now, I don't know exactly what a forest reserve is supposed to be, but I'll assume that it's land that is supposed to be kept as a forest — you know, undeveloped land with gazillions of wild trees and plants all over the place.
ABS-CBN's Forevermore video shoot happened in December 2014, but only two months before, the Supreme Court issued an order which heavily underscores the neglected need to PROTECT and PRESERVE this FOREST RESERVE.
The Supreme Court En Banc has granted a temporary protection order (TEPO) sought by two Catholic prelates and other petitioners against a sitting congressman, stopping the latter's move to develop parts of the Sto. Tomas Forest Reserve straddling Baguio City, Tuba town in Benguet and San Fabian, Pangasinan.

The case against  Baguio Rep. Nicasio M. Ailiping Jr. was brought to the SC last Sept. 12, 2014  by Bishop Carlito Cenzon, Lingayen-Dagupan Archbishop Socrates Villegas, and the people of Tuba and San Fabian.

—

The petitioners likewise sought to stop the "activities which contribute to the degradation of Mount Santo Tomas, namely: illegal tree cutting and man-made erosion due to a road opening on the mountain side; deforestation due to expansion of vegetable gardens and residential areas; and illegal small scale mining activities."
The petitioners should have probably also asked the Supreme Court to temporarily ban the incursion of tourists and video production activities in that area.
Fellow GRP writer, Midway Heaven wrote last year about the situation in Mt. Kabuayo where the Sitio Pungayan a.k.a. La Presa is located and where the brother of Congressman Nicasio Aliping decimated hundreds of trees to develop their "property" in the said forest reserve. The article "Organic Farms and "Eco-Parks" are Ruining Baguio's Mountainsides" paints a grim picture of our northern uplands and exposes the culprits behind the loss of hundreds of hectares of forests.
…300 or so pine trees were cut down in Sto. Tomas to widen a road that goes to, of all places, a resort that doubles as an "eco-park." Apparently the cutting, which was conducted near a vital water source, was done by the brother of current Baguio Congressman Nicasio Aliping Jr.;… (Note. The 300 pine trees here may actually be 800 pine trees according to the latest articles on the issue.)

—

Additionally, the cutting of trees in Sto. Tomas overlooks the problem of people turning its slopes into organic vegetable farms such as this one:
Given the increasing popularity of "organic" produce these days, more land would be used for growing such crops; a higher demand would then force farmers to clear larger tracts of land for cultivation. Trees then would then be inevitably felled for these farms, and the cycle continues ad nauseam. Sadly, "environmental activists" in Baguio also prefer to promote the "benefits" of these organic crops (as shown in pseudo-environmental group Save 182's "Boycott SM" Facebook page) while completely ignoring the fact that organic crops deal a lot more damage to the environment…
—-
If they're really serious about putting up these ecological reserves, the best way to do it is to put up a nature preserve and KEEP IT OFF LIMITS TO HUMANS. If the government can successfully keep throngs of die-hard spiritual devotees off the slopes of Mt. Banahaw for years at a time (thus ensuring the return of that place's wilderness areas), the local governments of Baguio and Benguet can certainly keep casual weekenders from climbing the supposedly protected forests of Mt. Sto. Tomas. That is, of course, if the people of Baguio and Benguet don't fall into the same trap they keep getting into every three years by electing the same type of laughable "pro-environment" candidates over and over again.