The wedding cake of Filipino starlets DingDong Dantes and Marian Rivera may have set a world record for biggest cake actually used in a wedding reception! A photo of said cake tweeted by a certain @yziimanabat was picked up by the British tabloid Daily Mirror after it reportedly became the "top trend" and "baffled half the world".
The Guinness Book of World Records currently awards the accolade of "biggest wedding cake ever" to a six ton masterpiece made in New England, USA, in 2004, but the three biggest wedding cakes ever made were made for presentation purposes only, and not for an actual wedding.

It means that guests of Marian Rivera and Dingdong Dantes, whose wedding took place today, could be consuming the biggest wedding cake ever ordered.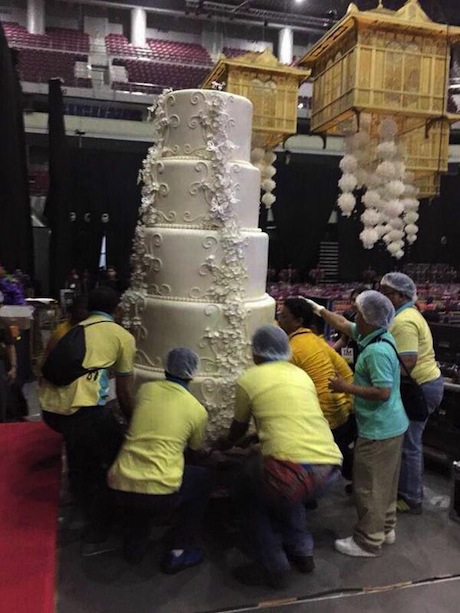 The cake was said to be worth 7 million pesos (more than USD150,000). According to an ABS-CBN News report, the cake which was "decorated with Swarovski crystals and was 3D-mapped for projected CG effects" was baked by Philippine fast food chain Goldilocks which the groom, Dantes, currently endorses (see video below).
The Philippines' top socio-cultural commentators and thought leaders have slammed the event as an obnoxious affront to good taste with regard to the Philippines being one of the world's most impoverished nations although the legions of Dantes and Rivera fans who mostly belong to the low-end "C-D Crowd" demographic have defended the occasion saying that the couple have every right to spend their "hard-earned" money whatever way they see fit.
The Philippines is known for a celebrity culture that feeds upon mediocre television and cinema fare. In a 16th June 2006 article published on the Inquirer, noted columnist Isagani Cruz wrote (quoted on page 60 Get Real Philippines Book 1)…
The Philippine entertainment industry is not only a vast wasteland, as television has been described in America, but a vicious instrument for the abatement of the nation's intelligence. The shows it offers for the supposed recreation of the people are generally vulgar and smutty, usually with some little moral lesson inserted to make them look respectable, but offensive nonetheless. On the whole, they are obnoxious and unwholesome and deserve to be trashed.

The indiscriminate audience eagerly laps them up because it has not been taught to be selective and more demanding of better quality shows for their pastime. In fact, the easily satisfied fans have been taught the exact opposite reaction — to accept whatever garbage the industry offers them and, to add insult to their injury, to pay for it too.

The leaders of the entertainment industry are supposed to be responsible people but they have evaded their duty to elevate the taste of their mostly unthinking supporters. They have instead cheapened them into a mass of automated individuals whose ultimate joy is to roll up in the aisles at the lewd jokes of potential senators.
Philippine President Benigno Simeon 'BS' Aquino III was also a guest at this wedding and served as a "special witness" to the ceremony.
[Featured thumbnail photo courtesy @kaiiheartsyow posting on Twitter.]
benign0 is the Webmaster of GetRealPhilippines.com.