Super Typhoon Hagupit (locally code-named "Ruby") has come and gone, and many lessons have been learned. But the most important insight following this experience is quite tragic: that the thousands upon thousands of lives lost in previous years to typhoons were all preventable. The death toll in the aftermath of Hagupit's visit to the most vulnerable population centres in the Philippines' eastern coast as of this writing is "at least 21" (the number may rise as more information from the devastated areas is collected). This was thanks to the unprecedented level of preparedness and amount of resources poured into preventive measures.
Just how drammatic this improvement is following years of tragic outcomes can be seen when comparing it to previous years' body count (source The Weather Channel).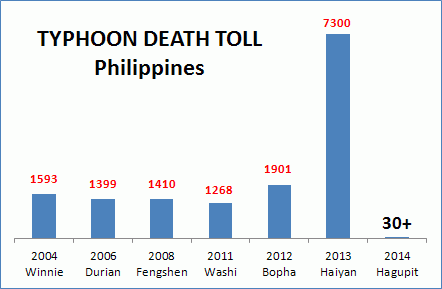 A lot is owed to better technology applied to weather forecasting systems around the world and improved quality in the reporting and advisory issued by the Philippine Atmospheric, Geophysical and Astronomical Service Administration (PAGASA) using the information available. But, the single most effective measure used this time around was low-tech: mandatory evacuation of the most vulnerable Filipinos. A BBC report described it as "one of the largest peacetime evacuations the country has ever seen."
Family and friends of Filipinos who were amongst the tens of thousands who had probably needlessly died in previous years will have raised the question by now:
Why had such an effort not been mounted in the past??
Indeed, it took 2013's Haiyan, a disaster that outdid all the rest, to get Filipinos and their government to spring to action before the fact as Hagupit approached this year. The response this time was in anticipation rather than in reaction. Prospective rather than retrospective. Could this be a turning point in the Philippines' history of flawed thinking and misguided priorities?
It all remains to be seen.
The most notable feature of 2013's Typhoon Haiyan (locally code-named "Yolanda") was the immense amount of media attention it attracted. No less than CNN's celebrity reporter Anderson Cooper banged heads with Philippine President Benigno Simeon 'BS' Aquino III over the "facts" of the on-the-ground" management of the disaster and the resources deployed to mitigate its subsequent impact on the population. Another CNN reporter, Andrew Stevens, all but exposed the character of Department of Interior and Local Government Secretary Mar Roxas who, despite being supposedly on top of the crisis management effort in the field, failed to give an accurate assessment of the death toll and delivered excuses instead.
Media attention — specially global media attention — has long been a strong motivator for Filipinos to act. Many of the Philippines' most prized "achievements" involve stars perceived to have "done well" on the world stage. Corollary to that sort of thinking is how Philippine society's most embarrassing moments also had a world audience as a key active ingredient contributing to the potency of these episodes on Filipinos' collective psyche. The astoundingly enormous death toll in the 2013 visit of Super Typhoon Haiyan, suffice to say, was the King of those "embarrassments", so much so that there was a singular focus on ensuring that redemption was carried out this time.
In contrast, most of the typhoons that killed thousands of Filipinos in previous years did not enjoy much media mileage — even in local media in the Philippines. The Philippines has long been known for its template disasters, where thousands routiinely die under preventable circumstances. In the case of 2011's Typhoon Washi (locally code-named "Sendong"), it could be argued now that the people of Cagayan de Oro and Iligan were not its victims per se. Rather, they were victims of systemic factors that made Sendong far deadlier than it should have been. They are victims of Filipinos' collective inability to learn.
The following year in 2012, Super Typhoon Bopha (locally code-named "Pablo") was a Category 5 Super Typhoon when it hit Mindanao near Davao City and killed almost 2,000 people. Bopha had been tracked for days both by international weather monitoring agencies as well as PAGASA before it made landfall. But no evacuation effort and preparation at the same level and quality seen today was mounted at the time.
Even as Bopha approached, it barely made headline news in Manila. Perhaps, it did not help either that Mindanao is so far away from Imperial Manila — far away from the president's comfy palace by the river and the cozy offices of ABS-CBN, and other mega-corporate media outlets — and therefore likely just a footnote on the list of priority scoops the country's esteemed "journalists" pursue.
It is not "good" presidents that will save the Philippines but lots of foreign media attention. Just like the Philippine economy is propped up almost entirely by "foreign investment", the long-overdue edifice of true justice in the Philippines will be built upon
foreign attention
.
Case in point: that other festering cancer in Philippine society — politically-motivated mass murder — is another one of those diseases that had long been calling for such a cure. Perhaps deliverance is at hand. Last weekend a brilliant piece of real investigative journalism was published on the weekend magazine of the Sydney Morning Herald. In Cry for justice: the Ampatuan massacre, Good Weekend correspondent Lindsay Murdoch wrote of the appalling circumstances surrounding the massacre of 58 people in 2009 in the hands of Andal Ampatuan in Maguindanao…
Some of the women were dragged out of the cars and their genitals were slashed. Datu Unsay led the attack wielding a samurai sword while his militia men peppered victims with bullets at point-blank range or mutilated their bodies with machetes.

Genalyn Mangudadatu was slashed seven times, including across her lower stomach and genitals, before being shot 17 times. Some of the women appeared to have been sexually abused but no extensive forensic examinations were carried out to prove it. Others were tortured; the left ring finger of one woman was amputated while she watched screaming for her life. One of the victims, Noel Decana, managed to send a desperate SMS to his brother, pleading, "pray for us, our situation is critical."

A large local government owned excavator, bearing the Ampatuan name, stood alongside a series of trenches, deep enough to bury vehicles. Every last person in the convoy was slaughtered, including 34 media personnel, making it the single deadliest attack on journalists ever recorded.
The more important point here is that five years on there are still no consequences suffered by the perpetrators of such atrocities…
Even while in jail – as the trial founders amid hundreds of legal motions, appeals to higher courts and bickering among lawyers – Andal snr and seven of his sons and close relatives enjoy luxuries in what are supposed to be high-security cells in a police compound in Taguig City, on Manila's outskirts. When Datu Unsay submitted to questioning over the Ampatuan massacre in November 2009, he boarded a helicopter and asked, "Which hotel will I be billeted in?"

Each day, drivers arrive at the jail with food cooked to order, say lawyers involved in the trial, which is being held in the same building. The cells have air-conditioning, television sets, sound systems and internet access, and the clan continues to wield power in the southern Philippines, where it owns mansions and vast estates, through mobile telephones, the lawyers add.
When will the same level of resources that likely prevented tens of thousands of typhoon deaths this year be poured into the resolution of the sorts of medieval crimes that routinely go unpunished and un-tweeted in the Philippines? Only the foreign media and the attention it can attract from the world can save the Philippines.
Abangan ang susunod na kabanata.
[Photo of hand courtesy TheMediaProject.org.]
benign0 is the Webmaster of GetRealPhilippines.com.