Apparently not a spoof! The image of the cover of the November 2014 edition of Esquire Philippines is actually posted on the Esquire Philippines Facebook Page.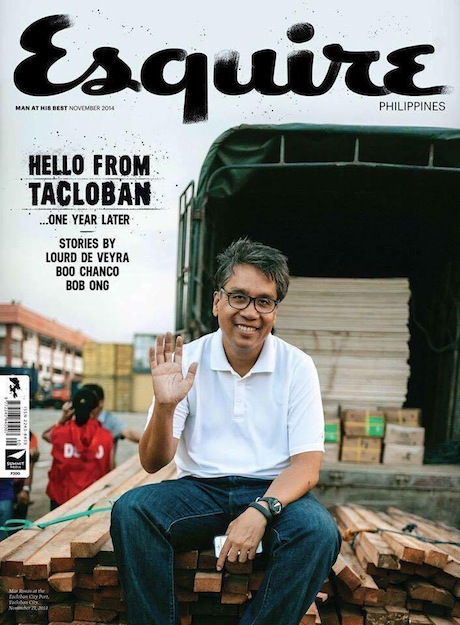 Interesting considering The Manila Times columnist Bobi Tiglao's latest exposé on the role Department of Interior and Local Government Secretary Mar Roxas played in botching the Philippine government's appallingly inutile response to the disaster wrought by Super Typhoon Haiyan in the Philippines in late 2013…
Roxas and [Defense Secretary Voltaire] Voltaire's big boo-boo – which actually nearly cost their lives – was that they were totally out of touch with Pagasa and weren't updated on the movement of the typhoon. In that meeting (video grab above), Roxas said: "We still have 10 o'clock tomorrow morning to evacuate these people."
We will also recall the way Roxas (who was made point man in disaster management a the time by his boss Philippine President Benigno Simeon 'BS' Aquino III) stammered his way through an interview with CNN's Andrew Stevens at Ground Zero in Tacloban back then…
Stevens appeared frustrated over not getting an accurate assessment of the relief and rescue efforts from Roxas considering they were both in the disaster zone. It was as if they were both seeing the same thing – chaos, survivors begging for food and water and dead bodies lying around – except that the DILG secretary still insisted that the situation was under control.
The right thing Roxas could have done was politely decline Esquire Philippines' rather misguided offer to feature him on their cover. But then the 2016 presidential elections are fast approaching. What else do scorpions do but sting. And what else do media companies do but laugh all the way to the bank.
benign0 is the Webmaster of GetRealPhilippines.com.