We make one big assumption whenever we express indignation and outrage over the instances of banal injustice that make regular news fodder in the Philippines — that ours is a "decent" society. But step back and ask a more fundamental question: Is Philippine society really a decent one?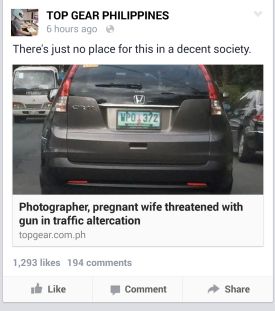 Just now I spied a recent post made by Top Gear Philippines on its Facebook Page. The post showed a photo of the rear end of a Honda CRV vehicle with license plate WPO 372 apparently belonging to someone who had allegedly threatened to shoot a man and his pregnant wife in the presence of their third-grade son following a traffic altercation (full Top Gear Philippines article here).
The astounding thing about this is that the incident happened in front of a school during dismissal time amongst parents picking up their kids. The school is no ordinary school. It is the exclusive private school Colegio de San Agustin which is located within Dasmariñas Village in Makati, a wealthy heavily-fortified residential enclave adjacent to the Philippines' Central Business District in Makati City. So the people involved were definitely not palengkeros.
Top Gear Philippines captioned the Facebook post, "There's no place for this in a decent society." Indeed there is none. But the reason these sorts of incidents resonate powerfully among Filipinos is that it is a common occurrence. Indeed, Top Gear Philippines should know. It is a sumbungan of many incidents of road rage in the Philippines, many of which are not too different from this one.
So ingrained in the Filipino psyche is this sense of entitlement on the road that no less than Philippine President Benigno Simeon 'BS' Aquino III made the stamping out of this sense of entitlement a cornerstone of his campaign in 2010, vowing to eradicate the "wang-wang" from Philippine roads. Wang-wang is a Filipino term that describes a strong tradition among politicians, rich folk, and other "important" Filipinos to equip their vehicles (even private vehicles) with police sirens and flashers to enable them to muscle their way through Manila's infamous traffic. Ordinary Filipino motorists are quite aware that owners of these vehicles and their bodyguards are often armed and dangerous psychos who will not hesitate to use their hardware against anyone who dares challenge their entitlement to expedited passage.
A recent incident illustrating this mentality involved Makati City Mayor Junjun Binay who also happens to be the son of Philippine Vice President Jejomar Binay. The incident saw the Mayor being subject to a security check by the security personnel of — coincidentally (or not) — the same village. But because Binay is the mayor, he promptly summoned the Makati Police and had the "offending" security guards hauled to jail.
Small wonder that such acts of violence continue and that this recent drama happens to have been set in the same community. Maybe Dasmariñas Village folk ought to have themselves subject to psychoanalysis on account of this apparent statistical skew towards their locality when it comes to high-profile incidents of road rage that kick off media circuses.
Interestingly enough, President BS Aquino's famous no-wang-wang promise is an utter failure today as the practice evidently persists on Manila's roads. So if the President himself cannot eradicate this sort of mentality what hope is there of lesser government officials, much less ordinary Filipinos, ever making any progress instilling better manners on Manila's streets? It doesn't look promising. Even Filipinos' proud tradition of pissing on their roads cannot be changed.
So back to the original question: Is the Philippines home to a decent society? The answer to that question, it turns out, is a confronting one.
benign0 is the Webmaster of GetRealPhilippines.com.