I can understand the rage felt by those UP students who mobbed Department of Budget Management (DBM) Secretary Florencio 'Butch' Abad in mid-September. The behaviour of these activists represent an explosion of pent-up anger over what many believe to be an astounding case of wholesale national thievery that will likely go unpunished.
Abad is widely-regarded as the architect of the notorious Disbursement Acceleration Program (DAP) which was allegedly used as a mechanism to channel funds illegally to the pet projects (and, allegedly too, into the bank accounts) of Senators and House Representatives in exchange for their "cooperation" in Philippine President Benigno Simeon 'BS' Aquino III's personal campaign to impeach then Supreme Court Chief Justice Renato Corona in 2012.
However, because the beneficiaries of this alleged thievery — Philippine Congress — are themselves the primary channel through which any punitive action against Abad and his boss Philippine President Benigno Simeon 'BS' Aquino III could be effected, there is no more than the slimmest of chances that this case will ever be resolved and the perpetrators ever brought to justice.
What are we in power for? This question has become synonymous with Philippine Congress. In the Philippines, thief and judge are both powerful and friends, while the ordinary Filipino taxpayer sits outside of that circle of friendship. Those UP students who had nothing left except their rage perhaps represented a microcosm of the Filipino people's only "option".
However, the key argument against the way these UP students conducted themselves before the Budget Secretary on that night on the 17th September 2014 is that they resorted to violence. Vencer Crisostomo, chairman of Leftist group Anakbayan and a former chairman of the militant League of Filipino Students (LFS) himself confirmed the group's use of violence in his account of the incident posted on Facebook. The protesters, Crisostomo wrote, "hurled crumpled paper" at Abad and "threw coins and mamera at him." Crisostomo also related that as Abad boarded his vehicle, "a student got close and grabbed him from the back by his collar."
So one wonders then: If these students had managed to get their hands fully on Abad, what would they have done? An angry mob catching up with the object of their rage is not often known to lead to a pleasant ending. Fortunately for Abad, we will never know the answer to that question.
Unlike in societies where there is no freedom of expression and where the law does not protect the rights of dissenters and people who find themselves in the custody of the police, the Philippines has a working criminal justice system and a Constitution that guarantees these rights. So one can argue that these UP students did have a choice — a choice to demonstrate their protest of the government's alleged thievery within the framework of the very law that guarantees their right to do so.
But when these students resorted to acts of violence against no less than a Cabinet Secretary of the Republic, they crossed a couple of lines. The first is a legal line — i.e., the government would have well been within its rights to have these students arrested and charged for endangering the life of a Cabinet official. The second delineates their moral ascendancy — if Abad had been hurt as a result of the actions of these students (making it easier for his camp to paint him as a victim), the cause they were championing would have been undermined as a result.
The thing with violence is that there is no going halfway. Only a fool would throw little pebbles when faced by a rabid dog. Any violent measure you take against a foe who could kill you should go the whole nine yards. That means, if you plan to fight said dog, it would be in your best interest to be armed with something that could actually kill it.
When you choose to use violence against your government, you better make sure you plan to go the whole nine yards to overthrow it and crush it completely. If you choose to break the law to further your revolt, make sure your objective is to win said revolt so you could replace the law you violated in order to achieve that victory.
That way you'd be able to answer this simple question with a lot more conviction after an incident such as the one involving Abad in the UP Diliman campus that night:
What next?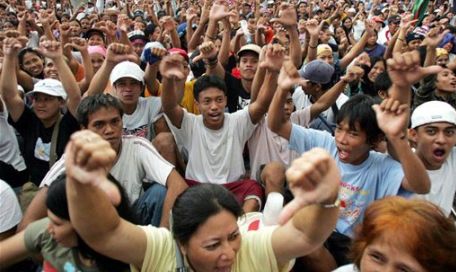 The Philippine Constitution affords every Filipino the right to demonstrate their grievances against the government over a variety of legal means. In that light, every activist needs to ask himself the important question first before going about their protest activities: How far am I planning to take this?
benign0 is the Webmaster of GetRealPhilippines.com.