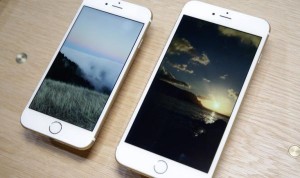 Following the brouhaha over "bending" iPhone 6 Plus phablets rippling across social media, Apple Inc has finally spoken up. The Wall Street Journal reports Apple's claim that "only nine customers have contacted the company about a bent iPhone 6 Plus."
The following is the full statement issued by Apple on "bendgate" published by The Huffington Post:
Our iPhones are designed, engineered and manufactured to be both beautiful and sturdy. iPhone 6 and iPhone 6 Plus feature a precision engineered unibody enclosure constructed from machining a custom grade of 6000 series anodized aluminum, which is tempered for extra strength. They also feature stainless steel and titanium inserts to reinforce high stress locations and use the strongest glass in the smartphone industry. We chose these high-quality materials and construction very carefully for their strength and durability. We also perform rigorous tests throughout the entire development cycle including 3-point bending, pressure point cycling, sit, torsion, and user studies. iPhone 6 and iPhone 6 Plus meet or exceed all of our high quality standards to endure everyday, real life use.

With normal use a bend in iPhone is extremely rare and through our first six days of sale, a total of nine customers have contacted Apple with a bent iPhone 6 Plus. As with any Apple product, if you have questions please contact Apple.
Apple claims that sales of the iPhone 6 and the big-screened iPhone 6 Plus broke records with more than 10 million units sold on the first three days since it hit stores. However, a subsequent update to its iOS 8 operating system reportedly caused disruptions in its phone functions prompting Apple to issue instructions on how to downgrade back to the system's previous version.
[Photo courtesy CNet.com.]
benign0 is the Webmaster of GetRealPhilippines.com.