For many Filipinos, the fight being waged by Islamic militants to re-establish a Muslim caliphate across vast swaths of the Arab world in North Africa and the Middle East has remained a mere peripheral issue. Recent events however have revealed disturbing insight into how much of the events over there may be resonating among the southeast Asian Muslim community.
Recently, it's been reported that the Mindanao-based Islamic militants Bangsamoro Islamic Freedom Fighters (BIFF) and the Abu Sayyaf have pledged allegiance to the Islamic State of Iraq and Syria (ISIS) fighters in Iraq and Syria.
"We have an alliance with the Islamic State and Abu Bakr al-Baghdadi," BIFF spokesman Abu Misry Mama told Agence France-Presse by telephone on Friday, referring to the brutal jihadist group's leader.

Misry confirmed that a YouTube video uploaded on Wednesday, showing a purported BIFF leader flanked by armed men reading a statement of support for the IS, had come from his group.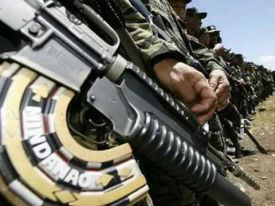 It is interesting to note that the BIFF is a splinter group from the terrorist Moro Islamic Liberation Front (MILF) with which the Philippine Government under President Benigno Simeon 'BS" Aquino III and the Malaysian Government have been negotiating a peace deal with in exchange for greater "autonomy".
Philippine security officials have reportedly outright dismissed the threat and have called the local media to be "circumspect" in their coverage of this matter…
"It can be claimed by anybody who wants to take (advantage) so they can become more notorious, so that they will be feared more since they have links (with IS)," [Armed Forces of the Philippines spokesman Maj. Gen. Domingo Tutaan said], noting that a wrong idea will only give way to their criminal activities.

Tutaan also refused to recognize videos posted on YouTube showing the groups pledging support for the IS.

"We do not dignify (videos on) YouTube… A lot of things can happen on YouTube… We are just being careful on our pronouncements before the media because we dont want to cause undue alarm… These (linkages) are unverified," he said.
The Malaysian government, on the other hand is less-complacent when it comes to Islamic militancy. Reports of escalated activity in Malaysia have been revealed by security officials there and establishments and activities in Malaysia widely-regarded by hardline Islamists as anti-Muslim in nature may be at risk of being attacked by terrorist groups.
Ayob Khan told Agence France-Presse (AFP) that the group, all Malaysians, had visions of establishing a hard-line Southeast Asian Islamic caliphate spanning Malaysia, Indonesia, Thailand, the Philippines and Singapore, and planned to travel to Syria to learn from Isis.
A caliphate is an Islamic state led by a supreme religious and political leader known as a caliph – i.e. "successor" – to Muhammad. The succession of Muslim empires that have existed in the Muslim world are usually described as "caliphates". Conceptually, a caliphate represents a sovereign state of the entire Muslim faithful, (the Ummah), ruled by a caliph under Islamic law (sharia).
The caliphate reached its zenith in ancient Arabia under the Rashidun Caliphate of the Umayyads from 661-750. Under the Umayyads, the Caliphate grew rapidly in territory. Islamic rule expanded westward across North Africa and into Hispania and eastward through Persia and ultimately to the western lands of Indus Valley, in modern day Pakistan. This made it one of the largest unitary states in history and one of the few states to ever extend direct rule over three continents (Africa, Europe, and Asia). Although not ruling all of the Sahara, homage was paid to the Caliph by Saharan Africa, usually via various nomad Berber tribes. However, it should be noted that, although these vast areas may have recognised the supremacy of the Caliph, de facto power was in the hands of local sultans and emirs.
Muslims in southeast Asia, however were never subject to the rule of the caliphs as large organised sultanates spanning what are now Borneo, Mindanao, and big parts of the Indonesian archipelago were already in existence there at the time. Indeed, it is quite ironic that Islamic militants in southeast Asia now look to ISIS as a model for their own plans to re-conquer their lost realm. The original sultans of southeast Asia are known to have refused to recognise the authority of the Arab caliphs and took pride in their respective kingdoms' sovereignity.
[NB: Parts of this article were lifted from the Wikipedia.org article "Caliphate" in a manner compliant to the terms stipulated in the Creative Commons Attribution-ShareAlike 3.0 Unported License that governs usage of content made available in this site.]
benign0 is the Webmaster of GetRealPhilippines.com.