So is the average Filipino life just worth 10,000 pesos (USD200)? I heard that is the average going rate for a "hit" to be delivered by a pair of assassins riding in tandem on a motorcycle in the Philippines. That's less than a month's work for the average Filipino city slicker and about a day's work for, say, an American on minimum wage.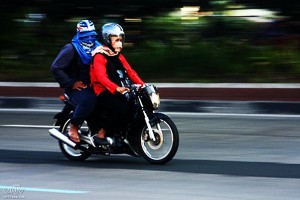 Obviously the rate varies depending on the "value" of the target. Recently, the suspected assassins who took care of Filipino racing champ Enzo Pastor were reportedly arrested by the Quezon City police. The alleged assassin, a police officer, said he was paid by a "businessman" Php100,000 to do the job.
The killing of Pastor took place on the 13th June and the mode of the attack was pretty standard by, well, Philippine standards…
According to reports from GMA and ABS-CBN news, the Philippine racer was riding in a truck (license plate WSC 331) at Visayas Avenue corner Congressional Avenue when men riding in tandem on a motorcycle shot Pastor and his assistant Paolo Salazar. Pastor and Salazar were reportedly traveling from Batangas to Clark International Speedway to prepare for the final leg of the Asian V8 Championship.

According to Salazar, the motorcycle suddenly approached them and the gunman opened fire. Both were brought to hospital but Pastor died from gunshots to the head and neck. Salazar was injured in the incident.
Many other such indcidents have occurred with alarming frequency over the last several years. Like the way Filipinos latch on like lemmings to fads, motorcycle-tandem-style assassination has captured Filipinos' enterprising sensibilities big time. A Sunstar.com report worked out that over a six month stretch in late 2011, more than 200 such incidents occurred per month!
It's a safe bet. Motorcycles have proliferated in the Philippines thanks to the country's doors remaining wide open to flooding by all sorts of cheap imports. They now infest most Philippine cities, its riders weaving in and out of traffic with impunity and causing many road accidents.
Assassin-by-motorcycle is the motorcycle's latest business application in the Philippines. Like many of the underground businesses that prop up the Philippine economy, it offers a very low barrier to entry; i.e., not much capital is required to get started. A typical low-end bike costs between 50,000 and 80,000 pesos (USD1,000 to USD2,000). And because one necessarily wears a helmet when riding motorbikes, faces are easily masked during a "job".
Guns, that other essential tool-of-the-trade, are also not much of a problem to procure. These are in wide circulation all over the Philippines, many of them manufactured illegally in a growing cottage industry in the mountainous jungles of the Philippines' shadowy hinterlands. Still more of these have found their way out of the armories of the Philippine military, probably peddled by its ill-paid and, thus, impoverished soldiers. It does not help either that the Philippines' president, Benigno Simeon 'BS' Aquino III and his inner circle of henchmen within his administration are avid gun enthusiasts.
Indeed, the problem of gun proliferation in the Philippines is a lot broader than the issue of bike tandem assassins. Hundreds of Filipinos are routinely killed by stray bullets, most of them during the traditional orgy of indiscriminate gun firing that happens in the lead-up to New Years Eve every year. Many of the offenders are, in fact, people who are licensed to carry firearms, mainly police officers, security, and military personnel. For that matter, the Philippines is effectively a police state, with even the smallest of businesses like corner convenience stores and even private homes guarded by heavily-armed uniformed thugs.
Because of the way these assassins have largely managed to successfully elude capture, more aggressive methods to control them have been proposed. In early August, Philippine Senator Vicente "Tito" Sotto filed Senate Bill 2344. Dubbed by pundits as the "Anti Batman and Robin Bill", the proposal reportedly seeks to grant police officers greater powers to flag down and search pairs of motorcycle riders riding in tandem.
But the problem of the increasingly homicidal nature of Philippine society has far deeper roots. Murderous rampages in the Philippines have at many times, been incited by minor personal slights. Filipinos, in fact, are known to be sensitive (bordering on onion-skinned) and are renowned for being quick to react to criticism.
A crackdown and sustained control over Filipino-style motorcycle tandem assassination will require a systematic approach over a broad scope of measures that take into account both the immediate specific nature of the cases and its more systemic roots.
benign0 is the Webmaster of GetRealPhilippines.com.