I purposely missed President BS Aquino II's speech last night because, frankly, I didn't need the aggravation of hearing him defend the Disbursement Acceleration Program parts of which was already ruled unconstitutional by the Supreme Court.
But lo and behold, on my Facebook wall were all manner of references to the President's speech. It was a blockbuster and not in a good way.
As I was scanning the President's speech this morning, my eyes immediately locked on a particular passage that seemed to threaten the Supreme Court but with what is not exactly clear but only IMPEACHMENT requires the participation of congress.
Here's the passage:
Ang mensahe ko po sa Korte Suprema: Ayaw nating umabot pa sa puntong magbabanggaan ang dalawang magkapantay na sangay ng gobyerno, kung saan kailangan pang mamagitan ng ikatlong sangay ng gobyerno. (Translation: My message to the Supreme Court: We do not want this to reach a point where two co-equal branches of government will come into conflict, where it will be necessary for the third branch of government to intervene.)
Anyway, I caught Boo Chango post this on Facebook and makes one point very clear, President BS has no choice but to follow what the Supreme Court says:
Like all these or not, P-Noy took an oath to defend the Constitution. It may be news to him but the Constitution is what the Supreme Court say it mandates.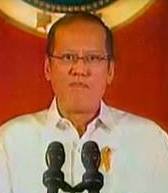 Here's are the things that get me about President BS situation right now: President BS was found to have (1) violated the constitution ratified during his mother's term by (2) a Supreme Court which is dominated by his appointees.
On one hand, you'd think President BS is being belligerent or contemptuous. On the other hand, it seems very much that he is saying that he owns the constitution and looks at Supreme Court justices as subordinates who should interpret the fundamental law of the land according to his dictates.
Or in terms the common thug will understand, President BS is saying: "The 1987 Constitution is what I say it is and the Supreme Court is my bitch."
If ever there was a picture of absolute arrogance, you need to look no further.