The whole brouhaha surrounding the stink raised by Ateneo students and alumni over a photo of their fellows schmoozing with fomer First Lady Imelda Marcos in an Ateneo Scholarship Foundation (ASF) social event brought to light renewed debate over whether or not former President Ferdinand Marcos really was that bad. Was the former strongman a bad President?
The popular sentiment taken for granted as "truth" today is that he was really bad. He allegedly killed lots of innocent Filipinos, including celebrated Atenista martyr Edgar Jopson — a name that is suddenly making waves in social and traditional media following this latest of 'activist' circuses.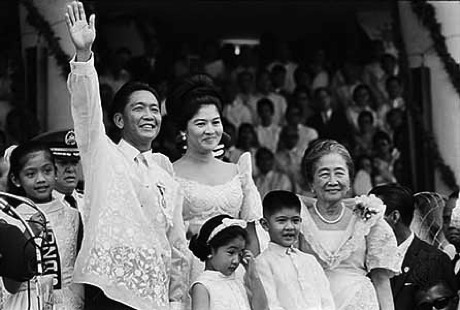 But Marcos's family is thriving today. And if the following three renowned popularly-held assumptions about the Marcos family are true;
(1) that its patriarch, the former President was really that bad a president;
(2) that his wife Imelda was complicit in that badness forming with him during his rule what is now popularly called a "conjugal dictatorship"; and,
(3) that the rest of his family have supposedly escaped justice that remains due them…
…then the fact of the Marcos's continued figuring in the Philippines' high society and top-level politics says a lot about Filipinos' collective seriousness and resolve (or lack of either one or both) to confirm and act on those assumptions. On regarding the fact that no Marcos post 1986 has stood accused in a court of law, perhaps one can argue that it was not for want of trying. As a New York Times report cites, "The great majority of the 900 civil and criminal cases against the Marcoses, filed in the Philippines and the United States, have been dismissed." But the obvious next questions persist. Why have there been no convictions? Why have there been no arrests? No detentions (bailable or non-bailable)?
Certainly if there were, indeed, thousands of victims, at least one complaint progressed to the point of seeing at least one of the Marcoses detained (and feasted upon by social media "activists") will have been a statistically strong possibility. More importantly, one would think that the current Philippine President Benigno Simeon 'BS' Aquino III, son of one of if not the most famous of Marcos's alleged victims would have focused his now famously-narrow presidential attention span and legendary vindictiveness on avenging his father over the course of his six-year term.
But who are languishing in prison today? Famous names maybe. But certainly names not as unforgettable as names ending with "Marcos".
So, there you go. The track record of people who supposedly had said (and continue to say) the most about the eeevvvviiilllls of the Marcos regime certainly exhibit a dismal track record of convincingly walking their talk, not to mention the Ateneo community who, today, are huffing and puffing about the Imelda photos while bemused non-Ateneans watch.
Perhaps the bigger reality escapes the collective thinking here — that the continued rein of the Marcos clan over Philippine society and politics is a failure of all Filipinos; that is, if (and that "if" is getting bigger as more people supposedly forget what it is exactly we "replaced" in 1986) the Marcoses are, indeed, the bad people they are popularly made out to be.
Innocent until proven guilty, remember? That is the law. If Filipinos, particularly those who speak the loudest about the Marcoses being "evil" are to be vindicated, then perhaps pencils need to be sharpened and complaints drawn up. Then again, it's all too hard, right? The next teleserye is coming on and the next soundbyte to be issued by our celebrity whistleblowers is due to be issued soon. See ya later.
benign0 is the Webmaster of GetRealPhilippines.com.