I've been waiting for hundreds of thousands if not millions of people to start wearing yellow shirts and ribbons since the day an article stared floating around the internets saying King Benigno S. Aquino The Second called on his worshippers to don their kingdom's color to show their support for his stand against the Supreme Court's ruling against DAP.
After days of waiting, all I found was Spokesman Sonny Coloma telling people not to take his King's word too seriously. Heck, I even think Coloma said King Noynoy was just joking.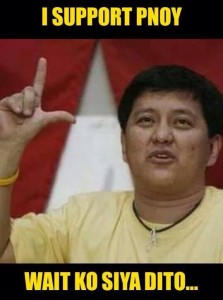 But I wasn't really too disappointed because, even if this one particular gesture of support seems a little dated, I think it's still a good one. The picture on the right is Ampatuan swearing his oath to protect and defend a fellow warlord, the Yellow King of Tarlac.
And apparently, it's also prime time for all of King Noynoy's sycophants (alternatively spelled psycho-phants and suckophants) and really, they've got to start working double time to earn their keep.
Not that I have any proof at all that the likes of Jim Paredes, Cynthia Patag, and others were paid with the King's gold to regurgitate the legal brilliance of Raissa Robles who single handedly demolished the unanimous decision rendered by 13 Supreme Court Justices against the constitutionality of DAP.
Those justices must be hanging their heads in shame for, in the words of Raissa Robles, having ERRED.
And just like that, old Jim Paredes comes chiming in:
It took a blank, clear, non-expert mind to trump the certified experts who designed the Emperor's new clothes. Go Raissa Robles
Jim's opinion of Raissa's legal brilliance makes me think… All that hype about marijuana not doing serious damage to people's brains is probably untrue and the long term effects actually become more pronounced after one hits a certain age.
Going back to Coloma's "It's A Joke" pronouncement on behalf of his Majesty Noynoy, here are a couple more knee slappers that people have had to contend with over the past few years…
Remember the time when King Noynoy was confronted by a man who told him that he was nearly killed by people trying to rob him in the pandemonium that erupted in the aftermath of Yolanda?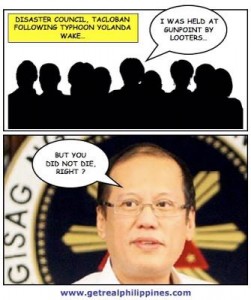 Better yet, remember the time when Pnoy oversaw the operations of the Quirino Grandstand hostage taking?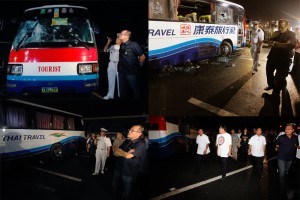 Oh well…
Like I said in so many Facebook posts, King Noynoy has been a joke since day one. It doesn't help at all that his minions are too busy sucking up to him instead of compelling him to do the right things right.