A photo of what looks like several Ateneans posing beside former First Lady Imelda Marcos has been making the rounds. The photo clearly shows the seal of the Ateneo in the background and students assuming various provocative poses while flashing the "V" ('victory') hand gesture.
That hand gesture came to be associated with loyalty to former President Ferdinand E. Marcos at the height of a broad-based protest movement following the assassination of former Senator Benigno 'Ninoy' Aquino Jr. in 1983.
Not surprisingly indignation has erupted in the Philippines' online social media community. Particularly offended were some alumni from the Ateneo High School's "freedom batch" of 1986 which was graduating at the time the 1986 EDSA "people power" "revolution" erupted.
It is interesting to note that one of the alleged "casualties" of the regime of Marcos was Edgar Jopson, a high-profile student leader at the Ateneo and a 1970 recipient of The Outstanding Young Men of the Philippines (TOYM) award issued by the Junior Chamber International-Philippines. Jopson was an active member of the Ateneo Student Council as a college student during which time he was elected president of the National Union of Students of the Philippines (NUSP).
Jopson's increasingly militant views against the Marcos regime eventually forced him to go "underground". Jopson was arrested in 1979, managed to escaped but was killed at age 34 in 1982 after being captured in what many considered to be a 'rubout' perpetrated by the Philippine military. As such, Jopson has since been regarded as a martyr by various movements and regarded by many Ateneans as an exemplar of the Ateneo ideal of being a "man for others".
Current Philippine President Benigno Simeon 'BS' Aquino III is also a noted alumnus of the Ateneo.
A certain Kassandra Barnes posted the following photo on Instagram (using her account @kassydoodle) which seemed to be of the same event where the earlier "offensive" photo was taken. The caption "DMC with Imelda Marcos and Ateneo Scholarship Foundation" accompanied the photo.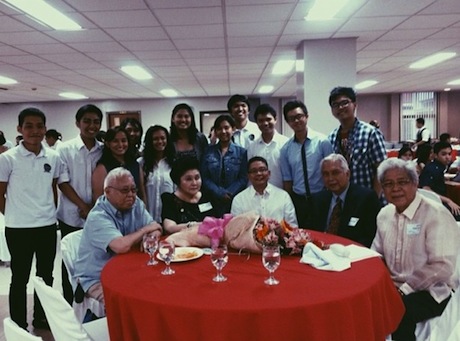 The above photo and accompanying caption possibly confirms that Mrs Marcos is a major donor to the Ateneo Scholarship Foundation (ASF).
benign0 is the Webmaster of GetRealPhilippines.com.