The Disbursement Acceleration Program (DAP) is a fund created by the administration of Philippine President Benigno Simeon 'BS' Aquino III that serves as a vehicle for transferring unused appropriations from one project to another. It has since been deemed unconstitutional by the Philippine Supreme Court because it was ruled that the President does not have the authority under the present Constitution to transfer funds out of the jurisdiction of the Executive branch.
Here are four key arguments being fielded by Malacanang and other apologists of this controversial presidential slush fund that we've rendered in memes over the last several days.
(1) Release of funds appropriated via the DAP were done in 'good faith'.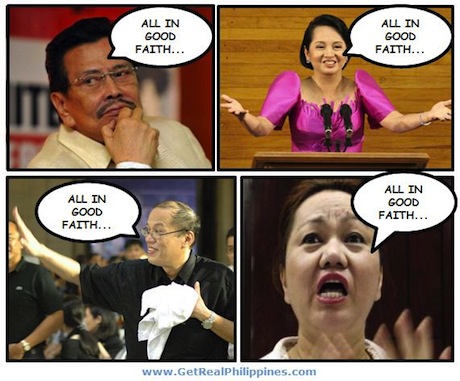 (2) Officials involved in the management and control of the DAP were 'not informed' about its potential illegality.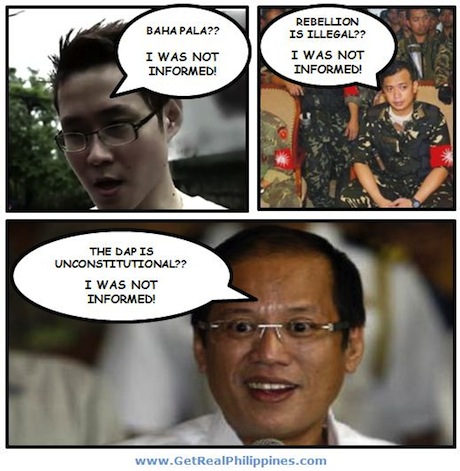 (3) Malacanang begs to differ to the interpretation of the constitutionality of the DAP issued by the Supreme Court.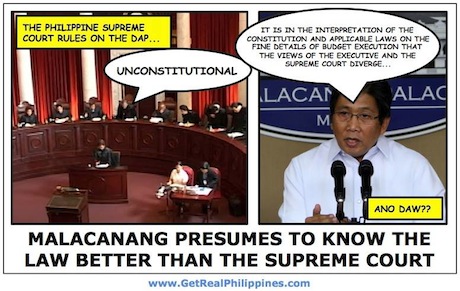 (4) Ignorance of the law does not constitute grounds for impeachment.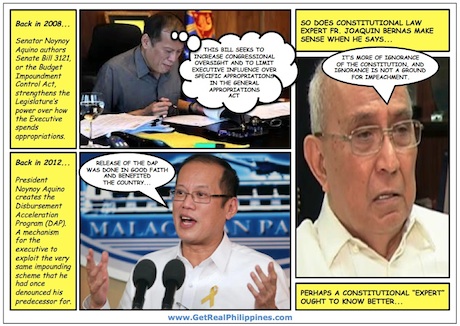 [Click on above image to enlarge.]
Stay tuned as only time will reveal which of these arguments win (and the Philippines is a society renowned for seeing the wrong arguments win in most "debates").
benign0 is the Webmaster of GetRealPhilippines.com.