A staring match is a common game played in many cultures. Kids are most familiar with it. Who will blink first? Taken literally, it is a battle of mind over physical reflex. Blinking one's eyes, after all, is an involuntary act that lies outside of our conscious control.
But adults play the staring game too. And Philippine President Benigno Simeon 'BS' Aquino III has gotten good at it. He has come a long way since 2010, and has learned the art of surviving political crises — by simply growing a thicker face. Patigasan ng mukha is a familiar phrase in the Filipino vernacular. In English it roughly means stonewalling.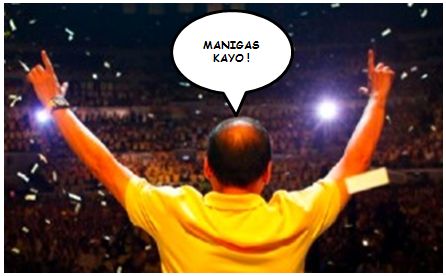 This is what President BS Aquino is doing today under the weight of public opinion increasingly growing hostile as outrage over Malacanang's criminal use of the notorious slush fund, the Disbursement Acceleration Program (DAP) simmers. Stonewalling. To be fair, it is a brilliant communication strategy. The Malacanang 'Communications Group' finally got it right this time. Simply invoke the right to remain silent. The din of hysterical chatter may grow but all this will really achieve is contribute to noisy speculation. And where there is a dearth of reliable facts the clouds of extraneous hearsay factoids rolls in and with it the confused frenzy amongst the chattering classes it induces.
That is essentially what happened when the circus over those Napoles Lists erupted — when every social media "activist" and her dog dished out their "expert" view on the hidden "meaning" of these lists and the imaginary readings they extracted between the lines in those lists.
The mystery du jour nowadays is around those "116 projects" President BS Aquino supposedly bankrolled with his DAP. Indeed, another list. Last month it was the Napoles Lists. Today it is Abad's List.
Suffice to say, we shouldn't really be holding our breaths. According to Communications Secretary Herminio Coloma, it is the position of Malacanang that "the discussion of the projects is part of the active case and [they] observe certain rules whenever there is still an active case [on-going]". So there. And there is still the appeals process that Malacanang will likely explore to respond to the Supreme Court ruling on the DAP's unconstitutionality before it goes on record with any new information on the matter.
At this stage, President BS Aquino's besieged castle is a formidable thing to behold — hatches all battened up, drawbridge raised, and moat filled to the brim. Philippine Congress is now acting more and more like a Malacanang insider than a co-equal check-and-balance branch. So there is no real hope in looking to that body of "representatives" for help in pressuring President BS Aquino to talk. After all, its members have a decades-long tradition of feasting on pork. Like the Napoles List, Abad's List (if it does exist) is likely to contain a list of project sponsors that is a feast of who's-whos social media mavens and mainstream reporters are likely salivating over today.
One of the options President BS Aquino could have taken to buy himself some time and alleviate downward pressure on his sagging all-important popularity numbers was to stick Budget Secretary Butch Abad's head on a spike and put it on display before the peasants surrounding Malacanang. Abad is seen by many to be the princopal architect of the DAP and its lead executor so this was actually a "doable" measure that may have delivered some results. But that prospect has also gone out the window, the President reportedly officially absolved his key DAP henchman of any wrongdoing yesterday.
What next? We wait, I guess.
For now, both sides of the stone wall just need to stock up on eye drops. It's gonna be a long national stare.
benign0 is the Webmaster of GetRealPhilippines.com.