The Philippine government infestation by the Abad dynasty headed by current Department of Budget Management (DBM) Secretary Florencio 'Butch' Abad is being bathed under an increasingly harsh spotlight. The full extent of this infestation was described in detail by United Nationalist Alliance secretary general and Navotas Rep. Tobias Tiangco…
[…] Tiangco said there are 11 Abads in government — including Abad's wife, Henedina (representative of Batanes and vice chairman of the powerful House approriations committee); daughter Julia (Presidential Management Staff head), son Luis (chief of staff of Finance Secretary Cesar Purisima); four nephews; one niece; and two first cousins.

But in his 2013 Statement of Assets, Liabilities and Net Worth, Abad only declared nine relatives in government service. His son, Luis, was no longer listed.
Tiangco added the 'alarming' fact that "the Abads virtually control the Aquino administration from the President's schedule to the trillion-peso purse" — "largely a family-run operation."
Recently, Abad's daughter Julia was named "Young Global Leader" by the World Economic Forum (WEF). Manila Times columnist Ben Kritz described this move by the WEF as one that sends the wrong message…
If there were no else with the same surname in the Philippine government, we might not question whether a CV as a well-educated alalay [Tagalog for 'assistant'] qualifies one as a "young global leader", but the inescapable fact that the Philippine government is positively infested with Abads completely invalidates the argument that Julia Abad owes her position to her own talent and hard work. She doesn't; everyone in the Philippines knows it, she knows it, her parents know it, and if the WEF did a little research, they would know it, too.
Indeed, as Budget Secretary, Abad is seen by many as the architect of the notorious "Disbursement Acceleration Program" (DAP), the renowned beyond-audit-reach Malacanang slush fund allegedly used to finance the bribery of 'Senator-Judges' who presided over the impeachment trial of former Chief Justice Renato Corona in 2012. As if this weren't enough of a badge of dishonour to wear on his forehead, he is also now under pressure to explain why he sat for months on almost Php1 billion in relief funds that Congress had approved for use in the rebuilding of schools destroyed when super-typhoon Haiyan hit central Philippines in November 2013.
Yet despite all of this, President BS Aquino stands by his henchmen. Presidential Spokesperson Edwin Lacierda attributes this perceived "singling out" of Abad Inc as sign of the public's reluctance to criticise their "incorruptible" president. Lacierda asserts that "Obviously, nobody wants to hit the President because the President's honesty, incorruptibility, reformist image…can never be questioned. So, they are trying to hit the people around him." A remarkable effort to defend yet another PR disaster for the beleaguered regime of President BS Aquino. Like Deparment of Interior and Local Government Secretary Mar Roxas, Abad is now all but a washout.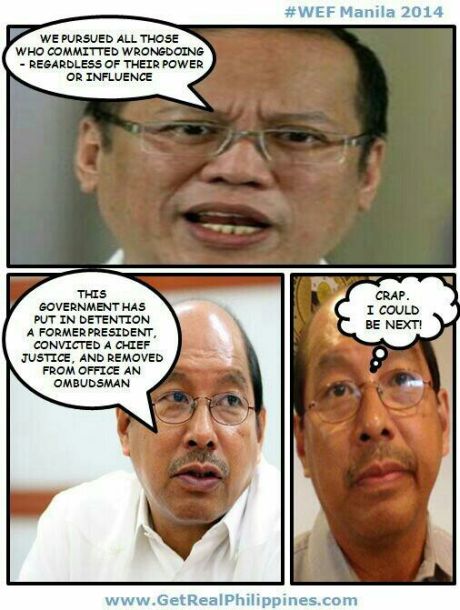 The Philippine President, however, owes Abad big time. Abad is likely to have won the favour of the Aquino-Cojuangco feudal clan as a member of the famous "Hyatt 10". The term "Hyatt 10" refers to a group of seven secretaries of the Cabinet and three heads of government agencies in the Philippines who resigned their posts on July 8, 2005 as a result of the 'Hello Garci' scandal, which allegedly implicated then-President Gloria Macapagal-Arroyo in rigging the 2004 general election in her favor.
The name "Hyatt 10" was coined because the press conference where the concerned officials announced their resignation was held at the then-Hyatt Regency Hotel (now Midas Hotel) in Pasay City. The group continues to be influential in Philippine politics, and includes current Finance Secretary Cesar Purisima.
Abad then served as then presidential candidate BS Aquino's campaign manager during the 2009-2010 election campaign. Reports of infighting between the Hyatt 10 and President BS Aquino's core Kamaganak Inc are legendary. Journalist Fe Zamora observed in a 2010 Inquirer report on the "inside story" of this feud how the Cojuangco clan at the time "did not want any Hyatt 10 member back in the Cabinet under the new Aquino administration because they were once closely associated with President Gloria Macapagal-Arroyo."
How much longer can Abad — and, for that matter, Mar Roxas — continue to cling to the Aquino administration by their fingernails? Two more years if necessary, perhaps. Then again, like the multitude of teleserye Filipinos are hopelessly addicted to, it is best to sit back and watch the show go its natural course.
Abangan ang susunod na kabanata.
[NB: Parts of this article were lifted from the Wikipedia.org article "Hyatt 10" in a manner compliant to the terms stipulated in the Creative Commons Attribution-ShareAlike 3.0 Unported License that governs usage of content made available in this site.]
benign0 is the Webmaster of GetRealPhilippines.com.