I didn't want to comment about Senator Bong Revilla's t-shirt scripture, but tonight, for some reason, I feel compelled to do so.
I've been avoiding writing about Christian stuff not out of fear, but because I know that I don't know enough about Christianity despite being a Catholic all my life and I tend to be a bit touchy when it comes to matters of belief that I've come to embrace over the past two or three years that I've accepted Jesus as my Lord and Savior.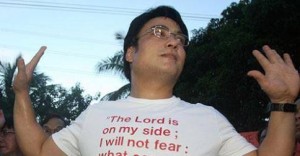 Yes folks, I'm born again. And no, you won't find me preaching on a bus or knocking on strangers doors. And nope, I am not out to convert anyone although I do invite people I care deeply about to come to Bible study because I've found such gatherings to be very enlightening and uplifting.
Thing is, I know I am not in any position to tell people about how to live their life in the Christian way because I myself have not completely embodied all the Christian teachings and perhaps I never will embody all the teachings. I am never going to be perfect. The important thing here is just this, at least to me: Christianity is not about telling people how to live their lives in the Christian way, it's about learning to embody the teachings of Jesus Christ — the emphasis is inward, not outward.
If there's anything I've learned in my Christian life it's that improving one's self is more productive and more rewarding than trying to improve other people — because that implies finding fault in others first, which is what makes for great flame wars online.
It's simple really because it's pretty much like the instructions on the oxygen mask on most airplanes which tells passengers to (1) wear the mask first before (2) putting the mask on a child or someone else.  How can you help others if you're incapacitated by oxygen deprivation?
I think that the most relevant scripture for this is a common one which you'll come across and it has to do with judging others:
Mathew 7: 4 – 6

4″Or how can you say to your brother, 'Let me take the speck out of your eye,' and behold, the log is in your own eye? 5″You hypocrite, first take the log out of your own eye, and then you will see clearly to take the speck out of your brother's eye.
I have to admit folks, when I saw Senator Bong Revilla with that shirt printed with a verse from Psalm 118:6 "The Lord is on my side; I will not fear: what can man do unto me?", my immediate reaction was to scoff and snort. Who is he kidding?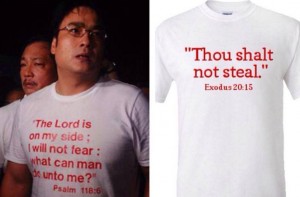 Then there were others who say that Revilla took God's name in vain, but did he really?  To some people who say that they're devout Catholics or even studied for years at a seminary, it's pretty clear to them that Revilla broke two of the ten commandments.
As someone put it to me, "Why are have you been saying that he is not using GOD's name in vain given the fact that he wore this shirt during press con? Come one? Are you doing PR for him? I will understand if you do thus it will be your position even if truth is already glaring. But please think about the people that died because of hunger or missed the opportunity to be treated in the hospital because the money was pocketed by them? Do you know the meaning of prima facie? It means "fact presumed to be true unless it is disproved."
It is clear that the person who thinks that I am doing PR for Revilla (which I am not) is making two assumptions and they are:
(1) Senator Revilla is guilty of stealing.

(2) Being a thief, it is blasphemous for Revilla to wear a shirt that states "The Lord is on my side;…" because it implies that God sides with thieves, when He should condemn them.
Now here's the thing we have to contend with and it may be difficult for some us to accept at this point, Senator Revilla as well as the others charged in the Pork Barrel Scam are STILL innocent until proven guilty in the eyes of the law.  And if we uphold things such as "prima facie evidence", then we should also uphold things like "presumption of innocence", quite simply because it would make an absolute mess of the system of laws that we have — which is already out of kilter to begin with.
If some people claim to have almost gone to law school, it would be cinch (an absolute NO BRAINER) to admit that it would be premature and presumptuous to say that Revilla is already guilty at this point since the court has not even deliberated on the case yet, much less rendered a verdict.
Unless, of course, some people prefer to have a revival of the Inquisition, which is:
"… a group of institutions within the judicial system of the Roman Catholic Church whose aim is to combat heresy. It started in 12th-century France to combat the spread of religious sectarianism, in particular the Cathars and the Waldensians. This Medieval Inquisition persisted into the 14th century, and from the 1250s was associated with the Dominican Order."
Then again, perhaps some people may have a direct knowledge of Revilla's stealing or perhaps some people, because of their years in seminary school, has found a way to speak on matters which perhaps God can only know for certain.
So, if Revilla hasn't been proven guilty yet… if some people don't have direct knowledge of Revilla's crime… and if God didn't tell them that Revilla stole money… What is the basis for them to say that Revilla stole money and what is their basis for saying that Revilla blasphemed in wearing a shirt that says "God is on my side…"?
And here's the fine nuance that's flying over some people's heads in a Facebook group: All I am admitting to is that I am not in any position to judge Revilla on the matter of using God's name in vain. It doesn't mean I am absolving Revilla and the others of any crime, it simply means that I recognize that I am not in any position to render righteous judgment — which is the thing that seems to be badly needed in these times of tribulation.
Sure, I have my hunches about the whole case against Revilla and the others, but those are hunches.  And if one professes to being a seminarian or former seminarian, perhaps one should also KNOW that what is required is RIGHTEOUS JUDGMENT and not judgment based on hunches or personal biases.
Righteous judgment is something that has been stated in so many passages in the Bible — which is at the CORE of all Christ based religions and organizations.
Here is something which I think is good reading:
Jesus said: "Judge not, that you be not judged" (Matthew 7:1).

Does this mean we are never to judge? Certainly not, for Jesus also said: "Do not judge according to appearance, but judge with righteous judgment" (John 7:24).

We are commanded to exercise righteous judgment. We are forbidden to judge when we are not qualified to do so.

xxx xxx

We may not judge with insufficient knowledge. Paul wrote: "But with me it is a very small thing that I should be judged by you or by a human court. In fact, I do not even judge myself. For I know nothing against myself, yet I am not justified by this; but He who judges me is the Lord. Therefore judge nothing before the time, until the Lord comes, who will both bring to light the hidden things of darkness and reveal the counsels of the hearts; and then each one's praise will come from God" (1 Corinthians 4:3-5).

We may not take God's place in judgment: "Do not speak evil of one another, brethren. He who speaks evil of a brother and judges his brother, speaks evil of the law and judges the law. But if you judge the law, you are not a doer of the law but a judge. There is one Lawgiver, who is able to save and to destroy. Who are you to judge another?" (James 4:11,12).

We may not condemn the guiltless by neglecting mercy: "But if you had known what this means, 'I desire mercy and not sacrifice,' you would not have condemned the guiltless" (Matthew 12:7).
To wrap it up, I think that the idea that really riles people up is that Senator Bong Revilla is using scripture or being 'born again' as part of his PR ploy to make himself out as some kind of martyr being persecuted by a corrupt regime.
If Revilla's t-shirt were at all to be construed as Revilla saying that God says he is innocent of the charges, perhaps it could be seen like someone swearing an oath to tell the whole truth on a Bible then start lying and this where these verses come into play:
Matthew 5:33 – 37

33 "Again, you have heard that it was said to the people long ago, 'Do not break your oath, but fulfill to the Lord the vows you have made.' 34 But I tell you, do not swear an oath at all: either by heaven, for it is God's throne; 35 or by the earth, for it is his footstool; or by Jerusalem, for it is the city of the Great King. 36 And do not swear by your head, for you cannot make even one hair white or black. 37 All you need to say is simply 'Yes' or 'No'; anything beyond this comes from the evil one.
Usually, when people accuse another person of taking God's name in vain, they usually refer to cuss words and phrases that disrespectfully or irreverently use God's name or names. What the New Testament says actually sets a higher standard because not only is one commanded not to disrespect God's name, people aren't even allowed to swear on anything at all and just answer with a simple yes or no.
Thing is, I can only hope that those counselling Revilla have advised him of the ultimate consequences of whatever he is going to do in the coming days.
Revelation 21:8 ESV
"But as for the cowardly, the faithless, the detestable, as for murderers, the sexually immoral, sorcerers, idolaters, and all liars, their portion will be in the lake that burns with fire and sulfur, which is the second death."
Then again, if Revilla does the right thing, it could really bring a great deal of healing to this dysfunctional country we call the Philippines.