A leaked internal report observes that the New York Times is clearly "winning in journalism" with a daily report that is "deep, broad, smart and engaging". However, the same report acknowledges that the Times is "falling behind" in "the art and science of getting [their] journalism to readers."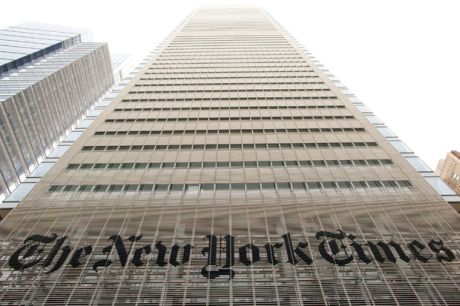 The report provides valuable insight on where the Times is likely to be headed and the challenges relevant to all media organisations facing the digital frontier. It highlights some emerging trends that need to be addressed in order to enhance the Times's ability to compete in the digital space. Key among them is the declining value of the site Home Page as an originator of content discovery. This is likely due to the way online content consumers now rely on their respective social media feeds to reveal relevant content to them.
SUPPORT INDEPENDENT SOCIAL COMMENTARY!
Subscribe to our Substack community GRP Insider to receive by email our in-depth free weekly newsletter. Opt into a paid subscription and you'll get premium insider briefs and insights from us daily.
Subscribe to our Substack newsletter, GRP Insider!
Learn more
With a huge archive of content dating back to the 19th Century, the Times also recognises that they are sitting on an under-utilised goldmine of articles that are timeless (remain relevant indefinitely) or may come relevant depending on what's currently "trending". This calls for an effort to device new ways of pushing content out to their audience to augment the traditional way newspapers present current content. They see opportunity in rehashing or repackaging old content into new presentation formats, particularly in a manner suitable for sharing across social networks on the Web.
The declining effectiveness of the Home Page for content discovery and the challenge of leveraging their vast archive of articles points to a need to become "more social". The report states that Times journalists want "maximum readership and impact" but that they "don't know how to use social media effectively." As such, there is recognition for a need to integrate content promotion via social media into the respective desks' "daily workflow".
One common challenge among end-consumers of online content is aggregation and organisation of stories they want to follow. The Times report recognises this and sees the challenge ahead lying in better management of metadata and search functionality in its digital assets. The objective is to help readers navigate the site more intuitively to the content they seek as well as discover related content. Consistent use of tags and better management of data structures are the key to achieving this. The report states "Without better tagging, we are hamstrung in our ability to allow readers to follow developing stories, discover nearby restaurants that we have reviewed or even have our photos show up on search engines."
The report is honest and acknowledges many best practices from the Times' increasing number of competitors, many of which are new to the industry. The report authors recognise that the Times is behind in terms of embracing a number of these best practices but also assures that the venerable organisation still leads the world in delivering the "best journalism". The seriousness of the Times's drive to compete in digital is underscored by its aspiration to become a "digital-first newsroom" possibly requiring a dedicated "task force" to achieve this and, eventually, a "stand-alone group to lead it".
No less than Arthur Gregg Sulzberger, son of the publisher Arthur Ochs Sulzberger Jr himself headed the internal team that developed the report. The leaked document published on Scribd by BuzzFeedDocs can be viewed here.
benign0 is the Webmaster of GetRealPhilippines.com.