News about Anne Curtis suffering from a box jellyfish sting has been all over the internet for the past several days now.
Not that we didn't notice that news of Anne Curtis getting treatment from several hospitals for what she and her publicists say could have been an "almost fatal" jelly fish sting follows another account of the celebrity reportedly lashing out at her sister's boyfriend in a drunken rage.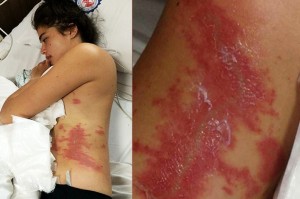 Of course we aren't saying that Curtis and her publicists staged the jellyfish sting incident — we couldn't be THAT mean.  Moreover, the pictures of Anne is a state of undress pumped out into the internet clearly shows red welts on her mid section.
However, because of the way ABS-CBN usually sensationalizes stories, we are expecting an overblown and over the top reaction from government agencies, non-government organizations, fisherfolk groups, and the general public.
Wasn't it just a month ago that ABS-CBN reported that there was a flesh-eating virus epidemic in Pangasinan?
So before Pnoy's minions start wailing all over the internet and calling for a full court press of government action against poisonous jellyfish as well as other dangerous sea creatures that attack celebrities, let's see what we're really up against.
Just how dangerous are jellyfish stings?
An article on About Scuba Diving presents some helpful information:
The most toxic type of jellyfish is the Box Jellyfish (Chironex fleckeri and Caruka barnesi) found in Australia and some regions of the Indo-Pacific. The venom of the Box Jellyfish has been known to kill a person in five minutes.

People react differently to jellyfish stings. Consider a jellyfish sting as a "dose" of poison. The smaller the person, the greater the effect of a jellyfish sting will be. Just as some people are highly allergic to bees and may go into anaphylactic shock from a single sting, other people may be unusually sensitive to jellyfish venom and may have a similar severe reaction.
As can be gleaned from the excerpt of the article, NOT ALL BOX JELLYFISH carry venom that can kill people.  While there may be other kinds of jellyfish that can be potentially lethal, the article names just two kinds of Box Jellyfish:
commonly known as sea wasp, is an infamous lethally venomous species of Box jellyfish living in coastal waters from northern Australia and New Guinea north to the Philippines and Vietnam. It is considered the most lethal jellyfish in the world because of the numerous incidents resulting in injury or death to humans.

Notorious for its dangerous sting, Chironex fleckeri has tentacles up to 3 meters (9.8 feet) long which are covered in thousands upon thousands of cnidocytes which, on contact, release microscopic darts, each delivering an extremely powerful venom. Being stung commonly results in excruciating pain, and if the sting area is significant, an untreated victim may die in as little as 3 minutes. The amount of venom in one animal is said to be enough to kill 60 adult humans (although most stings are mild).

A small and extremely venomous jellyfish found near Australia. Stings can result in Irukandji syndrome, and thus this species is commonly known as Irukandji jellyfish, although this name does not distinguish it from other Irukandji jellyfish such as Malo kingi.

A mature C. barnesi's bell is only 12 by 30 millimetres (0.47 by 1.18 in) in height. It has four contractile tentacles, one extending from each bottom "corner" of its bell, ranging in length from 50 to 500 millimetres (2.0 to 19.7 in).[1]

The jellyfish was discovered by Jack Barnes, who, while on an exploration mission aimed at determining the reason for Irukandji syndrome, allowed himself to be stung by the jellyfish, while his 14-year-old son and a lifeguard looked on. The jellyfish was later named after him
I am not an expert on jellyfish stings or venoms, but judging from accounts of Anne Curtis' jellyfish sting, it seems that she's suffering from a mild sting of a type of jellyfish.
Just based on the accounts, there is no mention by a physician or an expert that it was INDEED a box jellyfish sting like chironex fleckeri.  Moreover, I haven't yet come across hospital records from Batangas or St. Lukes that confirms the actual type of jellyfish sting.
So there's really no reason to think Anne Curtis' jellyfish episode was life threatening other than the celebrity's own assessment of her condition.
We can understand the panic and pain she feels — especially considering that such a sting may damage her otherwise flawless skin, which is clearly an asset in her career as an actress, show host, and beauty product endorser.