Seriously? Anne Curtis thinks Sam Concepcion is not "classy" enough to be in Vice Ganda's party at the Century City Mall? Well, fair enough. Anne was, reportedly, drunk after all. Again.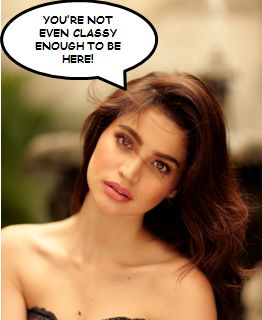 On top of that, bystanders recounted in that same report how Anne proceeded to "bash Sam's car, saying that his car was no match [for] her oldest car". Wow. It's really always all about the car, isn't it? You kinda wonder where all this being an authority on what "class" is is coming from. There's class for you in Pinoy showbiz. No wonder they just simply can't get past portraying rich folk as bitchslappin' caricatures in Pinoy movies ad nauseum. Filipino showbiz types simply don't get what class really is.
As a matter of journalistic disclosure (though I am, of course, not presuming to be a journalist)… Anne Curtis denied all that on Instagram…
"Of course I spoke to Sam that night and as always, I told him to take care of my baby sister. Like any ate would do BUT to clarify I DID NOT say any of those words written in the article. Kahit tanungin nyo pa si Sam. Even he doesn't know where those words came from. Basta. Ang mahalaga Sam and I are ok. End of story, no issue here," Anne posted, hours after the report [on the incident] was published.
Recall that other Anne Curtis incident, the one where she said to John Lloyd Cruz "I can buy you, your friends, and this club" (or something to that effect). Curtis said she had "one too many drinks" after being on some sort of "super popular juice cleanse for 3 days."
Tsk tsk.
Learning learning naman pag may time.
All so odd considering that fishy stuff like Century Tuna and Dyesebel are such big parts of Anne's life. To think that fish is supposed to be brain food. Obviously Anne Curtis doesn't eat what she pitches and acts.
Frustrated artist doing geek for a living.