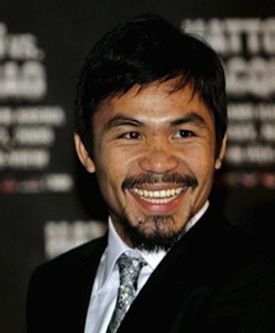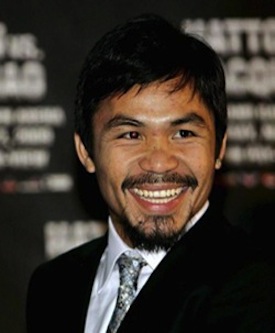 Las Vegas — I was in attendance at the MGM Grand Garden Arena the last time Manny Pacquiao (55-5–2, 38 KOs) stepped into the MGM ring as Marquez delivered one of the most brutal knockouts in modern history. Watching Manny Pacquiao's concussed body and lying face-first on the canvas, I was torn between the savage beauty of Marquez's blood-curling and picture-perfect counterpunch and the pathos of Pacquiao's devastating loss.
In the immediate aftermath of that devastating knockout, some of the self-proclaimed pugilistic cognoscenti from the Philippines immediately chimed in and offered their two cents' worth in a typical Pinoy fashion and advised the BWAA Fighter of the Decade to hang up the gloves. These people have a very loose grasp of the boxing history and a superficial understanding of what makes a fighter great. Quick and brutal knockouts seldom inflict serious injury. It's the savage and gruelling years of war attrition that usually lead to permanent damage.
I was also in attendance on June 9, 2012 when the undefeated welterweight titlist Timothy Bradley Jr. (31-0, 12 KOs), won in a questionable split decision against Pacquiao in what many boxing experts consider as one of the most controversial verdicts in history. Most of the boxing experts agreed that Pacquiao clearly won the fight. They have a score to settle as they are scheduled to square off again tonight in one of the this year's most anticipated bouts. In the buildup to this fight, the main theme from Bradley's camp is their insistence that Pacquiao has lost his "killer instinct," and saying in effect that his aggressiveness and quick reflexes are "not there anymore."
So let's get the facts straight. For nearly four years, the eight-division world champion hasn't knocked down any opponent since he beat the hard-hitting and boxer-puncher Miguel Cotto in 2009 and questions have been raised to his "killer instinct" and fan-friendly style that made him an international icon. He's known as one of the very few fighters who will go for a knockout from the opening bell. It's not his technical improvements but his swashbuckling and devil-may-care attitude, in-the-ring ferocity and his never-take-a-backward-step and non-punching style of fight that had endeared him to adrenaline junkies and the devotees of the Sweet Science. Under the tutelage of Freddie Roach, a psywar expert and master strategist, he had become one of the most savage practitioners of the Sweet Science and had employed both General Clausewitz's theory and Sun Tzu's strategy in imposing his will by decimating and overwhelming his opponents with his swarming and non-stop punches.
Pacman promised again yesterday in the official weigh-in that he will bring back his killer instinct for his rematch with the WBO welterweight titleholder Timothy Bradley. In an interview with the Ring Magazine Pacquiao insists that he was just "too nice" to his opponents. "What Bradley has been saying to me is that the killer instinct and the aggressiveness is not there anymore and that I don't have that anymore. So that's what I'm trying to prove this fight on April 12. I think that he's right. Maybe I'm just too kind and too nice to my opponents sometimes in the ring," said Pacquiao.
Pacquiao must win convincingly tonight and unleash his fury and killer instinct to show the boxing community and his legions of fans that he still has what it takes to become an elite champion again.
He will receive a guaranteed purse of $20 million plus the revenues from the PPV while Bradley will receive a career-high of $6 million.