Another giant leap for the lot of ordinary Filipinos who have long suffered under the culture of impunity perpetrated by their elected "leaders"! In a resolution issued by the Board of Wack Wack Golf and Country Club, the Philippines' Secretary of Interior and Local Government Mar Roxas was reportedly suspended as member of the swanky club.
A club member, who asked not to be identified, said the board met Monday night and voted to suspend Roxas for two months after an investigation of the April 6 incident when Roxas purportedly screamed at club employees who insisted that he pay the green fee of a guest.

"Five [directors] voted to suspend him for two months while only one voted to simply reprimand him. Three [other directors] abstained from the vote while one was absent from the meeting," the member said.
Roxas had earlier apologised for the incident. However, he also denied allegations that he viciously berated and cussed at club employees. Roxas reportedly said that the "unfortunate" incident will form "part of [his] reflection for this Lenten season".
Fortunately for Mar, he does not have only the Church to turn to in this sudden time of need for absolution. Members of Philippine Congress had this week chimed in to lend their support for the embattled sidekick of President Benigno Simeon "BS" Aquino III.
Eastern Samar Rep. Ben Evardone bizarrely used the now infamous incident in Tacloban where Roxas raised the issue of partisan politics in a meeting with Tacloban Mayor Alfred Romualdez to buttress testimonials in favour of Roxas's character….
"He always keeps his cool and equanimity. That was very evident in his now famous meeting with the mayor of Tacloban City shortly after Super Typhoon Yolanda struck. The video footage that was apparently secretly taken shows that he did raise his voice," he said.
Errrmmm, yes, he did not raise his voice, further highlighting the revealing banality of the way he weaved politics into a crisis meeting that, at the time, could determine the fate of hundreds of thousands of lives of typhoon victims. Aklan Rep. Teodorico Haresco Jr, for his part, pointed out that "Mar remains a most humble, down-to-earth person in the P-Noy Cabinet."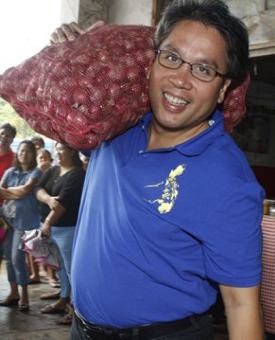 All consistent of course, considering that these are all products of the popular vote — a direct reflection of the national character that they'd so quickly defend the actions of an erring crony. Whether rich or poor, Filipinos, after all, are renowned for their misplaced arrogance — often taking every opportunity to one-up the other in a hilarious race to some sort of social golden fleece.
Coincidentally, Mar Roxas is billed "Mister Palengke" in his own personal website. A fitting title for a politician with a growing track record of palengkera behaviour.
benign0 is the Webmaster of GetRealPhilippines.com.