One thing that could go right for Manila Bay Reclamation is that it could pave the way for a new start, without the burden and limitations of a once glorious past that will never be reclaimed.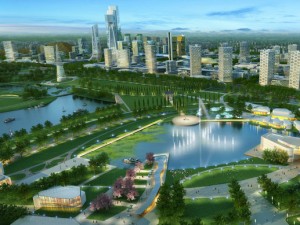 Reclamation is actually a part of a plan for Manila's growth that was started by the Americans when they reclaimed part of Manila Bay to construct Roxas Boulevard.  Reclamation was later undertaken by the Marcos Regime, under which the Public Estates Authority was created by virtue of the establishment of the  Public Estates Authority or PEA through Presidential Decree No. 1084.
PEA was created to provide a coordinated, economical and efficient administration of lands, especially reclaimed lands, belonging to, managed and/or operated by the government, with the object of maximizing their utilization and hastening their development consistent with the public interest.
Years after Marcos was ousted, President Fidel Valdez Ramos came up with the Manila Bay Master Development Plan in 1995 which was embroiled in a still unresolved controversy alleging that officials had been bribed into favoring Amari Coastal Bay Resources and Filinvest Development.
Then again, in 2007, President Gloria Macapagal Arroyo issued Executive Order (EO) 629 which calls for the "conversion of Sangley Point, cavite city into an international logistics hub with modern seaport and airport through an enabling reclamation component."
Perhaps because the urban planners and technocrats of the present Aquino administration could not ignore the inevitable necessity of reclamation, it put out Philippine Reclamation Authority Resolution 4161(Approval of the National Reclamation Plan) on February 25, 2011.
The Americans, Marcos, Ramos, Arroyo and now the second Aquino Administration all see the inevitable necessity and consequent benefits of reclamation.
World renowned urban planner and architect Felino Palafox argues for the benefits of reclamation:
"…there are also many advantages if planned, designed, engineered, and implemented properly in the right place, at the right time, at the right land-use density and type of development. In Europe, they call water reclamation Corniche."

Palafox added that "Roxas Boulevard (lies on) reclaimed land, and the development, I think, stretched from Taft Avenue to Manila Bay."

He cited other examples from around the world. Singapore reclaimed over 6,000 hectares to enlarge the island from the original 65,000 hectares to 71,000 hectares. Two-thirds of The Netherlands is reclaimed, yet there is no flooding. Dubai originally had only 70 km of waterfront. The government reclaimed the Palm Islands to add 2,000 km more of waterfront.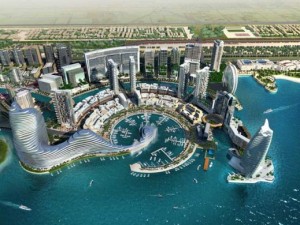 At this point, I don't think a lot of people will disagree that Manila is just too messed up to be restored to the city that it was once before World War II saw it reduced into rubble.
Even now, there are a growing number of signs that the underlying infrastructures that makes it possible to live, work, and study in Manila are giving out.  I don't know how many times I've seen it written in columns or articles by experts that Manila's capacity and design has been exceeded several times over.
In terms of population density, Manila tops the list of the cities with the highest population densities with over 43,000 people per square kilometer — with its sixth district having over 68,000 people per square kilometer.  Manila's sixth district is comprised of Paco, Pandacan, San Miguel, Santa Ana, and Santa Mesa.
What isn't helping Manila in terms of population densification is that, apart from still harboring a large number of informal settlers, the city's administration has allowed its vertical expansion — the construction of high rise buildings — to run rampant.
Ten of the tallest buildings in Metro Manila can be found in the City of Manila with Eton Bay Park (Roxas Boulevard) at 30 storeys and Golden Empire Tower (Roxas Boulevard) at 57 storeys.  Of course, there are a lot more high rise buildings that have risen in Manila in recent years and all of them combined have had an impact on the demand placed on the city's infrastructure — roads, drainage, water supply, power, food, pollution, waste generation, etcetera.
Apart from densification, vertical expansion also has an impact on ground subsidence and flooding.
Dr. Kevin Rodolfo whose studies on ground subsidence in Metro Manila pointed out that the high volume of water extraction was to  blame for the alarming rate at which certain portions of Manila were sinking.  Rodolfo theorized that the high volume of water extraction could be attributed to water refilling stations and water pumps in Manila without offering data from an actual study of the rate of water extraction from such activities.
Perhaps, what Rodolfo didn't look into was the amount of ground water displaced in the large scale excavation done for the construction of the basements and foundations of buildings in Manila.  Also, perhaps, Rodolfo could have also looked into the possibility that the weight of high rise buildings could be pressing out ground water or covering up fissures/natural ground water sinks.
The rapid and deep excavation for multi-storey basements and foundations alone could displace thousands of cubic meters of ground water within a few months and could contribute in a large way to ground subsidence, making it more vulnerable to flooding.  Even more, the fact that buildings actually cover up natural fissures that act as surface water sinks and causes more rain water to stay above ground, creating floods.
Again, Palafox cites reclamation could be the answer to flooding as well as act as a barrier to tsunamis and storm surges:
In a statement sent by e-mail, Palafox said reclamation could "do the country a lot of good if done properly."

"Reclamation, if done properly, is the solution to flooding in Metro Manila. It is the solution to tsunamis, the solution to storm surges, solution to (producing) additional prime land," said Palafox in the presentation he made for the conference.

While some have claimed that reclamation has caused negative environmental impact such as flooding, Palafox said inefficient waste disposal and the absence of flood-mitigating infrastructure were the primary causes of floods in urban areas.
There is a theory that if this vertical expansion continues, the problems created by increased population densification will increase exponentially and come to a point wherein the City of Manila will be almost completely unlivable — but that's stating it a bit too dramatically.
Sure, there are some quick solutions.
For instance, the truck ban and modified bus ban implemented by former President now Manila Mayor Joseph Estrada somewhat eased up traffic in the city, but that's only going to work for a time until freighting and transport companies find a way around it or until smaller vehicles start using up the freed up capacity of Manila's roads.
However, the better and longer term solution would be to substantially change how Manila's urban space is utilized and one key to doing this is to create a completely new space designed not only to relieve some of the pressures on Manila's infrastructure, but also engineered with built in solutions to the challenges of climate change.
One thing about the City of Manila, or Metro Manila for that matter, is that it is chaotic and this was outlined as one of the main challenges for urban planning in 2012 by the Urban Land Institute.
Imagine Metro Manila as a humongous stock room filled with millions upon millions of boxes randomly arranged. Now imagine what amount of effort it must take to rearrange all these boxes into a certain pattern. Still imagine the added difficulty when you realize that the big room is getting even bigger, and more boxes are being added.

This is the prospect facing property experts, top developers and urban planning experts when they were recently gathered by global nonprofit education and research hub Urban Land Institute.
Also in 2012, Philippine Star columnist and architect Paulo Alcazaren gave a talk at the Ateneo de Manila on Metro Manila's Urban Chaoes which underscored the fact that, although there have been 10 or 13 plans for Metro Manila, the lack of public funding for its complete implementation and lack of political will to make developers follow some semblance of a rational plan for urbanization inevitably created the chaotic conditions that we are living with today.
One thing that stands out in Alcazaren's talk on urban chaos is the crucial role that private investors and developers played in realizing urban plans laid out by government.  Alcazaren cited the Ayalas who built much of Makati's central business district (CBD) as an example — and come to think of it, he might as well have pointed out the Bonifacio Global District too.
Both the Makati CBD  back then and BGC today represent are urban plans that were designed to meet present and emerging challenges to development.
The thing is, present detractors of reclamation in Manila bay point out that private investors and developers are the only ones who are going to benefit from reclamation.  However, it would be fool hardy for them to deny that the realization of the urban plan for Makati's CBD and the BGC has contributed immensely to the funds of the city and the entire country — funds that have been used for many of the government services that benefit the poor.  And that's not even counting the jobs created by construction and the jobs created by companies that have located in both areas.
Among those who oppose reclamation is PAMALAKAYA, a leftist leaning fisherfolk group, whose battle against reclamation was pronounced during the PEA-AMARI controversy in 1995.  Their central argument back then and even now is that reclamation will deprive thousands of fishermen of their livelihood, which at its core is an argument against development because it seeks to preserve subsistence living at the expense of higher value employment. Does PAMALAKAYA want the sons and daughters of its members to remain fisherfolk?
(More in Part Two)