Long time acquaintance and friend Junep Ocampo just posted this revelation on Facebook about President BS Aquino III's much publicized interaction with students from Tacloban City who are now studying at Hope Christian Highschool:
I finally got to talk with the parents of some of the students from Tacloban who were part of the dialogue with PNoy at Hope Christian High School. And it's confirmed — the dialogue was scripted. Pina-memorize lang daw sa mga estudyante yung mga tanong. Hindi pinabasa sa kanila yung mga tanong na talagang isinulat nila. At yung mga parents, hindi raw pinapasok sa dialogue. Puro high school students lang daw. Yung mga grade school students, ni hindi nilapitan ni PNoy kahit dalawang oras na nakapila at naghihintay sa kanya. This is the kind of leader we have today.

(Translation of the Tagalog parts: "The students were asked to memorize the questions.  They were not allowed to read the questions that they wrote.  And the parents, they weren't allowed to participate in the dialogue.  Only high school students were allowed.  Pnoy didn't even allow the grade school students to come near him even if they had been waiting for him for two hours.")
Not that I was FOOLED by President BS Aquino III's answer to the question of why it took so long for his administration to deliver relief supplies and other assistance to the victims of super typhoon Haiyan in Tacloban.  However, this bit of information confirms the weak-mindedness and addiction to prefabrication that prevails in the second Aquino Regime.
Let me elaborate a little on what Junep could mean when he said, "This is the kind of leader we have today."
Let us remember that Aquino rode millions of sympathy votes arising from the death of his mother Cory Aquino knowing full well that nothing in his back ground had prepared or qualified him for the job of leading the country.
His presidential campaign slogan, "Walang Mahirap Kung Walang Korap", had been construed as a promise to rid the country of corruption as a means of alleviating poverty.  And yet we find very real indications that corruption has become more rampant under his administration, the most glaring allegation of the most massive act of corruption being the release of hundreds of millions of pesos to legislators to ensure the conviction of former Chief Justice Renato Corona by the senate impeachment court.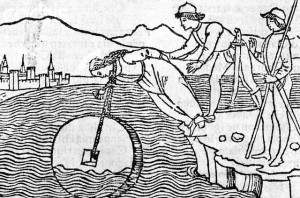 What kind of leader… No… What kind of MAN would take advantage of a grieving nation to pursue a political ambition? What kind of man would compel judges to condemn a political enemy?
Indeed, what kind of man would use the mouths of children to help him tell a lie?
Since it's Sunday, allow me to quote what I think is a relevant passage in the Bible:
Luke 17: 1-3

He said to His disciples, "It is inevitable that stumbling blocks come, but woe to him through whom they come!

"It would be better for him if a millstone were hung around his neck and he were thrown into the sea, than that he would cause one of these little ones to stumble.

"Be on your guard! If your brother sins, rebuke him; and if he repents, forgive him.…
I'm not kidding myself and I know that there's no way that I can get a word to President Aquino, let alone be in a position to rebuke him for FORCING children from a Christian school to participate in a ruse to deceive the public.  But perhaps there are those around him who can.