The Senate Blue Ribbon Committee will resume its investigation into the P10 Billion Pork Barrel Funds scam this morning and it is expected that Ruby Tuason will come up with more controversial revelations — not that we haven't heard them before.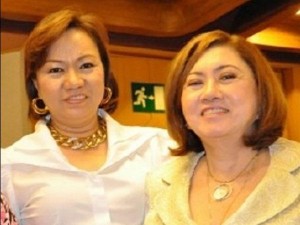 In a meeting with other pork barrel whistle blowers on the eve of her much awaited appearance before the Senate probe led by Senator TG Guingona, it was said that Ruby Tuason's testimony will focus on her involvement in the pork barrel scam and her reasons for coming out among other things.
The way it looks right now, Tuason will be basically to corroborate the computer records kept by primary pork barrel whistle blower Benhur Luy.
A news report in the Philippine Daily Inquirer summarizes what could be part of Tuason's revelations today:
Tuason also met for five hours with the whistle-blowers at the NBI and corroborated statements about the delivery of kickbacks for the use of the senators' allocations from the Priority Development Assistance Fund (PDAF).

Tuason earlier confirmed to Luy that the commission she handed to Reyes for using Enrile's PDAF was P77 million for the period 2007-2009, while Estrada's was P35 million, according to the lawyer of the whistle-blowers, Levito Baligod.

Luy had the same figure for the alleged Enrile commissions but his record for the money he gave Estrada was only P9 million. Baligod said this was because Estrada went directly to Napoles or used conduits.

Based on the records of the two witnesses, the first transaction by Tuason involving Enrile's PDAF was P31.9 million coursed through the Department of Agriculture using Napoles' bogus nongovernment organization—People's Organization for Progress and Development Foundation—with special allotment release order No. BMB-E-04-04-068, dated Dec. 14, 2004.

Tuason's figure for the amount given to Estrada was smaller because the senator used his former staff, Pauline Labayen, to collect his purported payoff. Estrada also had used as conduit for Napoles actor Mat Ranillo.

The widow of the late Carlos "Butch" Tuason, chair of the Philippine Sports Commission, left for the United States after news of the pork barrel scandal broke out in July last year. She returned on Friday, saying she wanted to clear her conscience and turn state witness.

Both Estrada and Enrile have denied any wrongdoing. Enrile said Tuason was only a "casual" acquaintance.
Tuason's anticipated testimony has reportedly been "downplayed" by Vice President Jejomar Binay 
Vice President Jejomar Binay in Lucena City, Quezon province on Saturday said the reported "slam dunk evidence" provided by state witness Ruby Tuason against his allies Senators Jinggoy Estrada and Juan Ponce Enrile in the P10-billion pork barrel scam case was a "dud."

"Can it demolish anything? Can it?" Binay said, laughing, when asked here for comment on the damning testimony of Tuason, who admitted to delivering millions of pesos in kickbacks to Estrada and Enrile from businesswoman Janet Lim-Napoles, the alleged mastermind behind the P10-billion pork barrel scam.
Binay, Enrile and former President Joseph Estrada, now mayor of Manila, are the three leaders of the opposition United Nationalist Alliance.
Another Binay ally, Senator Koko Pimentel cautions against Tuason's testimony: 
"The DOJ is right: the prosecution, the Ombudsman will have the say as to whether they still need Tuason's help. But her testimony should be believable, not yarn that has been spun out of desperation, to save her neck and help her avoid  being jailed"
One question thing that bothers me a bit is how Vice President Binay and his allies are seemingly sowing doubt against Tuason.  Granting that it seems Binay HAS TO defend his allies, it doesn't seem at all prudent as it might make him look like he is on the side of so called "public enemies".