In a recent brouhaha that may be a microcosm of Filipino culture, some Filipino gunpla hobbyists cried foul over the statement of Katsumi Kawaguchi, head of Bandai's hobby department. Someone tagged Kawaguchi in a picture featuring a knock-off product on Facebook. So he gave a response where he asked to not be tagged anymore in pictures of knock-off kits and said that he will never recognize a bootleg kit as gunpla, for obvious reasons. What's notable is that he delivered his message in English, meaning that he wanted to reach out to everyone.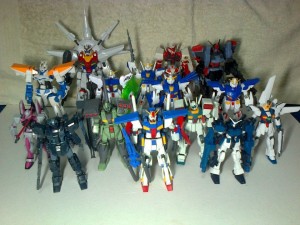 For some background, gunpla is short for "gundam plastic," which is a loose term for the hobby of collecting, assembling and customizing robot kit toys under the immensely popular Gundam metaseries. Many Filipino adults as well as (or perhaps more than) children indulge in this hobby. Holding the rights to making Gundam kits is Japanese toy giant Bandai. Unfortunately, the popularity of gunpla has led to the appearance of knock-off products made mostly by Chinese companies. These knock-offs or bootlegs are much cheaper, costing as little as one third the cost of the original kit.
Obviously, Kawaguchi would be displeased if you would show him something that threatens to take away his salary and give him one reason to leave his current job. But he also made another point in his post. As the X Marks the Gundam Spot blog article says, if consumers keep buying bootlegs instead of the original (or the REAL) product, then the original product will shut down. Those who create gunpla, who deserve to earn money from it, are choked out by consumers who buy unauthorized copies instead. They may choose to quit, and thus, there will be no more new releases to copy. What was the last release, it stops there, even for bootlegs.
The blog makes use of the Philippine music industry as an analogy. Because consumers don't buy original music anymore and instead either download pirated music or buy the pirated CDs, the artists are not getting paid, so they'll just quit making music. Many of these artists just go abroad to work instead. The lesson is clear.
Kawaguchi does admit that no one can stop people from buying pirated goods. So he just makes the appeal: if you support the gunpla hobby, support the original goods. Even if one buys bootlegs, as long as they buy the original products as well, there is no problem.
However, many of the pro-bootleg hobbyists reacted adversely. They may say "buying original" is dumb, or is capitulating to imperialist-corporatist imposition, and that the companies are greedy for the money of its consumers. So they would cast bootleggers as not greedy. But this is untrue, and it implies that pro-bootleggers they don't genuinely love the hobby… and don't understand what greed really is.
Others raise a good point: if you say stop pirating gunpla, then stop pirating other things such as music and movies. But there's another problem here: it seems that the pro-bootleg people are only justifying their action. So if we buy pirated movies and music, then let us buy pirated gundams, not original ones. OK, fine, but the same mechanic applies; you might kill the original product by patronizing the fake product.
Perhaps some of these pro-bootleggers may even want Bandai to go out of business, so they'll be left with cheap bootlegs. They might even reason using the law of supply and demand; the expensive product should disappear and the cheaper product should be left. Unfortunately, they left out one important thing: intellectual property rights.
This is a country where senators and "journalists" plagiarize. Perhaps we are a culture that has no respect for someone else's work. If someone creates certain works to sell, some might jeer at him and say, "give it for free instead!" Perhaps it works with our mendicant culture; the Filipinos who want something for nothing. Filipinos who believe they deserve pleasure without work, and want to get this pleasure from hand-outs.
This issue of the pro-bootleg hobbyists also seems to reflect one of the fatal flaws of our society: sense of entitlement.
No one is entitled to their hobby. They should work for their hobby, practice proper financial and time management, and thus give themselves proper satisfaction from it. It is something that deserves some sacrifices.
Although bootlegs are all over the place, people should think: knowing how the bootleg community reacted in the Philippines, is this what best describes our country? Could we stand to be called a country that loves bootlegs? And will this strengthen that view that most of Filipino uses being "poor" as disguise for claiming to deserve things that they don't really deserve? Even some bootleg users are financially well-off, but they claim to be "poor," which is why they buy bootlegs. To me, this bootleg issue is the sign of a bigger problem.
I believe, as my cohorts here do, that what Filipinos embrace as their culture is what actually pulls the country down. And those who seem to be anti-dictators, who may also believe themselves to be "heroes," are the real dictators.