It used to be that when it comes to what will be on the television on any given Sunday afternoon, the voting that goes on around my house has me beaten by three (the wife and two housemaids)  in favor of watching a showbiz oriented and one (my kid) in favor of Baby TV or Disney Junior.
In the Sundays long gone by, this usually meant choosing to either being stuck watching Boy Abunda and Kris Aquino on The Buzz or going out of the house — cleaning the cars, having a hair-cut/massage/pedicure/manicure combo at the nearest Bruno's or having a few beers somewhere in Morato.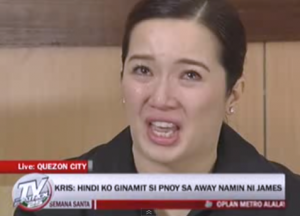 Thing is, I just can't stand Kris Aquino's voice and for some reason, whenever I see her on TV, the trailer scenes of every single massacre film she had been in automatically pop up in my head.  So do the memories of her bawling and baying over failed romantic relationships on television.
When Kris Aquino announced sometime in 2010 that she was leaving her long running shows (Showbiz News Ngayon and The Buzz), I heaved a sigh of relief but I also knew that I would no longer have the pretext for sneaking in a few extra hours of "me" time on a Sunday afternoon.  But that's not so bad, really, because after buying and moving into my new house in Marikina City, those Sunday afternoons are now spent either dozing off in a hammock under fruit trees, playing ball with Zac, or walking around the village with Zac, counting the odd assortment of animals that people sort of keep as pets.
But, not having regular shows on ABS-CBN was not a guarantee that she would be completely out of the spotlight and from 2010 to 2013, she still managed to get a lot of attention for one thing or another — making the airwaves and social media streams fizz, pop, and crackle.  There were those things she said about her brother, President BS Aquino III and that on-going saga with her ex-husband James Yap.
And perhaps because it can't be help back like most reflexive bodily processes, ABS-CBN just had to unleash a couple of ear-splitting Kris-gasmic TV shows: Kris TV (which is a morning TV show) and Aquino & Abunda Tonight (a fifteen-minute late night TV show).  Thankfully Kris TV is on when I'm usually doing my morning walk and Aquino and Abunda comes on way after my usual bed time.
But it seems, Kris' audience pulling power is still quite potent because suddenly a couple of showbiz addicted acquaintances on FB started posting about it on their timelines and these people aren't your usual night-owls.
One post on my FB news feed  that snagged me was the Aquino and Abunda Tonight interview with Vice President Jejomar Binay and almost immediately I thought, "WTF?! Could a Binay-Kris Aquino tandem for 2016 have been worked out?"
This reminded me that Manila Standard Columnist Alvin Capino wrote "Vice President Kris Aquino?" and I remember chuckling a bit, thinking that he was being tongue-in-cheek about the whole thing — on account that the story was posted on April Fools Day 2013.  Reading Mr. Capino's article again, it does occur to me that a Kris Aquino Vice Presidential bid might actually not be a joke at all and the article outlines at least three reasons why Kris would be a Godzilla at the polls:
Still, she remains impervious to blame and criticism.
She is the number-one advertising endorser today for products ranging from shampoo to home appliances and real estate. She remains Queen of All Media with her strong presence in print and broadcast.
Before she entered show business, Kris was a political celebrity — being the daughter of Ninoy and Cory, of course.  She's probably one of the best campaigners – bar none — having spent all her life in politics.
Apart from the things stacked up in her favor, Mr. Capino points out a compelling reason for Kris to seek the Vice Presidency in 2016:
A source, who knows Kris says one of the reasons why Kris has decided to threw her hat into the political circus and run for Vice President, if Roxas would agree, is the senatorial bid of her cousin Bam Aquino.

The source said Kris is not too happy about Bam's candidacy and his exploitation of his ties with President Cory, Senator Ninoy and President Noynoy.

The source said Kris believes that Bam, if he wins, would target the vice presidency and this early, she would like to pre-empt him.
The only things in Mr. Capino's article that are now a bit off the mark now is:
his assertion that Binay had already chosen his running mate and there's a hint that it may be Senator Jinggoy Estrada.
his assertion that Kris might be Mar Roxas' running mate.
Things have changed since April 2013 and perhaps Binay's appearance on the Aquino and Abunda Tonight show can lead people to suspect that something is in the works.
It is said that politics is addition, not only in the sense that politicians must continuously make an effort to broaden their alliances but also in the sense that politicians must stack "positives" in their favor — which means junking negatives as soon as it arrives.
The first thing to consider is that being one of three senators figuring prominently in the P10 Billion Pork Barrel scam, a Jinggoy Estrada Vice Presidential candidacy may be hobbled if he is imprisoned, yet again, for plunder charges arising from the P10 Billion Pork Barrel Scam.
The second thing to consider is that Roxas may have suffered a huge set back triggered by a number of foibles, not the least of which is the Tacloban City rescue and relief operations fiasco which had him trading barbs with Tacloban City Mayor Alfred Romualdez.
So, perhaps, if Binay junks Estrada and if Kris declines to go with Mar, this opens up the possibility of a Binay-Kris Aquino tandem and Binay will probably ride on Krissy's chutzpah, just like the way he rode on Erap Estrada's charisma.
In an interview on Aquino and Abunda Tonight, one can get a sense of how Binay can use Kris Aquino to scrub off some of the bad stories that have been hounding him throughout his term as Mayor of Makati City.
One recent snafu that most people will remember is the Dasmarinas Gate incident where Makati Mayor Junjun Binay supposedly insisted on passing through a gate which had been "closed" to traffic. Mayor Junjun was reportedly peeved by the village security guards for not letting him through and had the guards "invited" to a police station.
The story had struck a chord, especially when video of the incident surfaced almost immediately. Like the video of Erap gambling in a casino, the video of Mayor Binay brusquely pointing at the guards and having them surrounded by his armed security aides somewhat confirmed stories of how the Binays RULED Makati as if it were their own kingdom.
In Kris' interview with VP Binay on the Dasmarinas Village incident, Kris became the spokesperson for Mayor Junjun Binay and rather strongly claiming that Mayor Binay had politely asked to be allowed to pass the closed village gate.   (See video here.)
Kris said, "Aquino: I believe him, naniniwala ako kay Jun nung sinabi niyang talagang bumaba siya, hindi ito iyong 'Don't you know who I am?'  Hindi daw ganun talaga. Ang sinabi niya eh, 'Boss ako si Mayor Junjun Binay.' "
In another instance in the same interview, this time with regard to VP Binay's daughter Abby winning a unit at the Lopez-owned development The Grove through a raffle, Kris again stepped in to explain away the rather curious circumstances that allowed Abby to win the multi-million peso unit at the posh development. Apparently, when the multi-million peso unit at The Grove was being raffled off, the first two people whose names were drawn in the lot were STRANGELY not present at the raffle.  It was on the third draw that Abby Binay's name came up.
Of course, that real estate story led to the mentioning of the decades old story that in order to get a building permit approved, building developers had to pay Jejomar Binay a bribe which consisted of a unit in the building that they were constructing. This led some people to call him "Mr. Condominium" and the list of allegations behind this moniker is quite long.
Curiously, Boy Abunda just wanted the Vice President to answer "yes or no" and of course, Binay answered no.  Apparently,  that's really the full extent of Abunda's much vaunted and hyped truth seeking prowess on "controversial" issues.
The thing about Kris and Boy's interview with Binay is that it downplayed and trivialized serious issues rather than compel Binay to shed more light on the issues he is confronted with.  In a way, this reminds me of a quote that goes, "The greatest trick the devil ever pulled was convincing the world he doesn't exist."