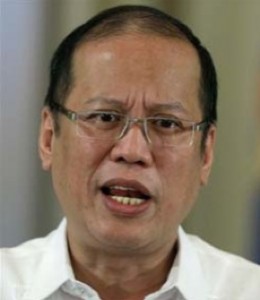 Once again, we find Philippine President Benigno Simeon "BS" Aquino III lamenting the "negativism" from the local media:
"Negativism has continued in the media. It is as if there is no controversial issue, media coverage becomes boring," Aquino said in his speech aired over state-run Radyo ng Bayan. "There were some who were very good at criticizing – breakfast, lunch, and dinner, and sometimes midnight snack," he added.
At this point, critics can tell BS Aquino: but you did not die, right?
In that same gathering, he was given a "Man of Steel" award for "showing strength in times of adversity."
If you ask me, he does deserve that award, albeit for a very different reason; because he's thick faced (matapang ang apog), dense (di na natuto), difficult to cause to move without a lot of effort (mabagal kumilos), and because he has very few OTHER facial expressions (iisa lang ang mukha) that he's capable of.
It's kind of ironic that he is given that "Man of Steel" award in the same night that he complains about media's negativity. And it's not the first time he has done the latter.
Unfortunately, once BS Aquino starts opening his mouth, he doesn't know how to stop. The previous quote and the following ones are taken from his remarks at the recently concluded Christmas gathering of the Bulong-Pulungan media forum:
Mr. Aquino said he had tried everything to rally support from his critics.

"Actually, I've appealed, I've complained. I've given time, for instance, especially to media. And I am sure, between you and I, we can point to so many columnists who have never said anything nice about me," he said.

"So I've prayed for them also. And I mean that not in jest, I really have prayed for enlightenment for a lot of these people. The message simply is that what you put down affects the lives of people. Are you confident that what you put down helped them?" the President said.
Source: Manila Standard
Sure you can say you "tried everything", but did you try listening to them? Did you try being more receptive to what they had to say? Did you try to see that perhaps, they did have a point? Did you try to do the right thing? Did you even stop to think that the reason some columnists "have never said anything nice about you" is that you don't do something that is worth it?
By what right does BS Aquino consider those who criticize him "not enlightened"? Is he infallible? Why don't we ask the residents of the city of Tacloban what they think of his so-called infallibility?
It would actually be better if BS Aquino prayed that it be 2016 already, where he will be scheduled to step down due to the one-term limit of presidents. BS Aquino is one to talk about "what you put down affects the lives of people", if you consider that some of the decisions he has made in critical situations have led to the deaths of people, institutions and principles here in the Philippines.
So now, apparently, he has resorted to chanting mantras:
Aquino added he had adopted a new mantra which, aside from the oft-repeated "straight path," would be "para sa bayan" (for the country) to keep him going during the worst days in his presidency.

Aquino, speaking at the Christmas gathering of the Bulung-Pulungan forum in Pasay City, said reciting his mantras keeps him from backing out from the challenges facing him.

"I have my mantra on days that I really could use some good news. And many people appear to have adopted this mantra, 'for the country,'" he said.
Source: Daily Tribune
Is this another nebulous slogan/motherhood statement from BS Aquino? Who exactly constitutes this "bayan" he's talking about? Only those who unconditionally agree with him and do not bother to call him out on his wrong decisions?
Last thing worth noting is that BS Aquino claims to remain unfazed by the dip in his approval ratings:
The President, meanwhile, said he is not affected by the slide in his popularity rating as reflected in the recent surveys of Pulse Asia and Social Weather Stations. "At the end of the day, the important thing is did I do right?" Aquino said during an interview with members of the Bulong Pulungan media group.

"Maybe it will rebound but that's not important," he added. Based on the SWS survey for the third quarter, Aquino's net satisfaction rating went down 15 points. The number of Filipinos dissatisfied with Aquino's performance also increased from 12 percent in June to 19 percent in September. The Pulse Asia survey, on the other hand, showed that majority of Filipinos believed that the misuse of the pork barrel funds continued under the Aquino administration.
BS Aquino can claim all he wants that dips in approval rating don't affect him, but the image-conscious nature of his government has been obvious ever since the start of his term. For a presidency whose sole foundation of legitimacy is grounded on popularity, the approval rating affects him more than he is willing to admit.
Let me repeat here what I've said in the past about BS Aquino's attitude towards "negativity":
The post of president, the highest government post in the land, is one where intense public scrutiny is not only experienced, it is expected. It has aged and sucked the life out of those who have held its position. If BS Aquino and his supporters do nothing but complain about critics complaining about BS Aquino's less-than-stellar performance, then perhaps he shouldn't have been put there in the first place.
BS Aquino, under-performer that he is, would like to have us believe that it's the effort that counts. And he once again makes a reference to his dead, over-rated parents. As quoted below:
He said his late parents, former Sen. Benigno Aquino Jr. and former President Corazon Aquino, had said that "if they could have done something and they chose not to, then they would not have been able to live with themselves."

"I would rather have said I did all I could. If there are good results, then thank you very much. If not, at least I could say I did not surrender," he said.
Excuses and lamentations don't shut critics up. Results do, and as long as BS Aquino keeps producing dismal ones, not even the strongest mantra or prayer can save him.
Thus, the question to be addressed to and by BS Aquino is remarkably simple:
Where are the results?
At the end of the day, any schmoe can wax poetic about "doing all he/she could". But as that epic line from The Rock goes: Losers always whine about their best. The winners go home and f*ck the prom queen.
Where BS Aquino falls is ultimately up to him. It's time for him to stop whining and start salvaging what's left of his "legacy".
А вы, друзья, как ни садитесь, все в музыканты не годитесь. – But you, my friends, however you sit, not all as musicians fit.