Poor little rich starlet Anne Curtis, caught behaving badly in no less than the Privé Luxury Club. Tsk tsk. Turns out these artistas aren't too far off from the characters they portray in Pinoy movies. Sampal sampal pag may time. Lol! Thing is, she had to make sampal sampal no less than John Lloyd Cruz of all people. Mr clean-cut overall nice guy himself. How could she??
Oh yeah, I forgot… she can "buy [his] friends, and [the] club" to boot. Parang sine ba? That's entertainment nga naman.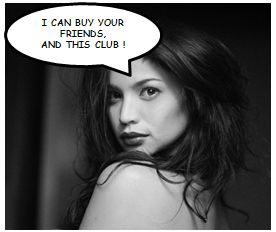 Come to think about it, a lot of these popular Pinoy artistas are really not that good. The characters they portray on screen are not really much of a stretch from their off-screen personas. Ai Ai de las Alas is pretty much her same self on screen. Derek Ramsay plays pretty much the same sort of character in all of his movies. For that matter, the range of plots and characters to work with in Philippine cinema isn't really that all too impressive. I mean, how many types of hapless mistresses, palengkera kontrabidas, politicians' wives, cheating D.O.M's, batang yagits, bitchy queridas, pompous mayordomas, sniveling bosses, and "trendy" (in the jolog-conceived sort of way) young entrepeneurs can one fill their acting resumes with?
Anyways, that's a whole different topic. We get the celebrities that we deserve, I suppose.
So, what's next after Curtis's apology?
For those who have read about the issue, yes, most of it is true. I admit to that & I have apologized to all parties included immediately…
And this one…
Now.. I had been on the super popular juice cleanse for 3 days & attended my best friends bachelorette that night, had one too many drinks..
"Popular juice cleanse". Ano kaya yun? Now I'm curious. Was this whole thing just some sort of publicity stunt leading up to some sort of contrived product endorsement? Sounds like there are conspiracy theory makings underneath all this!
Oh wait, there's actually a Wikipedia article!
Juice fasting (also known as "juice cleansing") is a controversial fasting method and a detox diet in which a person consumes only fruit and vegetable juices to obtain nutrition while otherwise abstaining from food consumption. The health benefits are unproven, with many health professionals considering them potentially dangerous. Juice fasts may last anywhere from a few days to several weeks. The juice consumed during a juice fast is not the type commercially available, but rather that produced from freshly juiced fruits and vegetables.
Lol! Benefits "unproven" and regarded as "potentially dangerous" by "many health professionals".
And check this one out:
Reasons to undergo juice fasting may include spiritual or religious reasons, detox, desire to lose weight, or attempts to stop habitual behavior such as smoking, drinking soda, overeating, caffeine addiction, etc.
Sounds to me like "juice cleansing" is one of those quack treatments pitched to people with a lot of money and not a lot of brain. Figures. It's no wonder "juice cleansing" is now such an in thing in Pinoy showbiz. Well, at least some of the dots are now connected in this bizarre picture of showbiz eccentricity.
Perhaps being on a "juice cleanse" diet was what made Anne Curtis crabby enough to slap the uber-guapo JLC. I mean, hey, how crazy does one have to be to wanna do that? Miss Curtis, pwede ba? JLC was made to be loved, not slapped.
I can buy your friends, and this club.
Apologies will be accepted, but words like these will never be forgotten.
Frustrated artist doing geek for a living.