What might be the true full extent of the devastation wreaked by super-typhoon Haiyan (code-named "Yolanda") has been revealed in recent reports from "a Red Cross" official who quoted horrific numbers that dwarf initial death toll estimates…
"We estimate 1,000 people were killed in Tacloban and 200 in Samar province," Gwendolyn Pang, secretary general of the Philippine Red Cross, said of two coastal areas where Haiyan hit first as it began its march Friday across the archipelago.
Tacloban City bore the brunt of the power of what had been cited as the planet's biggest cyclone of the year barreling through the Philippines' Visayas region "3.5 times more forceful than the United States' Hurricane Katrina in 2005". Yolanda comes in the heels of the devastation earlier brought on by a powerful earthquake that hit nearby Bohol Island several weeks ago.
A meme that was widely-shared in Philippine social media today described as a "privilege" the Philippines' misfortune of "bearing the burden of [being hit] by the strongest typhoon ever recorded". Presumably this "privilege", if we are to understand where the creator of this meme might have been coming from, is with regard to what is likely seen by many to be a long-overdue recognition of Filipinos' "resilience" in the face of horrific adversity…
At the end of the day, the Filipinos will just sake off the dirt from their clothes and go about their business … and SMILE. They do not complain much, they will bear as long as they can.
The above and the rest of the text in the meme is displayed next to a logo of CNN implying that this was part of an actual news report published by the prestigious international news organisation.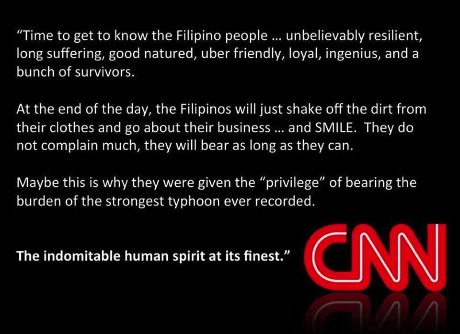 One can quite easily understand a nation's search for meaning as it reels from multiple challenges thrown at it as if to test how much its people can "bear" with a "smile". The earthquake in Bohol that killed hundreds and reduced centuries-old churches to rubble, the appalling pork barrel thievery scandal that has all but discredited Philippine "democracy", a withdrawal of Filipinos' visa-free travel access to Hong Kong by that principality's legislators, and now this.
Recent on-the-ground reports, however, paint a different picture of the character of the victims of Yolanda's "privileged" visit. Video footage published by ABS-CBN showed Gaisano Mall in Tacloban City being looted by residents…
Ted Failon described the details of the mall robbery. The typhoon victims took different electrical equipments such us refrigerators and electric fan. A typhoon victim was also seen bringing out a bicycle from the mall. They were literally shopping for free.
For many, this is a time for prayer, for others a time of giving, and for many more a time for both. Maybe for those who looted Gaisano Mall, it is a time that calls for one to help themselves — to a few goods. Different people respond to disaster in many different ways. So let us not judge people's actions after the fact. The better exercise, perhaps, lies in evaluating what a people do to prepare for the unexpected next time.
[Photo of damage in Tacloban courtesy Erel Cabatbat.]
benign0 is the Webmaster of GetRealPhilippines.com.