Actually, this wasn't really much of a surprise if you think about it. I called it last year; considering how lethargic Philippine government officials and agencies are, and how the Philippine bureaucracy is an absolute hindrance to progress, I would have been slightly miffed if we weren't at the top or near the top of that list.
Just to remind everyone, this poll can be found on the website Sleeping in Airports. Travelers vote in an online poll, given certain criteria dictated by the website, and they can also submit online airport reviews.
Where are the Pinoy pridesters? We topped a poll, guys; where are the Pinoy Pride shouts?! Come on! WOOHOO!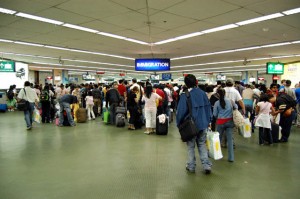 I can even paste a section from my article last year about what people complained about when it comes to NAIA 1, and it would still apply this year:
Traveller Complaints: (Anything and everything) Poor Transit Facilities • Queues • Bribery • Crowded • Insufficient Seating • Delays receiving bags on belt • Poor quality restaurants • Taxi Scams
I just noticed, however, that the one consistent complaint missing from the above portion is the lack of clean bathrooms.
And how do those in charge of the airport reply? With pretty much the same nonchalance they've been exhibiting ever since time immemorial. Filipinos, especially those who work for government, after all, aren't too keen on taking criticism very well.
"These are old issues," Manila airport Terminal 1 manager Dante Basanta told AFP, adding that the problems were already being addressed by the government.
But then, I found a statement by Department of Transportation and Communication (DOTC) Secretary Emilio Abaya:
"That survey concentrates on sleeping in airports. Definitely, (Manila is) not a regional hub and NAIA is not designed to be slept at. You cannot demand hotel facilities from a house," Abaya told reporters in a briefing yesterday.
…which is nothing but absolutely infuriating simply because: (a) it totally misses the point; (b) it continues the "couldn't care less" attitude that those in charge have with regards to complaints about NAIA; and (c) it is a reply consistent with the "pwede-na-yan" ethic that Filipinos apply to pretty much every aspect of their lives.
No, no, NO, Secretary Abaya. The website was very clear that NAIA was the World's Worst Airport for overall experience. Airports are rated in terms of comfort, conveniences, cleanliness, and customer service. Even if something is being done about it, for your information, it's been going on for two years. Where are the results?
From the website:
Comfort: crowded terminals or uncomfortable/limited seating
Conveniences: terminal closes at night, no 24-hour food options or nothing to do on a layover.
Cleanliness: dirty floors, bathrooms or food courts.
Customer Service: unfriendly staff or anti-airport sleeper policies.
And also for your information, Mr. Abaya, sleeping in airports is becoming a reality for many more travelers nowadays. Not only are there more people traveling on tight budgets (I think cheap young backpacker is the term used), early morning flights, long layovers, flight cancellations, and inclement weather are only a few more reasons why more and more people are deciding to sleep in airports.
Do you remember the saying "first impressions last?" The international airport, especially if it's the only one of consequence in the entire country, is your welcome mat. How many times do you people need to be reminded that the airport IS the ultimate first impression that any country, any aspiring tourist destination, for that matter, is going to make on any visitors? If the airport remains dilapidated, unwelcoming, or generally in a state of disrepair, then chances are your tourist destination won't get a second look. How hard is that to understand?
Brushing off visitors' criticisms about the airport, telling them what they can or cannot do in your airport, and simply saying that "the airport is not for sleeping", are tantamount to telling them to f*ck off and go somewhere else. Once again, Philippine government FAILS at its attempts to entice people to come to the Philippines, all because they refuse to act any faster on criticism, and because they set abominably low standards of conduct for themselves.
Aside from being tagged as the world's worst airport this year, it is also interesting to note that over a hundred flights were cancelled last October 23 supposedly due to radar maintenance. What, they haven't been upgrading their equipment for some time? See what I mean? Is the government really serious in its efforts to improve the airport for the sake of tourism? Flights cancelled is not going to help that, people.
Same thing happens every year. Whether or not the efforts to renovate NAIA, or move to a completely new location are underway, the fact is that the results speak for themselves (hint: they are dismal). It's hard to tell if the government is really serious about promoting the country and tourism when they can't even get the welcoming mat in order.
World's Worst Airport for 2014, we'll be expecting you. It would be a great thing, though, if we weren't even on the list.
[Photo courtesy: Heaven, Purgatory, and Hell]
А вы, друзья, как ни садитесь, все в музыканты не годитесь. – But you, my friends, however you sit, not all as musicians fit.