In a previous article, I harped on the fantasy world where it could be possible to hope to see senators and congresspersons found guilty of abusing the vast sums of discretionary funds made available to them out of the national budget being marched out of their homes or offices handcuffed. "This is my definition of a pipe dream," one commentor opined. Many held the same sentiment. After all, since when has real justice been possible in a country where everything is rigged — from the way traffic cops decide whether to issue a citation or not up to the way strategic decisions that affect millions are evaluated in the halls of Congress and Malacañang?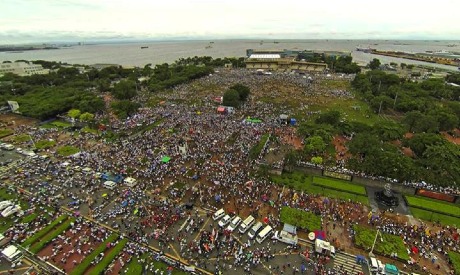 [Photo courtesy Showbiz Government.]
But the question What's next? haunts the heady minds of Filipinos following the successful staging of a "picnic protest" today at the Luneta. The obvious next steps, of course, are ones ideally taken towards the direction of bringing to justice everyone who is guilty of abusing public funds — specifically people who have access to the focal point of all the outrage: pork barrel funds.
According to President Benigno Simeon "BS" Aquino III, it was really former President Gloria Macapagal-Arroyo who is to blame for the blatant thievery surrounding the pork barrel funds…
"(The problem) was the collusion among a former president ready to trade favors just to remain in power, legislators, and members of the bureaucracy who were willing to conspire, enabled by a passive and indifferent citizenry," he said.

Aquino said the public was outraged because the previous administration treated the PDAF as its own private fund to use as it pleases.

"All these factors put together make the PDAF prone to abuse," he said.
Never mind of course that President BS Aquino himself chose to include a sizable amount of pork in the national budget he put forth for approval by Congress. You'd think that a man truly serious about "eliminating corruption" would start by putting an end to the single biggest source of institutionalised plunder. Yet, according to an "infographic" being circulated by Malacañang minions all over the Net, President BS Aquino can do no wrong — that despite BS Aquino himself holding all the cash members of Congress salivate over, it is really no one else but "a former president desperate to hold on to power" who is to blame for this mess…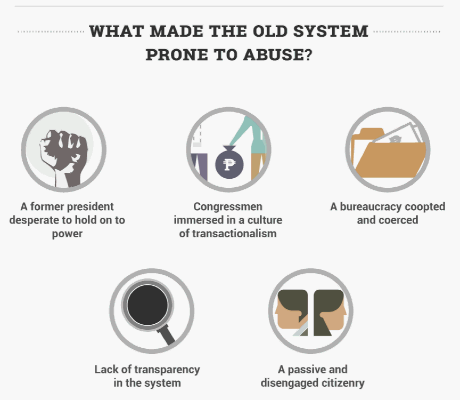 And as if that weren't enough, BS Aquino seems to be already preempting the eventual failure of his flaccid attempt to prosecute all the people named in that now famous Commission of Audit (COA) report on the use (or misuse as the case may be) of pork in Congress, saying that the whole effort will not likely yield a conviction under his watch…
"So I really don't think that we can have any conviction under my term," he said.

"I'm told that for one case to be finished will take around three to five years. At the very minimum, cases will be filed – and that is my expectation. And I will be on their case, hopefully, especially for those under the executive (department)."
That really does not come across as very credible. President BS Aquino, back in 2012 has demonstrated how much can be achieved if he put his mind to the task. The President gets what he wants when he really wants it as evident in the way he orchestrated the railroading of an impeachment complaint against former Chief Justice Renato Corona and his prosecution and conviction in a Senate kangaroo court.
[House Representative Tobias] Tiangco was outright confirming the allegations that the impeachment of Corona was backed by the president's orders and that the Congressmen were not even allowed to ask questions during the Power Point presentation outlining the hastily and badly-written articles of impeachment.
You wonder then why President BS Aquino is suddenly feeling a bit impotent about the idea that he most certainly has it in his power to fast-track a roundup of Pork thieves.
Interestingly, the highlight of the August 26 "million people march" against Philippine pork barrel politics, was Corona himself gracing the occasion. According to news reports, Corona was reportedly jeered by the crowd and forced to leave…
"Epal!" was what many of the protesters at Luneta called Corona, who left the anti-pork barrel march after the crowd made it clear he was not welcome there.

A separate report on dzRH radio said many of those at the rally surrounded Corona's vehicle while chanting "Epal, epal!"
Yet this is a man who, as we know, was convicted by a process largely rocketed through a pork-hungry Congress by no less than President BS Aquino himself. Indeed, pork was likely the carrot being dangled from the stick before the snorting noses of the "senator-judges" who "convicted" Corona on these trumped-up charges, many of which were substantiated using evidence sloppily and often illegally collected by Malacañang's army of small ladies and Media "thought leaders".
How is it that all the wrong arguments still manage to win after such a seemingly successful coming together of "concerned citizens" against the infamy of Philippine pork barrel politics?
Well to a few people (moi included) it really isn't much of a mystery. As "an admired Filipino economist, based in New York" once observed, of the intellectually-bankrupt Philippine national "debate"…
"They are droll and unintelligent, focused on the trivial or the irrelevant." When the issues are of some significance, it's the wrong arguments that prevail, the wrong side wins. Logic and common sense take the backseat to political arguments and the views of the poorly-educated. There seems to be some bases for her disenchantment.
Despite, the message of "hope" that this picnic rally sent rippling across the national consciousness, it seems many people do not really understand the real issues as they choose to latch on to incomplete pictures of what really is at stake here. Instead, they have allowed the usual suspects to set the usual tone to which an unwitting public readily dances to.
That of course sets the scene for President BS Aquino's assertion that it is really all former President Arroyo's fault that pork barrel funds are routinely stolen and his fearless forecast that there will be no convictions before his term ends — which is basically saying that he expects nothing to come out of all this ultimately. And all the you-know-whos will simply continue laughing all the way to the bank.
Will President BS Aquino be proven right? If there are no clear and specific next steps following this unprecedented display of indignation versus Pinoy-style pork barrel thievery, then all we can do is what the ol' Bida Kapamilya encourages the greater public to do as a matter of routine…
Abangan ang susunod na kabanata.
Same Bat Time. Same Bat Channel.
benign0 is the Webmaster of GetRealPhilippines.com.