Yet another scandal video has gone "viral" and this one doesn't involve sex, but someone who looks like Land Transportation Office (LTO) Chief Usec. Virginia "Virgie" Torres playing a slot machine inside a casino.
Here is a link to the video which allegedly shows Usec. Torres playing slots, click here.
Philippine government officials are prohibited from entering casinos and if the person in the video titled "LTO Chief Casino Queen" on youtube is proven to be Usec. Virgie Torres, it could have dire repercussions — especially at a time when her department as well as the agency she head is embroiled in a number of corruption exposes.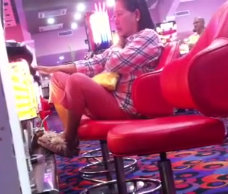 President Benigno "Noynoy" S. Aquino already received flak over Torres' appointment as LTO Chief, with many pointing to it as proof of hiring cronies, shooting buddies, and allies instead of basing his decision on appointments on professional merit.
Apart from a number of corruption exposes, the LTO has been in the target sights of motorists who have been having a difficult time for the past year or so getting drivers' licenses, car registration stickers, and new license plates.