Again, following an eleventh-hour announcement from President Benigno Simeon "BS" Aquino III that he is espousing abolition of the Congressional pork barrel, people continue to debate the wisdom of this move. The same lame arguments come up — "Who gets control of where the monies will be spent? How does this affect the various projects in districts that would help people directly?" some people ask as they scratch their pointed heads.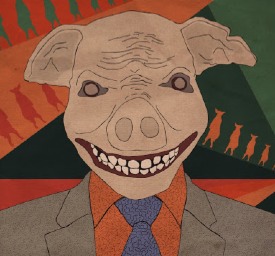 As is the usual case with misguided minds, a lot of wannabe "thought leaders" fail to step back far enough to regard the issue from a vantage point where they can see the complete picture. Those "monies spent" and "various projects" should not even exist to begin with under the management and funding of members of Congress. Districts and their people's and local leaders' aspirations to develop their communities should not have been relying on funds channeled through a legislative body of government to begin with. The points around which these hollow-headed pork barrel apologists have built their arguments are constructs premised on the very thing — the pork barrel — the existence of which is the crux of the whole debate itself.
The bigger argument, really, is not whether the pork barrel should be abolished, but should be about whether it, along with the projects it funded and the people who "benefited" form them, should have been allowed to come about to begin with. We are not looking for a divorce from the pork barrel here. What we should be calling for should be an annulment from it. The whole notion of the pork barrel and people's pathetic dependency on its ill-conceived regime should be dissolved — rendered null and void. As such, arguments around the fate of the project are not even moot — they are, for all intents and purposes as well, null and void too.
The principle at work here is simple:
The Executive branch executes. The Legislative branch legislates.
Why do legislators feel entitled to pocket money that allows them to play Santa Claus before the gawking star-struck eyes of their "constituents"? Perhaps they need their Santa Claus suit because legislative work is simply too abstract for an electorate too fixated on heroes, bread, and circuses to grasp. Without a chance to play administrative Santa Claus, legislators' otherwise important role to play in modern democratic governance simply does not resonate with the Filipino voting public.
It's a macro version analogous to the way some mayors feel the need to occasionally engage in the theatrics of personally directing rush hour traffic. They need to be seen to be doing work directly relevant to the day-to-day challenges faced by the ordinary Filipino schmoe. What people fail to appreciate is that we do not pay our mayors to direct rush hour traffic. We pay them to govern as executives in an air-conditioned office conducive to thinking. In the same way we do not pay legislators to play Santa Claus and build basketball courts and dredge esteros for us. We pay them to craft laws and refine our legal framework.
By all means, create a "new process" — as long as it is a process under the full jurisdiction of the Executive branch, where it belongs.
There really is no simpler way to put it — certainly not an explanation that requires social media epalics involving infographics and kilometric blog posts. Execute operations under the management of executives — NOT legislators.
That any president including the current President would fail to appreciate this simple concept and continue to use it may be laughable to some of us. Unfortunately for us, the idea is lost in the majority whose idea of doing good is to be like some kind of Robin Hood. There are reasons not to abolish Pork. But those reasons serve politics — not modern democratic governance.
President BS Aquino did not "change the game". All he did was add more gold to the pot at stake.
It's simple, really — perhaps not for the small-minded.
benign0 is the Webmaster of GetRealPhilippines.com.