Meh….?
Over the weekend, the online editions of Manila Bulletin and Tempo as well as Yahoo News Philippines came out with articles with various titles suggesting that the Manila City council had banned reclamation on Manila Bay.
Manila Bulletin and Yahoo News Philippines basically ran the same article titled "No Manila Bay Reclamation" and Tempo, a tabloid published by Manila Bulletin, ran an article with similar copy but was titled "Reclamation Ban".
The Tempo news report's title is misleading if we were to construe the title to mean that the Manila City council had, in fact, passed an ordinance (local city law) which banned reclamation on Manila Bay.  However, reading the rest of the article, one finds that the City council had just a petition and not an ordinance on first reading.
The title of news reports from Manila Bulletin and Yahoo News Philippines could be construed to mean that there is no reclamation in Manila bay and this would be grossly incorrect.  The entire Roxas Boulevard is on reclaimed land as well as all that land on the Manila Bay side of Roxas Boulevard  from Pablo Ocampo Street in Manila to Balagtas Street in Pasay City.
Moreover another ordinance is needed to scrap an ordinance earlier passed by the Manila City Council which allowed reclamation on Manila Bay.  Proposed city ordinances are usually filed by elected city councilors and in all the stories, no mention is made of a city councilor filing an ordinance that would ban or stop reclamation on Manila bay.
The only person mentioned in all the articles is lawyer Galahad Pe Benito, who is known to be under the hire of the SOS Save Manila Bay movement and NOT a city councilor.
All in all, it seems like the stories published in Manila Bulletin, Tempo, and Yahoo Philippines are desperate and poorly made hack jobs.
Perhaps the desperation stems from the fact that the movement has lost steam after the Court of Appeals junked a petition filed by Cynthia Villar for a Writ of Kalikasan against a reclamation project on Manila Bay.
In its ruling, the Court of Appeals said:
"The Court finds neither legal nor factual basis with which to grant the privilege of the writ of kalikasan. Wherefore, the petition (of Villar) is denied for lack of merit," the ruling said.

"No credible, competent, and reliable evidence had been presented to support the allegations that the proposed coastal project would cause environmental damage of such magnitude as to prejudice the lives, health or properties of the residents of Parañaque and Las Piñas. These apprehensions had been disproved by objective, expert and scientific studies of reputable entities with vast international experience," the ruling added.

The CA argued that Villar failed to prove her allegations that there would be a catastrophe that shall be incurred due to the said project.

"Villar failed, however, to discharge this burden as she was not able to establish the causal link between the catastrophic environmental damage feared and the proposed Las Piñas-Parañaque Coastal Bay project," the decision pointed out.
The thing is, lawyer Benito's petition before the Manila City council is very similar to that Villar's petition for a Writ of Kalikasan and one wonders if it at all Benito's petition were taken up at the Court of Appeals, would the court render a ruling barring another reclamation project after it allowed another one just a few kilometers away?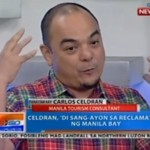 Moreover, in a recent interview with GMA7's Howie Severino, so-called social media influencer Carlos Celdran said he'd have to swear off from supporting the movement against reclamation projects on Manila Bay as Manila's Tourism Chief.
All though the screen capture of Celdran's interview shows graphics saying that Celdran is against Manila Bay reclamation, it was misleading in a big way because Celdran actually said he would have to keep from playing an "activist role" as Tourism chief.
Howie Severino (HS):
Okay, may malaking debate ngayon sa Manila tungkol sa reclamation, may isang grupo at kasama dun si ating vice mayor Moreno and Mayor Lim and that is something they agreed upon… Sumusuporta sila sa mga project na magre-reclaim dito… there's going to be a big complex there… they're also planning for tourism… anong tingin mo diyan?

(There is a debate going on about a reclamation project on Manila Bay.  Vice Mayor Moreno and Mayor Lim agreed to this project.  There is going to be a big complex on the bay and they're also planning for tourism.  What do you think of this?)

Carlos Celdran (CC):
I am not for the reclamation, but if I am going to work in the government system, if there are plans going on, I have to concentrate on projects na kaya kong gawin. At hindi yung mga proyektong kailangan kong, that I have to fight against.

I think there are enough people fighting against this thing to not bring me in it. I have to concentrate on the things I can fix.

So this project that I am not into, there's enough citizens, there's enough civil society to protest this.

HS:

Well, I just have to mention this, because Manila was also the scene of your famous or infamous escapades, so you had this protest in Manila Cathedral… Would you now be restrained in these activist impulses?

CC:

Well it depends on what kind of capacity. I'm lucky na consultant lang ako, kung consultant lang ako all I can offer are my ideas and my suggestions. I am not in an elected position, so there is no way that I am answerable to all the people but only to my boss which is Erap Estrada.

I can still keep my activism and my direction in life for what to do with my activism.

The second that I think that I am not working in this capacity, I'll quit and get back to my regular job.

But for now, I have to try and if I am going to try, I have to behave for a little while.