In my previous post, I mused about the reason behind why Rappler came out with an article which claims that lawmakers allied with the Aquino Administration were included in a list of those involved in the P10 Billion pork barrel scam.  My theory is that it is part of an effort to lay the predicate for refuting the argument that the pork barrel scam is nothing more than premature mudslinging for the 2016 presidential elections.
Just now, I came across a post on Facebook by Showbiz government which shows Janet Lim-Napoles with senators Bong Revilla and Jinggoy Estrada which in my view tends to support my theory.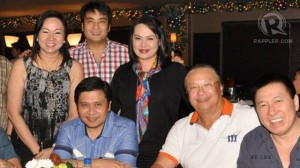 The post which is actually a re-post of an update from Jerry Ocampo says: "Naglabas ng retrato ang Malacanang black propaganda group (which is synonymous with Rappler) that shows Jean Napoles (the lady who is the central figure in the pork barrel scam) partying with Bong Revilla and Jinggoy Estrada, who are said to be the main contenders in 2016 presidential elections. Ngayon ako nakakasigurado kung ano talaga ang pakay ng scam na ito."
(Translation: Malacanang's black propaganda group released a photo that shows Jean Napoles partying with Bong Revilla and Jinggoy Estrada, who are said to be the main contenders in the 2016 presidential elections. It is only now that I'm sure what this scam is all about.)
At this point, despite the "acoustic warfare" being played out in media between Janet Lim-Napoles and her former employee/accuser Benhur Luy, there seems to be no sign that the senate or house of representatives will be conducting a probe into the alleged pork barrel scam.
One journalist who observed the ensuing media melee actually remarked that if the allegations were really backed up by strong evidence, Luy the accuser should have filed a complaint at the Office of the Ombudsman instead of going to the Philippine Daily Inquirer.   Even better still if the story centered on the Ombudsman acting on Luy's complaint — which, in a way, might mean that it had evaluated the complaint and found it worthy of backing up with a formal investigation.
In which case, the question to ask is: Would Luy's allegations and evidence passed muster at the Ombudsman?
With the allegations being quite serious and involving so many big political names, perhaps it would have been better if Nancy Carvajal (who "broke" the six part story on PDI) waited for Luy to file a formal complaint at the Ombudsman first.  As it is, the Ombudsman is conducting its own investigation into the pork barrel scam motu propio or on its own accord rather than on the basis of a complaint from Luy.  Like the policeman who arrives late at the scene of the crime, the Ombudsman's rather late appearance in the story could very well just be to respond to the overwhelming "media pressure" created by the pork barrel scam story.