With the victory of Miami heat in the recent NBA Finals, Pinoy Pride delusionists are sure to make noise again. Well, congratulations, Heat, you won fair and square (though I don't watch NBA). They did win through skill, determination and other positive traits, which is also present in their coach Erik Spoelstra. If he steered a team to NBA championship, then he is good, gotta hand you that.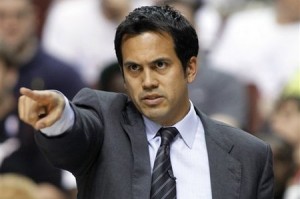 The real problem is the delusion that the pridists will trumpet:
Spoelstra won the NBA championship because he has Filipino blood in him.
What? Sure sounds like something to laugh at, cry about, or pull hairs in frustration over, screaming, "bloody idiots!" I do feel the same thing that would lead others to do the above, but I'll just calmly say: Spoelstra is American and Filipino blood has nothing to do with his success.
Some of the pridists will explain that they're like parents, saying "I'm proud of my kids!" Uhm, what? It's true, parents can be proud of their children. Then only his parents can be proud of him. Nobody else can be his parents. Being proud of Spoelstra because he is Filipino is another severe case of riding-on that reflects the lowest habits of freeloaders.
As usual, Filipino pridists will scream bloody murder, call me a "traitor" or "negative" and tell me to get lost. Sorry, I won't. The same malady that makes us appear foolish to all the sensible people in the world continues to rear its ugly head, and explains the reason why our country remains in a horrid state.
If Pinoy pridists can't get it, then let me rub it in: if being Filipino is so good, why can't we win when we play a real game against NBA stars? Are they too damn big? Isn't it that size doesn't matter? Oh, I forgot, this is basketball. Why can't any of our coaches go right ahead, lead an NBA team and make an NBA team win the championship? Don't forget, it's perseverance, skill and a good attitude that help one win. Saying "Filipino blood makes us superior" is nowhere near a good attitude.
As long as Filipinos believe that they are special in the world, they will never understand the real values and traits that make true champions.
And let me state another fact: Spoelstra won not because he is a Filipino, but won despite being Filipino.
Yes, the Filipino Can, but not because he or she is Filipino.
I believe, as my cohorts here do, that what Filipinos embrace as their culture is what actually pulls the country down. And those who seem to be anti-dictators, who may also believe themselves to be "heroes," are the real dictators.