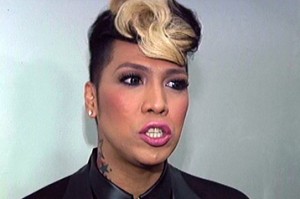 The latest buzz that has been circulating around the chattering classes is how ABS-CBN comedic talent Vice Ganda made a tongue-in-cheek remark when asked if he had any plans to pursue a career in public service.
"Gusto ko president ako agad, yung wala kang background, pero mataas agad, parang 'yung mga pulitiko lang ngayon. Walang background, pero senador agad."

Asked if he is referring to any senatorial bets in particular, the 37-year-old comedian said, triggering laughter, "Sila Nancy Binay, sino pa ba?"

He added: "Wala akong sinabing masama ah, sinabi ko lang siya as an example, kasi totoo naman, 'di ba? Wala siyang political background, pero senador agad. It's a fact, 'di ba?"

When asked for a "serious" answer to whether he sees himself entering politics, Vice Ganda said, "Baka, siguro pag matalinong-matalino na ako, [pag] marami akong alam tungkol sa pulitika."

"Ayoko naman 'yung… ang dami kayang walang alam, tapos kumakandidato, pasok sa top 6 sa survey," he said, drawing laughter from reporters at the press conference.
At that point, everyone was laughing, except for Nancy Binay, of course.
A person made of sterner stuff, regardless of the truth, would easily shrug off such statements, made by a comedian of all people. But this is Nancy Binay we're talking about. She's gotten a lot of flak about her lack of qualifications and general aversion to discussing issues on the campaign trail, but she feels compelled to defend herself each and every time:
"While I respect his opinion, kung 'yun 'yung tingin niya… basta ang importante, unang-una, meron naman akong vice na nag-e-endorse sa akin 'di ba, tapos meron pa akong Mother Lily, so I think made na made na talaga ako,"
'¦
Asked if she was hurt by Vice Ganda's remark, the young Binay said, "Actually, alam mo sa 'kin pag alam kong hindi totoo, hindi ako nasasaktan, e. I think ganoon kami pinalaki ng aking mga magulang, lalo na ng father ko, kasi we've been in politics for more than 20 years."

She added: "Pag sobra kang sensitive, tapos alam mo namang hindi totoo, bakit ka masasaktan? Alam ko namang hindi totoo at hindi tama 'yung sinasabi niya."
And in the same article, she also claimed that it's understandable that Vice Ganda would make such a remark due to his manok in the last election:
"To set things straight, 'yung kay Vice Ganda, hindi rin ako nagulat eh, kasi nung 2010… in fact he campaigned for doon sa kalaban ng kapatid ko, so I'm not surprised," she said.
Of course, Nancy Binay. It's all about past political grudges, like everything else in this country. Political grudges never get buried. But it still doesn't change the fact that the only thing you have going for you in the senate race is popularity, according to the surveys. You don't talk about your platform, or policies, and you've been avoiding debates.
Then again, politicians reflect the society that they govern. It's a big question mark if Filipinos understand what big words (to them, at least) like platform, policy, and debate truly entail, anyway.
***
Egged on by Vice Ganda's remarks, the chattering classes are so busy showing outrage at Nancy Binay that it seems they've focused on her instead of looking for other deeper, more underlying issues, if any, with regards to how our society approaches elections.
On the other hand, Vice Ganda's remark is a rare instance of a showbiz personality actually making a valid point. Whether Filipinos like it or not, that tongue-in-cheek remark says something about us Filipinos that we may not like to hear.
Filipinos would rather condemn the politician instead of the voters. They just don't get it. People like Nancy Binay and Bam Aquino, whom Vice Ganda conveniently forgot to mention, are examples of people who can run and win because the people allow them to, despite having no prior relevant experience to entering in politics. And no, Bam Aquino's 'microfinance' thingy doesn't count. While Filipinos continue to get swayed by dance moves, catchy jingles, perceptions of popularity and being winnable, and money in exchange for votes, unqualified politicians will keep on laughing all the way to the bank.
Demanding platforms and strong positions from your prospective 'public servants' is a practice that needs to be ingrained into the very bottom foundation of the Filipino culture and psyche. If you want people to make smart political decisions, you need to ingrain in them the notion of how to purchase smartly. In case Filipinos forget, they also need to focus on the substance of what each politician brings, and not the form. Plus, they also need to learn to say no to the wrong things.
Filipinos take a passive-aggressive approach to things. This type of behavior doesn't bode well at all for any attempts to hold the government accountable to the people. Impunity is the norm here because people are reluctant to tell you directly that what you did is wrong, or against the law. When hiya is the primary driver of such as in Filipino society, face-saving often comes at the cost of proactively upholding what is correct and law-abiding.
If you view your politicians as gods who can do no wrong, you're not helping yourself, and you're not helping your country. Filipinos cannot afford to be afraid to be timid and passive about evaluating their public servants' performance, and they cannot afford to be complacent and uncritical of themselves. Filipinos need to make their public servants work for them, not the other way around, and definitely they can't afford to be worked over by the public servants, too.
The Filipinos would do well to learn from Vice Ganda's 'liberation'. Vice Ganda is known to be blunt. I think, though, that if you're a comedian, it's but natural you have to be. Neither does he conform to the 'macho Filipino' or the 'demure Filipina' stereotypes that pervade Filipino society. If you do not fit into the pre-defined roles that Filipino society has set for you, they don't try to understand you; they judge you prematurely and oftentimes, make fun of you, or use you for cheap laughs.
The focus in not on his gender; Filipinos need to liberate themselves from traditions and old ways of thinking that have served to be nothing but chains that keep them pinned down. To do this, Filipinos have to be self-critical. They can't afford to keep up their stubbornness and they can't afford to keep sticking to detrimental traditions.
The bottom line is simple:
Filipinos cannot rely on their showbiz celebrities and their politicians to do their thinking and 'changing' for them. If Filipinos truly want to change their society, they need to change their own ways of thinking. An ethic of personal accountability needs to be ingrained in Filipinos as a collective.
This doesn't apply just to elections. It is actually what happens in between elections where we need to do the dirty work of proactively holding people to account through the system.
А вы, друзья, как ни садитесь, все в музыканты не годитесь. – But you, my friends, however you sit, not all as musicians fit.