In a pre-emptive strike on the whole discussion around 'charter change' that is likely to come up after the opening of the 16th Congress in July, President Benigno Simeon "BS" Aquino III issued his two cents on the matter of foreign ownership of land in the Philippines.
"I don't think they are necessary detriment to getting foreign investors into the country," he told reporters in Cavite in an interview aired over the government-run radio.

The President cited China, which grew economically despite a prohibition on foreign ownership of land. He also cited past studies by chambers of commerce showing that poor peace and order, bureaucratic red tape and lack of infrastructure, more than the economic provisions, hinder investments.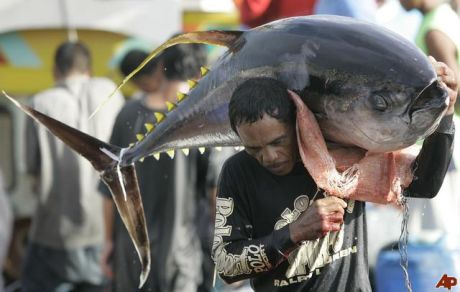 Perhaps President BS has a point. Before you sell your building you need to fix its rotten floors first lest the new owner's furniture fall through it.
If there are fundamental problems that dampen confidence of both foreign and domestic investors, then the old reliable principle of first thing's first applies. It's really that simple. Unless you are one of those crooks who paints over rotting wood and crumbling concrete then places a FOR SALE ad with a photoshopped image of the property on the papers, there are things basic decency dictates you need to do before you schmooze with potential buyers.
The Philippines clearly has a chicken-and-egg problem where determining the root causes of its chronic collective wretchedness involves a toss-up between its image and its profound cultural dysfunction. Is the country's image as a black hole where investment funds disappear forever the root cause of its lack of come-on to rich folk looking for a place to park their excess cash? Or is its people's renowned inability to productively capitalise on the abundance of resources and opportunity within their own islands the real heart of the matter?
Harping about not having enough "foreign direct investment" in order to progress sends a simple message:
Filipinos are hopeless at creating capital indigenously.
In a pre-globalised world, people simply invented and produced what they needed locally. Being hooked on foreign capital is what frames the "debate" around what the development strategy of the Philippines "should be" today — a debate underpinned almost solely by a blanket acceptance that Filipinos are simply too lazy or too brain-dead to think their way out of the rathole they currently find themselves in. The basics of living within one's means now simply fly over the heads of our lot who are slowly starving as the intravenous feed of foreign capital (in the form of both FDI and OFW remittances) either slows to a trickle or is engulfed by our galloping mall-hungry population. The principles are easy to grasp even for the current crop of name-brand solons who now infest the Philippines' legislature:
(1) Self-sufficiency — being able to produce domestically what is consumed locally in order to;
(2) Reduce unhealthy and un-secure dependency on global trade and reliance on unnecessary shipping of goods.
(3) Simplification of the concept of economic value tying it squarely back to production and tangible assets all sustainably created through;
(4) Domestic capital creation — an ability to rely on one's own inherent cleverness to create physical, intellectual, cultural, and (ultimately) financial capital indigenously.
Tough luck for us though. If we evaluate the Pinoy condition along the above four points, we get bad news spelled out for our lot. Our economic value as a people is tied squarely to the amount of capital and commercial activity that the industrialised world is able to generate (like rats and roaches who live off by-products of human activity). Now that we are seeing a withdrawal of this activity by the rich world, we will be left to increasingly rely on our own cleverness to replace this with something to keep our economy buoyant. A reliance on a cleverness that historically was never evident in us is a scary prospect. Personally I'd put my money on roaches and rats.
Protectionism, perhaps, could be a much-needed reality check and possibly the bitter pill we need.
Sometimes you need to give your 19-year-old kid an ultimatum. Get a job or start paying rent!
If we shut our ports to cheap Chinese celphone trinkets (among other useless things we import) — our consumption-driven economy will slow down.
This will have a triple effect:
(a) Pinoys start feeling the pinch and spend less.
(b) Whatever remaining Pinoys who have cash to spend will have lesser stuff to spend on.
(c) A bigger chunk of household incomes (specially incomes sustained by OFW dollars — remitted by whatever is left of the overseas labour force) will remain parked in bank accounts.
As oligarchs who once earned their fortunes by convincing hollowheads to part with their hard-earned OFW dollars in exchange for useless trinkets and over-priced restaurant meals shift their businesses (hopefully) back to manufacturing and farming (activities that actually produce stuff), our society then gets back to building a nation the old-fashioned and sustainable way. And, guess what, all that money parked in the financial system that would have been spent on cheap Chinese trinkets becomes available to fund our next-generation sustainable capital expansion!
The formula is simple, really.
Reliance on foreign capital and foreign commercial activity is an obsolete concept embraced by losers. The trouble with the Philippines is that it is a long loooonggg way down the road in its addiction to foreign capital. It is physically incapable of surviving without it.
What is the usual and most effective treatment for drug addicts? You lock them up in a room and hope they make it through the night without hanging themselves.
[Photo courtesy Sulekha.com.]
benign0 is the Webmaster of GetRealPhilippines.com.