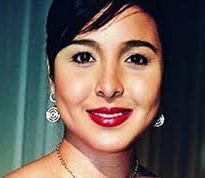 Philippine laws against violation of privacy and malicious capture of images will once again be put to a high-profile test as the subject of the latest sex photo scandal, Filipino starlet Marjorie Barretto, releases her legal hounds. This was after two photos of Barretto posing in various stages of undress somehow made their way onto the Net and from there had gone "viral". In a report to the media, Barretto's lawyers stated that the starlet "did not authorize the posting of her nude photos and they were never intended for public consumption"
One of the offending photo shows Barretto smiling at the camera while lifting her shirt to expose one of her breasts. The other shows what seems to be Barretto in the act of spreading her legs to show off her undergarments. Barretto had initially denied that she was the subject of these photos…
"No. That's not me. I would never do something like that. That's not my nature," Barretto told entertainment site Pep.ph on Monday.
…but her lawyers later confirmed that she was indeed on those photos saying that she had initially denied them because "she had not yet seen the pictures" at the time of the denial.
The Philippines' Republic Act No. 9995 also known as the "Anti-Photo and Video Voyeurism Act of 2009" applies heavy penalties for violation of a person's privacy in this way. The prohibited acts under this law are stipulated in Section 4; thus,
It is hereby prohibited and declared unlawful for any person:

(a) To take photo or video coverage of a person or group of persons performing sexual act or any similar activity or to capture an image of the private area of a person/s such as the naked or undergarment clad genitals, public area, buttocks or female breast without the consent of the person/s involved and under circumstances in which the person/s has/have a reasonable expectation of privacy;

(b) To copy or reproduce, or to cause to be copied or reproduced, such photo or video or recording of sexual act or any similar activity with or without consideration;

(c) To sell or distribute, or cause to be sold or distributed, such photo or video or recording of sexual act, whether it be the original copy or reproduction thereof; or

(d) To publish or broadcast, or cause to be published or broadcast, whether in print or broadcast media, or show or exhibit the photo or video coverage or recordings of such sexual act or any similar activity through VCD/DVD, internet, cellular phones and other similar means or device.
Taking note of Item (a), under the law's definition of "reasonable expectation of privacy" a person who does not consent to be photographed or videoed "believe[s] that he/she could disrobe in privacy, without being concerned that an image or a private area of the person was being captured." As such, Barretto's does not fit the criteria stipulated in Item (a) on account of her being seemingly aware of the presence of a recording device as she assumed the poses captured in the images and exhibiting what looks like consent to be photographed owing to the image showing her seemingly smiling while looking at the recording device.
Fortunately for Barretto, the law does not seem to premise the unlawfulness of possessing, distributing, and publishing the offending images on the basis of the applicability of Item (a) to the case; as, "The prohibition under paragraphs (b), (c) and (d) shall apply notwithstanding that consent to record or take photo or video coverage of the same was given by such person/s."
This means that even if she was aware she was being photographed and consented to it, persons who are in possession and caught distributing said images remain criminally liable.
benign0 is the Webmaster of GetRealPhilippines.com.