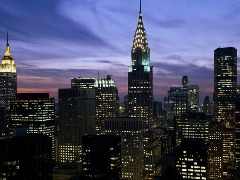 It is a hot and humid Thursday afternoon and I'm feeling very thirsty. Living in the suburbs has its disadvantages, especially for one who has lived in the city most of his life. On a similar Thirsty Thursday I got a welcome call from a friend named Allan a few weeks ago to try one of his latest projects: Bistro NYC.
Having lived in NYC from the mid 80's through the 90's, I relished at every opportunity to try anything that reminded me of a place I once called home. The biggest part of what I miss about living in "The City" is the old familiar "watering hole" around the corner from our apartment on the Eastside. An old familiar "3rd Place" tucked away from view that took up much of my time between schools, work and home. Everyone needs a 3rd place. Unfortunately, this place is now conveniently thought of as Starbucks.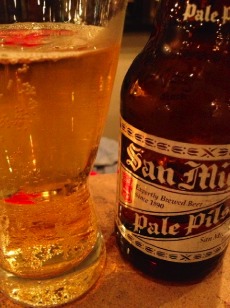 I have nothing against Starbucks but come around 6:30PM, you'd probably hear me saying: "What does a man have to do to get a real drink around here!" Tell that to your barista, and he'd scramble to answer: "Uh… Would that be whole milk or soya?" Just not to upset the man asking for a "Real Drink".
So whatever happened to the old watering holes like those we might associate with "Cheers"? After all, these are places where friends are made, where stories are told and made. So when Allan told me that this could be "The Place", I thought it was worth a thirty minute drive to find New York City in Manila.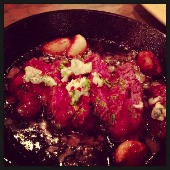 When we got to Bistro NYC, I was greeted with a familiar vibe that did take me a bit closer to my New York roots. The place was dimly lit with retro-industrial styled incandescent lights hanging by the wires. The place was furnished with padded chairs and patterned walls. It is reminiscent of an old New York Speakeasy with a modern flair. We walked straight to the bar as any confident Wise Guy would.
Asking what else could be NY about the place? Allan handed me the menu to take a sampling.  We ordered the "Garlic Beef and Blue Cheese" and the "Tuna Tataki" with our drinks.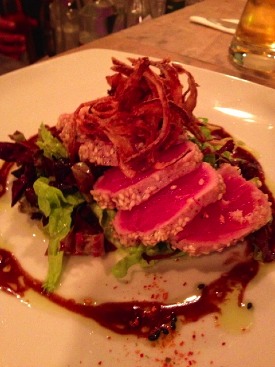 With the very few exceptions such as NY style pizza and Gray's Papaya, not too many people would lay claim to having a New York cuisine. Establishments such as Peter Luger, Le Cirque, The Tavern, The Russian Tea Room or maybe even Katz's Deli are more like New York Cultural landmarks rather than New York Cuisine per se. NYC is a melting pot, a cultural mélange of different ethnic cuisines; however someone could find a common baseline if perhaps one once was a New Yorker. NYC Bistro delivers within New York sophisticated spec. While the selection could widely be considered continental, it is delivered in skillful execution with just enough boldness to excite, and not to overwhelm the palette. This approach had me ordering more. I had the "Sausage and Eggs" and a man-sized omelet shortly after. The quality was impeccable.
The food could not disappoint this hungry New Yorker. The experience had me asking to meet the chef. So I did. In a brief and engaging conversation, I exchanged thoughts with Chef Mike Tinsay, who apparently spent some of his college years at Fordham (my Alma Mater) in the Bronx before deciding to pursue the culinary arts also in New York. We exchanged some of our fondest New York stories as well as his philosophy on food.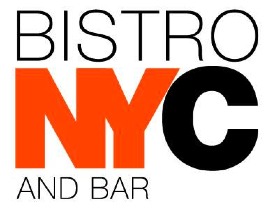 This place is authentically a NYC Bistro; a great 3rd Place between Work and Home. A place where friends are made, stories are told and made. I hope you do find this place that brings a bit of NYC to Manila through the hands of a few bonafide New Yorkers. NYC officially opens its doors on Saturday, April 6, 2013 at Prism Plaza, Two E-Com Building., Ocean Drive Mall of Asia Complex Tel: +632-836-3677, +632-503-5599.
See you there! Cheers!
John is a Senior Management Consultant for Strategy and Planning and has consulted with some of the most famous local and international companies. He has a combined experience of 15 years in the area of Enterprise Development and Corporate Strategic Planning. He has been a Professional Manager, a Management Consultant a Development Economist and an NGO Executive Director.