There are currently so many online advocates fighting for this and that. They want freedom for gays, freedom from the moral tyranny of the church, freedom from religion, freedom from reclamation projects, etc. Lately, there's this fad on Facebook profile pics being replaced with a red equal sign — said to represent equality for LGBTs (Lesbian Gay Bisexual Transsexual). They act based on the idea that LGBT remains a marginalized sector of Philippine society.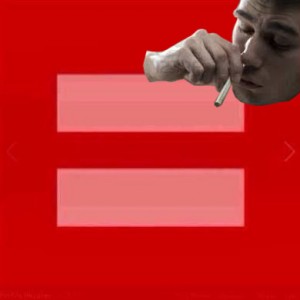 However, I believe that many of those who participate in "gay equality" movements belong to a class of people who like going to Starbucks and need to sport their iPhones and designer clothes and bags. Some of them are already members of high society, some the "trying hard" to be high society (as in, they couldn't afford the iPhone, but get in debt just to have it); but you get what I mean.
Basically, some of the LGBT people live comfortable lives, and it can make one wonder why they are considered marginalized. They probably go to snazzy bars and dance the night away (and do another kind of dance). And from what I heard, they may even be using illegal drugs.
I want to revisit a controversy which seemed to demonstrate the dysfunctions of Filipino high society. That was in 2008, when Australian Brian Gorrell posted in his blog that a former Filipino boyfriend, DJ Montano, swindled him of $70,000. But what also raised hairs what that the Filipino high society people he mentioned, later called the 'Gucci Gang,' were using cocaine. And all that while being freeloaders. And since Gorrell and Montano were gay, what does this mean"¦ perhaps other affluent people in the LGBT community are cocaine users (and freeloaders). There is good reason to believe that illegal drug use is widespread among the "high society" in this country, even to this day.
Some high society bloggers at the time said that freedom of speech should be questioned because of bloggers like Gorrell. Oh? So if someone (especially a foreigner) finally reveals the dust that Filipinos try to sweep under the rug, they cry foul (look no further than this example of another Australian slamming the misguided Filipino reaction after the Bus Hostage Crisis). Filipinos seem so afraid of losing face that they deflect the issue to cover up their own failings.
It would seem that Gorrell's mistake, for this part, was getting involved with Filipinos. I mean, those who tend to get banned at certain shops in other countries because they are frequently caught shoplifting, or when they increase in number in a certain place, they teach jaywalking to the locals (Hong Kong). But I digress.
Signs show that this drug use is still prevalent today. Lately, I saw some celebrated social media advocates openly mention wanting a dose of illegal drugs, using the underground drug jargon. So, it seems that some "freedom advocates" are likely demonstrating hypocrisy, by saying they want their way to make the country better followed, but later go to bars at night to "sniff a line" (Benign0 explains what it is, click here). It's hard to believe that they are part of a marginalized group, when they themselves are "privileged" to have access to cocaine, and likely other illegal drugs.
So that's what freedom is all about? Freedom to promote wrongdoing? Freedom to live irresponsibly?
These people curse the Church and blame it for oppressing them. But at night, they go to bars to sniff lines? The Church would be right to go after them.
No wonder the Philippines remains Asia's Sick Man.
The "line-sniffing," spoiled-brat class needs to get its act together, and get out of its "affluenza."
Kickout Discrimination?
Another item which is somewhat related is the expulsion of a Filipino transgender student from California Baptist University. Domainlor Cabading (what a name) was expelled after it was discovered that he was actually male at birth. Cabading filed a case claiming discrimination by the school for his expulsion.
I believe this is not discrimination because: 1. The university is Baptist (conservative), don't expect it to be sympathetic to transgenders, gays, and similar, and it likely considers your gender at birth as your gender for life; 2. Checking "female" when you're actually "male" (given that there is no sex change or supporting documents) is tantamount to lying. Lying is a strong ground for expulsion.
It's also not clear what kind of "transgender" Cabading is. The news articles use the female pronoun to refer to Cabading. However, there seems to be no mention of a sex-change operation, and no appropriate papers seem presented to prove that he can be considered female already. It seems he just wants the world to accept him as female. I wonder if that's another effect of "affluenza."
I believe, as my cohorts here do, that what Filipinos embrace as their culture is what actually pulls the country down. And those who seem to be anti-dictators, who may also believe themselves to be "heroes," are the real dictators.