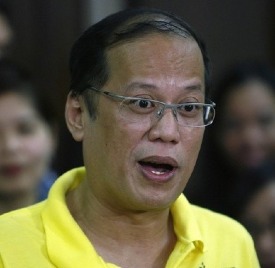 President Benigno Simeon "BS" Aquino has been included in TIME magazine's 2013 list of 100 most influential people in the world. It is interesting to note that Kim Jong Un, North Korea's Supreme Leader, the one who is threatening to annihilate the U.S., is also included in the list. The inclusion of Kim in the list of "influential" people is enough proof that BS Aquino's influence is debatable. It could be argued that he is as influential as any cult leader whose followers don't use their critical analysis or are bullied into submission.
One can be forgiven for thinking that TIME's news director Howard Chua-Eoan who wrote BS Aquino's two-paragraph write-up was scraping the bottom of the barrel to piece together something that could justify inclusion of the Philippine leader in the influential list. As is the usual case, a BS Aquino article is not complete without a mention of his only claim to fame prior to being elected President — that of being the son of famous parents Ninoy, the "famous political martyr" and Cory, the "most beloved President." In other words, in Philippine society, any Tom, Dick, or Harry can be as influential as BS Aquino if they have famous parents like Ninoy and Cory.
The TIME write-up also mentioned that BS Aquino stabilized the country's "sputtering" economy and made it "hot". The very short write-up was evidently lacking in detail about how BS Aquino managed to do it. What exactly did Chua-Eoan mean by "sputtering" in the first place? It's not like the economic gains in recent years have not been as sporadic as they were in past governments. The sputtering or particles of saliva spray rather, could have been coming from BS Aquino's minions who kept boasting about the economic "growth" rate supposedly going up to 7.1% percent in 2012 from 3.2% in the last quarter of 2011.
It seems TIME's standards applied in saying that a country's economy is "stable" is a bit low. As mentioned before, government spending and consumerism funded by the remittances of overseas contract workers (OFWs) fuel Philippine economic growth. Both activities were already there during former President Gloria Arroyo's term. It is certainly not a phenomenon unique to BS Aquino's administration. What's different now compared to GMA's term is that the media is playing along with the illusion that BS Aquino is tackling corruption and dismantling cronyism to improve the country's reputation as being "business-friendly".
But is doing business in the Philippines friendly? A report by World Bank-International Finance Corporation (WB- IFC) says, "Doing business in the Philippines remains difficult owing to the slow and tedious process reforming the country's business climate". Of a total 185 countries, the Philippines ranked 138th in the survey. The 2013 report noted that the "Philippines did not implement any institutional or regulatory reforms to make it easier for small and medium enterprises to do business in the past year."
Here's an excerpt of that report:
Starting a business in the Philippines is one of the most complicated in the world, ranking 161 out of 185.

The Philippines continues to lag behind other countries, especially members of the Asia Pacific Economic Cooperation (APEC) which have showed the biggest improvements in starting a business between 2009 and 2012.

"Consider the process for starting a business. In New Zealand it requires only 1 procedure and 1 day and costs 0.4% of income per capita; in the Philippines it takes 16 procedures and 36 days and costs 18.1% of income per capita," the report said.

While it takes 16 procedures for an entrepreneur to start a business in Manila, in Canada and New Zealand it only takes one day. The only countries that have more procedures than the Philippines are Equatorial Guinea with 18 and Venezuela with 17.

The Philippines is also one of the countries that make it difficult when it comes to securing construction permits, with 29 procedures that take an average of 84 days. Other countries that had more procedures are Russia with 42, Malaysia with 37 and India with 34.
It's hard to imagine how BS Aquino's popularity continues to defy hard data saying that excessive bureaucracy and endemic corruption still exist in the country. But you would be in TIME's 100 most influential too if your family and friends owned and operated a media empire such as ABS-CBN or the Inquirer.
Speaking of family connections, according to Wikileaks, the international organization that publishes secret information, the late former President Cory Aquino
admitted
to former U.S. Ambassador Kristie Kenney that her son Noynoy is not a natural politician. It wasn't mentioned under what circumstances Cory and Kenney were discussing Noynoy then but Cory was said to have confessed that "it had taken a massive effort by the entire Aquino clan to get Noynoy elected to the Senate."
Mrs. Aquino reportedly said they had to rely on the popularity of her youngest daughter, actress Kris, her husband basketball star James Yap, as well as her own political pull.
It seems the power behind BS Aquino is really Kris Aquino. In fact, Kris Aquino still comes to the rescue when her brother finds himself in trouble. Quite a number of BS Aquino's critics have noticed Kris playing wag the dog in times of crisis. Using her shows or her celebrity friend's talk show as her platform, she would often cry out in public about her personal troubles just to distract the Filipino people from her brother's seeming incompetence.
To be fair, BS Aquino does wield a strong influence on many members of Congress in the same way former President Marcos enjoyed his rubber-stamp Batasan. But this has nothing to do with BS Aquino's charisma, which is to a great extent is non-existent. It's been said that he successfully pushed for the passing of the Reproductive Health Bill by strong-arming members of Congress using the pork barrel funds as leverage. It also helped his cause that more and more Filipinos have long been becoming disillusioned with the Catholic Church. One thing is for sure; it seems some consider BS Aquino a cult leader. His followers apparently think he is infallible.
The Supreme Court has suspended the reproductive health law's implementation until oral arguments about its constitutionality is done.
TIME likewise praised BS Aquino for his "brave" stance on the South China Sea. The article author conveniently forgot to mention that BS Aquino wasn't as brave in managing the crisis surrounding the country's claim on the Malaysian state of Sabah. Some can't make sense of this inconsistency considering the Philippines' claim to Sabah seems more legit if the argument is based on historical claims. Not even the deaths of Filipinos in the hands of Malaysian authorities could compel BS Aquino to seek mediation from the UN to help resolve the crisis. Conspiracy theories abound. Some reportedly say BS Aquino's father Ninoy gave up Sabah to Malaysia in exchange for the latter's support of his bid to oust his political enemy, former President Ferdinand Marcos in 1983.
In conclusion, Philippine President BS Aquino's influence is only as good as the work of his public relations machine. His "influence" in Philippine society is an example of what propaganda can do. Just as it had taken a massive effort mounted by the entire Aquino clan to get Noynoy elected to the Senate, the entire Aquino clan could be working just as hard to get everything they can get out of BS Aquino's position in office.
In life, things are not always what they seem.