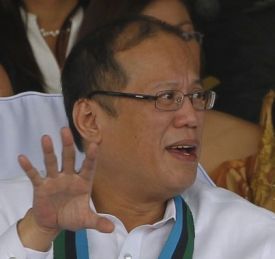 You sometimes wonder how much of the foreign press is under the payroll of the Philippine and Malaysian governments considering the sort of slants they lend to the "reports" they publish about a region they presume to know…
The Philippine government said Tuesday it had tried bring a peaceful end to the standoff by sending Foreign Secretary Albert del Rosario to Malaysia urge restraint, while Philippine President Benigno Aquino III twice appeared on national television in recent days to urge Mr. Kiram's followers to lay down their arms and end their quest.

"We've done everything we could to prevent this, but in the end, Mr. Kiram's people chose this path," Philippine government spokesman Ricky Carandang said.
In case the the Wall Street Journal hadn't noticed, to claim to have "done everything" without actually having spoken to Jamalul Kiram III, claimant to the title of Sultan of Sulu, is quite simply textbook lying. The festering of the debacle points to a deep systemic failure in the way the Philippine Government under the leadership of President Benigno Simeon "BS" Aquino III works.
It fails even in the simple task of taking accountability in the real sense of the term. Shortly after Carandang issued this statement, Philippine Foreign Secretary Albert del Rosario owned up to the snafu surrounding a set of letters sent by Kiram to Aquino back in 2010 shortly after he took oath as President. The letters which articulated Kiram's position on the Philippines' long-standing claim on Sabah were reportedly "coursed through the Office of the Presidential Adviser on the Peace Process (Opapp)" and not the Department of Foreign Affairs (which brings to question del Rosario's sudden emergence as Malacanang's chosen Fall Guy in this debacle).
True to his usual form, President BS Aquino was left scratching his head while flashing his usual ngiting aso (dog-like smile)…
"Let me say to Sultan Jamalul Kiram III: I have just been made aware that a letter to me, from you, was sent through OPAPP in the very first weeks of my term, when we were organizing the government. Unfortunately, this letter was lost in the bureaucratic maze. Let me make clear that there was no intention to ignore your letter. Knowing this now, will you let your mistaken belief dictate your course of action?"
Unfortunately it's so far been too little too late mixed with heaps of banal Pinoy-style ineptitude. Considering this astounding display of washing-blood-off-hands on the part of the Philippine President, it is hardly surprising that the Kiram clan is reportedly not impressed…
The Kiram clan turned a cold shoulder today to reports that the Philippine government wants to apologise for losing the letter it wrote in 2010, pointing out that it was too late as many Filipinos have already died during the violent clashes in Sabah.

Fatima Celia, wife of the self-proclaimed Sulu Sultan Jamalul Kiram III, said on ABN-CBS News Channel in the Philippines tonight that the government should instead apologise to the families left behind by the Sulu's "royal security force".
Who can one trust, for that matter, when one is dealing with the worst sort of governance abomination — a Teflon Government?
For its part, the Malaysian government — that other creation of European imperialism that remains largely irrelevant to the Sulu Sultanate clansmen that now run amok across "national" borders — has quite a bit to answer for. As the Inquirer.net editor points out in light of the spreading Mindanao insurgency into the jungles of North Borneo it is a case of bad karma rearing its ugly head…
[…] because Kuala Lumpur did allow [Moro National Liberation Front (MNLF)] rebels to train in Sabah all those many years ago (or determinedly looked the other way), it is now grappling with a ghost: the prospect of armed men hiding in the Sabah countryside that they call both ancient homeland and old training ground.
People caught with their pants down tend to overcomepensate in whatever comeback they could cobble together, and the Malaysian government did so spectacularly with its expensive toys — "military aircraft dropping bombs on a band of men (and women) armed only with handguns and rifles". Classy.
[Photo courtesy National Democratic Front.]
benign0 is the Webmaster of GetRealPhilippines.com.