Former president Gloria Arroyo praised president Benigno Simeon Aquino III (BS Aquino) for the 2012 reported 6.6% GDP (gross domestic product) growth. There was a "but", though:
In her statement, Arroyo said she "shares the commitment of President Aquino to integrity and opposition to corruption."

"But the campaign against corruption must uphold the rule of law, due process and the independence of the judiciary," she added.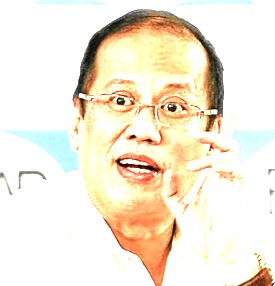 A normal, sane person would take the compliment at face value, say thanks for being praised, and get on with his/her things to do. Unfortunately, this is BS Aquino and his yellow horde we're talking about. Especially when it comes to someone he perceives to be an "evil enemy", such as Arroyo, it's virtually guaranteed that a big spectacle will be made out of a non-issue.
For starters, Malacañang was only too eager to toot its own horn where it doesn't belong, again. Presidential Deputy Spokesperson Abigail Valte was quoted as saying that the 6.6% GDP growth "is a classic case of the student already surpassing the teacher."
The following scene from the very first Star Wars movie, from 1977, suddenly played in my head:
Darth Vader: I've been waiting for you, Obi-Wan. We meet again, at last. The circle is now complete. When I left you, I was but the learner; now *I* am the master.

Obi-Wan: Only a master of evil, Darth.
Surpassing in what exactly? In spinning bullshit, I can imagine.
We must not forget that although GDP as a measure of economic value is an attractive way to report growth, there are times when it is misleading and it is prone to statistical discrepancies, which is why the real numbers, on occasion, don't add up.
Indeed, Gloria may have left us a schizophrenic economy but I don't see Noynoy doing anything better – or different. The economy is still mainly propped up by overseas foreign worker (OFW) remittances. It is still a consumption-driven economy. Ben Kritz made a point that the shadow economy and its enormous size are helping to keep the main economy afloat, but at the same time are giving the misleading impression that "Aquinomics" is working, when in fact it's got little to nothing to do with it.
Another glaring example from the yellow media would be Conrado "Noynoy is Aragorn" de Quiros, who also weighed in with one of his own ululations (kaululan) with his column last February 4.
Prison seems to have failed to dim the hubris. I was just wondering last week how she saw P-Noy's performance in Davos, how he spoke of the Philippines rising after being the sick man of Asia for a long time. If I remember right, Arroyo went there herself a few years ago under a cloud of doubt about her legitimacy, which was not lost on the other leaders. But which did not particularly faze her: Her press releases in this country had her being the toast of Davos, the one person whose opinion the world's most powerful leaders solicited, having rescued her country from the jaws of misery under conditions – the American recession chief of them – that had pitched most of the world into it. Like I said, prison seems not to have dimmed the hubris.

…

It's good that Arroyo should draw attention to how she handled the economy and how her student, P-Noy, has. It reveals a couple of fundamental truths.

The first is that growth means nothing if the people do not feel it and do not benefit from it. Arroyo's remark about P-Noy still needing to transform the growth into alleviating poverty isn't just hubris, it is gall. If I remember right, she got sore when a reporter asked that very question – when will the purported growth trickle down to the poor? – after she delivered a glowing report of her economic feats in a press conference. Not least because of its implication that with corruption, any growth, even if real – and that regime was dedicated to substituting illusion for reality – had as much possibility of trickling down as nectar on a sieve.

It hasn't happened even to this day – not yet. But the possibility at least exists. And it is slowly being felt, if the surveys about the people's sense of wellbeing, or their reckoning of the future, are anything to go by. That's what makes this economic growth real, that's what makes this growth meaningful.

But more than that, as I keep saying again and again, the economy doesn't just have to do with numbers, figures and statistics, it has to do with people. True enough, as Mark Twain quipped, there are three kinds of lies: big lies, little lies and statistics. P-Noy had every reason to be bullish at Davos and say what he did: The country is rising, the country is soaring, and nothing shows that more than the universal confidence in it. The confidence of the world as much as the confidence of the people.
De Quiros is just being his usual self, the usual asong-ulol supporter of the yellows and showing his distrust of anything that Arroyo is or does. Of course, de Quiros would like us to believe that the rest of the world believed, like the yellows did, that the legitimacy of her presidency was doubtful. Like I said near the start, a normal person would take the compliment at face value; yet Aquino mouthpieces like de Quiros can only see hubris; too bad he can't see the very same in BS Aquino.
Mr. de Quiros, if you want to brag about BS Aquino being able to make economic growth trickle down to the masses, why don't you explain why the Philippines' prosperity index rating has been falling ever since he became president. Why don't you explain why despite BS Aquino's claims of 6.6% GDP economic growth, there are still at least 10 million unemployed Filipinos? And why don't you explain why BS Aquino had to make an excuse that that there are jobs available but no applicants.
As usual, de Quiros didn't even fail to mention the nebulous in saying "the possibility still exists" under BS Aquino's watch, "if the surveys…are anything to go by." The surveys are crooked, period. BS Aquino has failed to do anything but persecute and prosecute Gloria Arroyo for close to 3 years (and fail miserably, I might add), and he has yet to prove that he can make one of his own programs and not ride on the benefits of those started by his predecessor.
Yes, it's the people, and the number of people that are saying that our young Patapon, este Padawan president still has much to learn, is growing, stupid.
Step back from all the noise that the yellow media is making about this, and think. How exactly has BS Aquino "surpassed" Gloria Arroyo, if true? Just because he went to Davos this year, despite his trip being a dud? Just because BS Aquino's government has an endless list of cases against Arroyo, that makes him better?
Until BS Aquino stops blaming Gloria for everything that goes wrong and looks to his own shortcomings, things will never change. He can't claim to be better than Arroyo when he can't even pin her down for a charge due to lack of evidence.
Cue in another dialogue from the same Star Wars movie:
Darth Vader: Your powers are weak, old man
Obi-Wan: You can't win, Darth. If you strike me down, I shall become more powerful than you could possibly imagine.
Indeed, Gloria may just be too much for BS Aquino. In fact, she may have inadvertently exposed the true nature of his character simply by staying put while in detention.
As a comment in the GRP Facebook community suggested, BS Aquino is a time bomb waiting to explode; all Gloria and his critics have to do is sit back and wait.
А вы, друзья, как ни садитесь, все в музыканты не годитесь. – But you, my friends, however you sit, not all as musicians fit.