I don't recall ever coming up with a personal List of the Best and Worst things about living in the Philippines.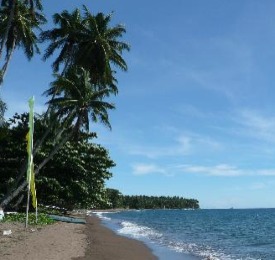 In a practical sense for my lifestyle demands, I would have to say the worst aspects out number the best nevertheless; the things that are best here are very special and hard to come by in the States unless you are very rich. These mostly represent "Personal Services" of almost any kind you can think of from domestic help to sexual to massage to hiring an electrician to work on your house. 
As an example the salary for a live-in helper to clean your house and do your household wash on a daily basis runs about $61 – $90/monthly plus the cost of food. Sex for the night $13 – $37 and other professional services perhaps $10/day.
Anything having to deal with labor is an absolute bargain. Now what I have below are things related to living in the Province and not in the Cities. City life (Manila specifically) offers most of the things you would find back in the States but also at a high price equivalent to the States.
The Philippines is changing at a rapid pace and for the worse I think. Too many people coming in from the outside, too much traffic and not enough infrastructure to handle it all. The whole idea that the Philippines is some sort of paradise to live is so far removed from reality it is not even funny. OK maybe in the sense of Personal Servies and as I have said in many articles before, if you are a single, white, black, hispanic or any race male on two feet, one foot or in a wheelchair, then the Philippines will be your paradise ABSOLUTELY, POSITIVELY!!!  WHY? Well, because your main ambition will be YOUNG GIRLS!!! (18+) But more on this another time. However, aside from this I think most would be greatly disapointed. Oh I forgot, if you enjoy drinking Rum and Beer then that is another thing to like about the Philippines as it is very, very cheap here as well.
BESTÂ 
(not in any particular order)
1.   Driving – Being able to basically have your way on the roads. You can drive as fast or crazy as you like without consequences from law enforcement;
2.   Labor – Getting a massage, manicure, bj, pedicure, a house cleaner or yaya/ full time babysitter for our daughter. Anything having to do with labor is so cheap you can really feel like a king being waited on hand and foot;
3.   Cheap food – The price of eating out here is very cheap with even the better restaurants costing less than $10.00/person. Of course there is a very limited variety of quality food products in most places other than the bigger cities like Manila, Cebu, Davao;
4.   Medical – Medical care here is Fantastic. Quality is excellent and the bigger hospitals are on par with the States. Physicians actually care about your condition and spend as much office or hospital time with you in dealing with your medical issues. Costs are a fraction of what you would pay back in the States and the atmosphere here is much more conducive to getting better unlike in the States;
5.   Innocence – This regards my daughter as she can have a nice childhood here which is getting more difficult to have in the States;
6.   Fruits – While there are no Plums and Peaches, fruits like Mangos and Papaya here are awesome as are the more exotic Mangosteen, Rambutan & Durian which are hard to find in the States;
7. Smiles and Warmth – Of the Philippine people in general. No matter how unhappy their lives may be they always have the unconsious and natural ability make you feel good about yours with the smile on their face.
WORST
(not in any particular order)
1.   Ignorance – Of the people. The sad reality is the majority of the people in the Philippines being very poor are mostly uninspired, unmotivated, uneducated and terribly sheltered from the outside world and knowledge thereof. This is no uncertain terms keeps them ignorant of anything outside of their own life. They come across as utterly stupid. This can be very frustrating to me and other foreigners as just simple things like asking directions or how to do something is an act of fruition. This no doubt keeps this Country living in the dark ages. Really too bad;
2.   Food – The availability of quality store food in general is very limited. There is no good local beef of any kind or a good variety/selection of vegetables a westerner might prefer. As an example Beefsteak Tomatoes, Asparagus, Lettuce, etc. Restaurant Food – in a nutshell is barely palatable in the province. The cities have much better restaurants;
3.   Infrastructure  – Mostly bad everywhere espeically the roads; 
4.   Utilities – (electricity) Very expensive and generally not consistent. My electricity went off today for three hours and this happens at least once weekly and I live close to town;
5.   Sports – Lack of good facilities in the province;
6.   Schools – Too much influence by the Church. They spend more time praying to these religious cults than learning;
7.   Corruption – Speaks volumes for itself with many important aspects of life here neglected due to rampant corruption;
8.   Religion – Probably the biggest evil here as it keeps people and the Country living in an impractical mindset that keeps this Country from advancing to the modern era;
9.   Television – Poor channel choices here in Dumaguete would be an understatement BUT as a work around, you can now easily order a SLINGBOX using a hosting service through the internet and do your own programming/recording of current shows, movies, sporting events, etc……pretty much for anything you want to watch (and from whatever city in the USA you want the programming from – important for sporting events of your favorite home team) and therefore in reality you can watch pretty much what you want when you want it. 
10.  Boating, Fishing and Diving – Just not the type I prefer;
11. Dogs – Barking all night. Need IÂ say more. No animal control here;
12. Noise – Coming from many sources (mostly horns from vehicles) and can be very disagreeable and there is absolutely nothing exotic and inviting about living in a town that has incessant noise while you are trying to enjoy some solitude with a cup of coffee on the outside patio of your local coffee shop.
13. Internet – I can run faster. 3mbps is like the fastest you can find in most provincial towns and that's if your lucky. I can't even remember the last time I watched even a short online story video on a site like yahoo without it (mostly stuttering) stopping and starting numerous times and I have a very good ISP. Go figure. Again, the bigger Cities (manila, cebu, davao) will be the exception
Yes life can be wonderful here depending on what you need and want. If it is a simple life you like then the Philippines is a Utopia especially if you are a horny, single man. You would think you died and went to woman heaven as if you wanted it bad enough you could have a different young girl every single day. However it can be a Utopia of sorts for more sophisticated people as well. Take my mother for example. She is highly intelligent, worldly and she has decided to make the Philippines her home specifically in Makati, Manila. She finds plenty to occupy her time and couldn't be happier unless her granddaughter was living next door. She no longer drives a car and for the most part prefers the company of educated people, good food & wine, some culture, more sophistication and an occasional massage. All these things Mom finds in Manila. I don't blame her as sometimes I crave to live there in Manila as well. So for her she is in a great place. I would tend to agree.
The more complicated and demanding a person you are for things (like me), the less happy you will be living here, especially in the Province. In fact you would almost have to live in a City like Manila to have the things you favor and the cost to live there would probably be higher than back in the States so that begs the question, why bother to come at all.
In conclusion, life can be great or not so great depending on your needs and wants. Live simple and you could not ask for a better place in the World to live than the Philippine Provinces. If you can't then you are relegated to living in a City like Manila or perhaps another more advanced Country like Thailand maybe
I might suggest that everyone considering a move here should be aware that many costs (especially food) are rising more so than most people think about. Just in the past 6 years, many food prices have gone up 35 – 40% while the peso has strengthened about 25% against the US Dollar. I think it will only get worse in the next few years with the peso rising at least another 10% – 12% from current levels of 40.75P/US Dollar and food prices in line with 5 – 10% increases annually. If you are on a fixed income, this will invariably force many to make great sacrifices in lifestyle. Real estate prices are also rising rapidly especially for condos and raw land.