My compliments to Andy Bautista for his honest assessment of the PCGG today, in spite of his efforts to revamp the same and revitalize the hunt for the vast remainder of Marcos' ill-gotten wealth. Like most government agencies in the Philippines, the PCGG has been corrupted to the core and has indeed become the Marcos' greatest ally in protecting their stolen wealth. As Dirty Harry said, "A man's got to know his limitations." After a good old-fashioned college try, Andy has concluded (and I believe him) that the PCCG today is set-up for failure. By all means, let's shut it down as soon as possible and plug yet another parasitic drain on taxpayers.
With Marcos' widow and children back in positions of political power, and the government tightening its belt, the cost of the pursuit has become prohibitive, said Andres Bautista, head of the Presidential Commission on Good Government (PCGG).

"It has become a law of diminishing returns at this point," Bautista told the Agence France-Presse in an interview at the commission's offices, a now rundown building where Marcos' oldest daughter Imee used to hold office.

"It's been 26 years and people you are after are back in power. At some point, you just have to say, 'We've done our best', and that's that. It is really difficult.

"In order now to be able to get these monies back, you need to spend a lot."

Bautista, 48, left a high-paying corporate job two years ago to answer a call to help the government of President Benigno Aquino, who promised to end corruption and uplift the lives of millions of poor Filipinos.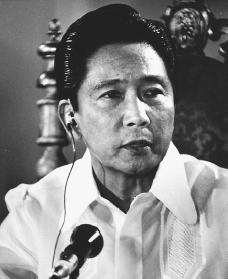 It's nice to hear that the Department of Justice will pick-up where the PCGG left-off but let's call a spade a spade. This is a prime example of the Philippine Government abdicating at least two of its most important roles; namely, (a) caring for resources that rightfully belong to Filipinos and (b) punishing those who have wronged (in particular, stolen from) Filipinos. This is tantamount to Pontius Pilate washing his hands in front of the lynch mob and handing over Jesus to the same. The difference is, Jesus was innocent; whereas, the Marcoses have already been proven guilty. And unlike Jesus who was at the mercy of the lynch mob, the Marcoses are not only fully funded and protected but are, in fact, capable of eradicating and/or buying-off the lynch mob. It is only the extent of the Marcos' guilt that is still being determined to this day and such degree of guilt will only be proven worse over the course of time. In short, the Marcoses deserve to be crucified and should be crucified, down to the last heir of Ferdinand and Imelda. Yet, the government has "washed its hands" over the matter.
What now? It appears that mob terrorism (much like the lynch mob of Jesus Christ, only justified this time) is the only remaining recourse, if Filipinos are to exact any justice from the Marcoses. The New People's Army (NPA for short) has been the longest running terrorist group in contemporary Philippine history and they will finally have an opportunity to redeem themselves–albeit as the terrorists that they are–if only they decide to use a small fraction of their brains. Instead of harassing and/or assassinating inconsequential low-level targets (e.g., Marcos lapdogs like Rolando Abadilla) and/or extorting so-called "revolutionary taxes" from defenseless citizens, the NPA could employ a tried and tested terrorist approach to the Marcoses, which was successfully implemented by the British during the Second Boer War in Southern Africa and by Hitler during World War 2–the Concentration Camp.
Imagine the NPA capturing all of the heirs and extended families of Ferdinand and Imelda, placing them in a concentration camp, then shooting one individual everyday until the Marcos heirs relent and instruct their lawyers, bankers and muchachos to wire transfer and/or return their ill-gotten funds/assets (like the recently recovered paintings of impressionist masters, among others) directly to a Philippine Government account/agency. This could arguably be one case of violence justified and grounds to elevate a terrorist group like the NPA into a national hero! We execute the thieves, we recover the money, we transform a long-time enemy into a long-lost friend and, last but not the least, the Philippines' sovereign credit rating instantly jumps to investment grade. Talk about a win-win situation when the Philippine government gets out of the way!