Filipino taxpayers can take pride in sponsoring two expensive teledramas.
In 2012, we saw the Club 188 signatories expedite the impeachement of then Chief Justice Corona, courtesy of a Powerpoint presentation. The drama was blown to a full scale at the senate, where we saw a nation polarized by the eloquent grandstanding of our public servants.
Our dear politicians spared no time in entertaining their public again this 2013 and gave us the most opportune controversy of an open secret and a popular government practice of partaking public savings. The gutter rebuttal of a senate president to valid arguments presented by a budget-aggrieved senator, who demanded transparency and accountability, floored many, who do not know much of the senate president's dark history.
What has the Filipino taxpayer got in return after funding the casts, venues and production of these teledramas?
I say, NONE. To put it bluntly and to use a local popular term, our taxpayers have nothing but : "Nganga!"
The Impeachment trial as the most expensive local production for the entertainment and expense of Filipino taxpayers should have given the people a good ROI (Return of Investment) IF Corona's dare of exposing their SALNs prospered with the Club 188 signatories and the Honorable Senator Drilon.
IF our politicians are really serious about trekking the DAANG MATUWID, it should have been an onset of a practice, the dawning of sincere transparency and accountability!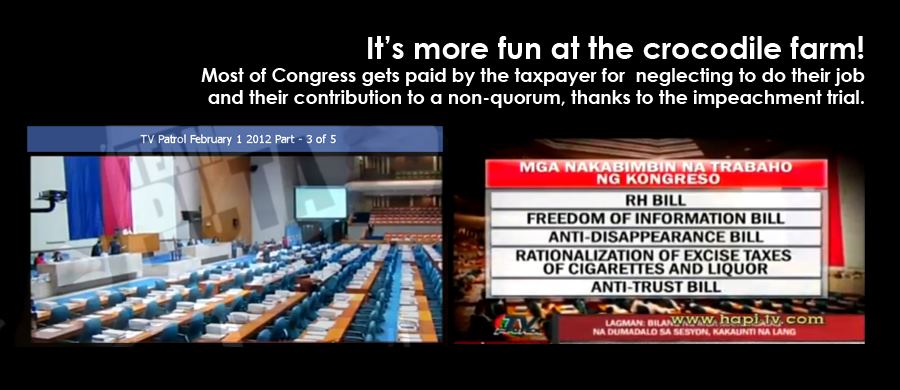 The election is fast approaching and our dear senators and congressmen will soon be busy campaigning for re-election or endorsing their partymates, THEY ALSO HAVE LESS THAN A WEEK to pass the #FOI bill or the overdue Freedom of Information Bill.
Do we see them expediting its passage like how they did with the impeachment of Corona?
Is Corona's impeachment more important than the transparency and accountability that the taxpayers had been demanding since PNoy promised a nation towards "Daang matuwid'?
Or is that "Daang Matuwid", just a horizon too far to make a detour at, thanks to a Kapamilya, Kapartido, Kaibigan at Kabarilan policy?